Port of Brownsville

Eduardo A. Campirano
Port Director & CEO
Facilities
Approximately 40,000 acres of land
17-mile-long ship channel
42 ft. channel depth (U.S. Congressional authorization to deepen to 52 ft.)
635,000 sq. ft. covered storage
3+ million sq. ft. open storage
13 cargo docks
5 liquid cargo docks (with a sixth under construction)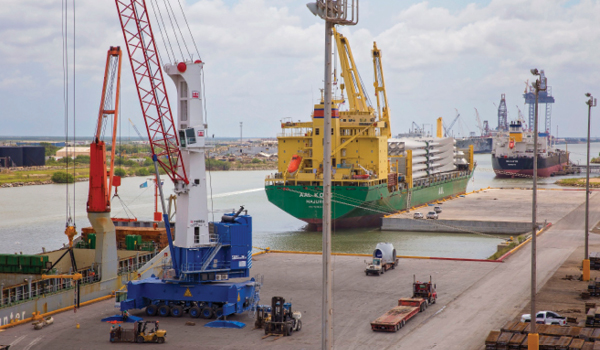 As the largest landowning public port authority with 40,000 acres and the only deepwater seaport on the U.S.-Mexico border, the Port of Brownsville is uniquely positioned to serve as the transshipment gateway delivering goods and materials to nearby multinational manufacturing centers on both sides of the border. Mexico has emerged as the most dynamic economy in Latin American overtaking Brazil as the region's largest steel consumer. And the Port of Brownsville ranks among the leading U.S. steel ports, moving more than 2.3 million tons of steel into Mexico, during the most recent reporting period.
Mexican oil reforms are fueling the exchange of petroleum products at previously unseen volumes, contributing to the expansion of vessel, rail and highway movements to and from the port. These activities contributed to the port's Foreign Trade Zone reaching the number two spot in 2016 for the value of exported goods – $2.8 billion, marking the fourth time in as many years that FTZ No. 62 was within the top three in the U.S.
That comes as no surprise with more than 10 million eager consumers within a three-hour drive of the port, with many of those located across the border. And crossing the border is easy. The Port of Brownsville's property actually meets the international border, proving an undeniable proximity advantage.
The first new border-crossing rail bridge in 108 years opened in 2015, directly connecting the Port of Brownsville with Mexico and all of North America. The port is conveniently served by three Class 1 railroads: Union Pacific, BNSF Railway and Kansas City Southern de Mexico. And the port's short line BRG Railway (operated by agreement with OmniTRAX) complements the Class 1 providers with 45 miles of on-port rail assets.
Crossing the border by road is simple, too. A unique overweight corridor pioneered by the Port of Brownsville, crosses the border at the Veterans International Bridge. This heavy haul highway allows trucks entering or leaving the port to be loaded to the maximum legal weights of Mexico – 125,000 pounds – 45,000 pounds more than those of standard U.S. limits. That means remarkable savings in time, money and logistical efficiencies.
The Port of Brownsville is the port that works!