BNSF Logistics, LLC

Ray Greer
President
Mission Statement
To provide a superior customer experience by delivering innovative, flexible and value driven solutions.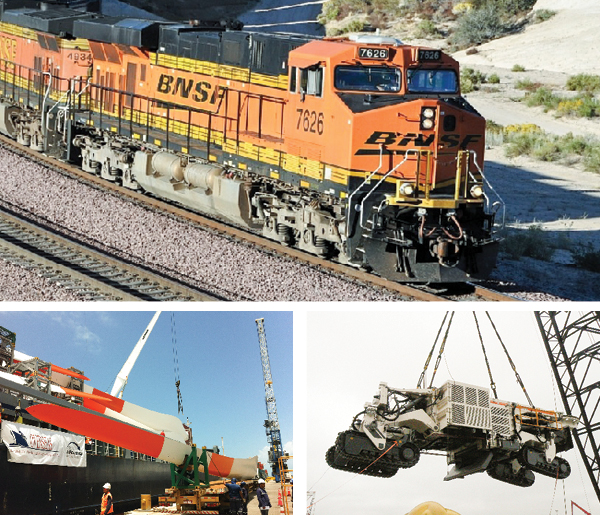 Company Overview
BNSF Logistics is an industry-leading transportation intermediary, committed to providing value to each of our customers and differentiated by our extensive resources, extensive and balanced service portfolio and uncommon financial depth. We are one of the fastest growing 3PLs in North America and pride ourselves on world-class customer service, innovative and flexible service solutions and a diverse suite of logistics services. BNSF Logistics is an indirect, wholly-owned subsidiary of Burlington Northern Santa Fe LLC, a Berkshire Hathaway company.
Our vision is to establish BNSF Logistics as the leader in providing creative logistics solutions that consistently exceed customer expectations. We handle everything from ultra-complex, multi-modal freight movement around the globe to simple, day-to-day transportation freight solutions across North America. Our expertise spans an array of modes, including truckload, project cargo, ocean, rail and rail transload, air, LTL, and intermodal.
Who We Are
BNSF Logistics is a non-asset based logistics provider by choice. Freeing ourselves of asset ownership allows us the flexibility to respond to the needs of our customers, first, foremost and exclusively. Any company with assets must focus on maximizing the utilization and balance of those assets. This puts the needs of the carrier asset above the capacity and service requirements of the customer. As a non-asset based provider, BNSF Logistics has access to a nearly limitless supply of capacity.
Core Competencies
BNSF Logistics has available expertise, capacity and capabilities in four distinct but often overlapping markets; Domestic, International, Project Cargo and Solutions Design. We invest in complex pursuits to find the most attractive and cost-effective solution each time by combining multiple service modes to create greater efficiency and economies. The more complex the need, the more innovative the solution; the greater innovation equates to a stronger value proposition and measurable, bottom-line impact for our customer.
Flexibility to Meet Our Customer's Needs – Corporate Integrity to Do it The Right Way
BNSF Logistics is a proud third-party service provider. All solutions are designed with the unique needs of our customers in mind. The level of customization varies, and is naturally more detailed and complex as the customer requirements or service solution dictates. Our operations are very entrepreneurial by design and our employees are empowered to incorporate creativity into designing and delivering service to their clients. With a globally recognized brand and reputation for being a responsible corporate citizen and embracing our corporate values, led by "Integrity", we take pride in conducting business around the world with an exacting standard for corporate compliance. Our customers value our commitment and investment in ensuring our services provide not only value, but peace of mind. Living out our tag line, "Yeah, We Can Do That" is the foundation of our service execution, commitment, and culture.