CaseStack, Inc.

Dan Sanker
CEO
Vision Statement:
CaseStack provides collaborative logistics infrastructure that empowers clients to confidently dominate their market with consistently better supply chain performance and lower total costs.
Consolidation Center Locations:
Buena Park, CA
Atlanta, GA
Chicago, IL
Scranton, PA
Dallas, TX
Kent, WA
Toronto, Canada
Corporate Office Locations:
Fayetteville, AR
Santa Monica, CA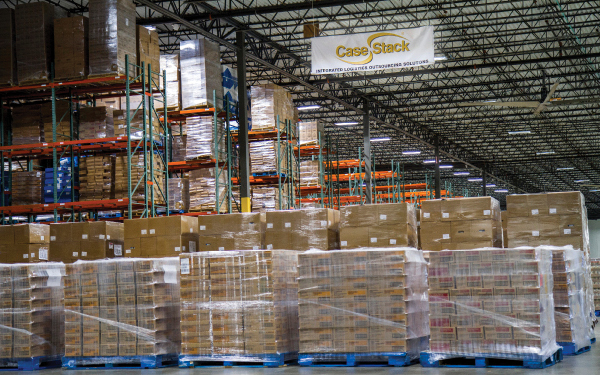 Retail Logistics Experts
CaseStack helps retailers and consumer packaged goods companies reduce costs and improve sales by providing industry-leading collaborative freight consolidation programs, supply chain management and warehousing services.
Our collaborative consolidation programs are retailer-specific and structured to meet 1 and 2-day delivery windows to protect suppliers from penalties. Consolidation also offers rideshare like efficiencies, with suppliers typically saving 5% to 50% over prepaid less-than-truckload (LTL) shipments.
By combining our retail logistics expertise and strategic industry relationships, we're able to develop customizable and scalable supply chain solutions to meet our client's evolving needs. Our clients also enjoy support from dedicated management teams, compliance specialists and online access to analytics and shipping documents (PODs, BOLS, etc.)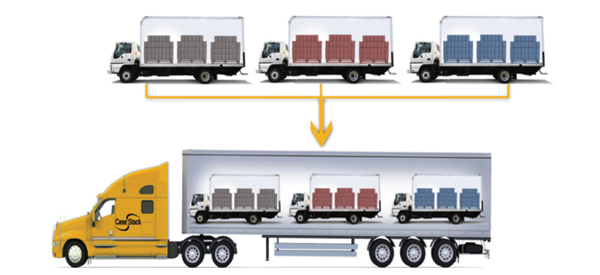 How Freight Consolidation Works
CaseStack collaborates with retailers to develop formal consolidation programs that operate on unified order and delivery schedules. Orders flow from one or more of our consolidation centers — inventory hold and cross-dock options available.
CaseStack consolidation trucks run each week regardless of volume, allowing us to provide proportional full truckload pricing based on each client's individual capacity needs. Consolidation also eliminates accessorial and other retailer fees for many suppliers.
CaseStack collaborative programs are available for: Walmart, the Kroger banners, Sam's Club, Target, Whole Foods, Amazon. Ad hoc consolidation also available for Publix, Safeway, H-E-B and many more throughout the U.S.
Supplier Benefits:
Increased on-time performance
Improved on shelf availability
Reduced order cycle times
Improved retailer scorecard
Decreased inventory costs
Sustainable solution
Retailer Benefits:
Improved in-stock rates
Shorter lead times
Eliminate order minimums
Decreased dock congestion
Reduced inventory costs
Increase supplier competition
Technology Enabled Supply Chain
CaseStack's proprietary Warehouse Management System offers full data security and 24/7 visibility of your entire supply chain processes. Enjoy online access to inventory, purchase orders, shipping documents (PODs, BOLs, etc.) and custom analytics.
Additional logistics SaaS offerings are available through CaseStack's subsidiary, SupplyPike. Offerings include transportation management, business analytics and EDI.
Our web-based platform (WMS) gives clients the ability to:
Place orders
Track shipments
Monitor SKU levels
Specify item and order attributes
Dictate inventory levels
Forecast future needs
Manage billing and claims