JAXPORT

Eric Green
CEO
Located in Northeast Florida in the heart of the South Atlantic, JAXPORT is a full-service, international trade seaport at the crossroads of the nation's rail and highway network.
JAXPORT owns, maintains and markets three cargo terminals, a rail terminal and one passenger cruise terminal along the St. Johns River: Blount Island Marine Terminal, Dames Point Marine Terminal, Talleyrand Marine Terminal, the JAXPORT Intermodal Container Transfer Facility (ICTF) and the JAXPORT Cruise Terminal.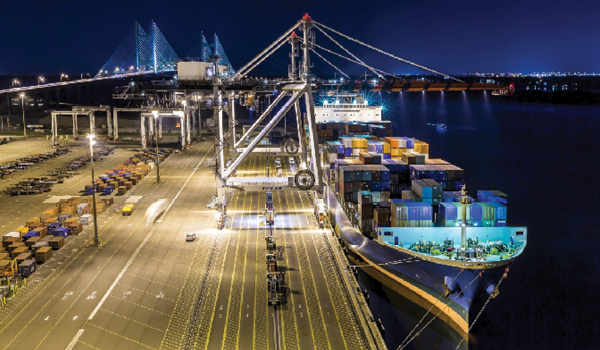 JAXPORT. It's just smart business.
As Florida's No. 1 container port complex and one of the nation's busiest auto processing ports, JAXPORT continually earns accolades for customer service and efficiency. Jacksonville, a large population center in one of the nation's fastest growing states, was also recently named a top U.S. hub for global logistics.
JAXPORT offers worldwide cargo service from dozens of ocean carriers with connections to more than 100 ports in 72 countries. This includes direct service with Asia, Europe, Africa, the Middle East, South America, the Caribbean and other key markets.
JAXPORT terminals are serviced by three major interstates (I-10, I-95 and I-75), and 36 daily train departures via three railroads: CSX, Norfolk Southern and Florida East Coast Railway.
The JAXPORT ICTF is conveniently located near the port's North Jacksonville terminals and connects to CSX's main line with two daily unit trains carrying up to 200 containers each. The ICTF allows for the direct transfer of containers between vessels and trains.
JAXPORT's Foreign Trade Zone No. 64, spanning more than 5,000 square miles across eight counties, helps shippers save time and money by streamlining customs clearance.
There are more than 120 million square feet of distribution center and warehousing space within close proximity to JAXPORT, offering businesses room to grow.
The federal project to deepen the Jacksonville shipping channel to 47 feet is set to begin construction in early 2018 and $2.5 billion in state transportation projects are being completed around the Northeast Florida region, all enhancing JAXPORT's efficiency and cost-effectiveness. Connect with JAXPORT's global cargo experts today at JAXPORT.com/Cargo.