Ruan

Ben McLean
CEO
Mission Statement:
Our mission is to employ the best team in the industry to move our customers' business safely, efficiently and on time, every time.
Facts About Ruan
300 locations nationwide
Headquartered in Des Moines, IA
Manage over $1 billion in annual transportation spend
24/7 customer care from one full-service 3PL provider

• Asset and non-asset options

• 5,500 team members, including 4,400 professional drivers

Proprietary Megasafe Safety Program

• Safety and regulatory experts monitor issues and compliance constantly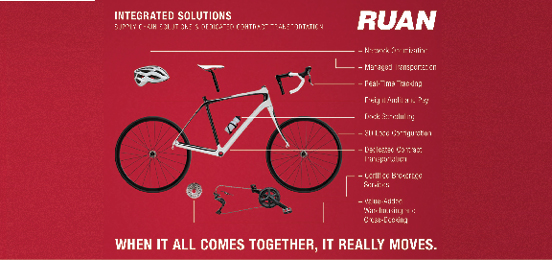 Ruan is a family-owned company with 85 years of supply chain experience operating according to our original principles of integrity, innovation and exceptional customer service.
Flexible Integrated Solutions
Ruan's Integrated Solutions combine the flexibility of non-asset and asset-based capabilities with optimal technology and superior service focused on continuous improvement, cost savings and supply chain efficiency. We partner with you to evaluate, optimize and deliver a one-source supply chain solution. Ruan's Integrated Solutions are driven by people, transformed by process and enhanced by platform, allowing you to focus on your core competencies.
Driven by People
Ruan's experienced team members are experts in all aspects of supply chain design and operations. We offer seamless start up and TMS/WMS implementation. Our driver turnover rate is one-fifth the national average. Customers have one point of contact and one consolidated bill for all services, and our safety professionals monitor compliance and regulations daily.
Transformed by Process
Ruan's business intelligence team provides ongoing analysis that identifies opportunities for continuous improvement and cost savings through development and execution of key performance indicators and quarterly business reviews. We employ a customer satisfaction survey process to gain unbiased feedback from our partners and develop action plans to improve operationally. Ruan's carrier development includes stringent qualification standards and safety monitoring.
Enhanced by Platform
Ruan's best-of-breed supply chain platform, RTMS2.0, offers sophisticated transportation planning that provides network optimization by employing efficient routing, 3D load configuration, continuous moves, waterfall tendering, rich analytics and customized reporting on secure customer portals. Combined with state-of-the-art tracking, we ensure that your product ships on time and safely, every time.
Ruan has expertise in providing supply chain solutions to every industry. And everyone at Ruan is dedicated to serving your business as an extension of your team.
Services
Dedicated Contract Transportation
Supply Chain Solutions
Value-Added Warehousing