Kuebix

Dan Clark
Founder and President
Kuebix Mission
Kuebix was founded in 2008 with the mission of leveraging the latest cloud technology to build a transportation management system (TMS) with Freight Intelligence that enables companies to capitalize on supply chain opportunities through visibility, control and the use of predictive analytics. That vision was realized when the Kuebix team of freight and technology experts launched Kuebix TMS, a next generation SaaS TMS that is changing how businesses of all sizes purchase freight.
Products/Services
Thinking of Implementing a TMS? Download our "TMS Buyer's Kit" for resources to help you find the right TMS for your needs.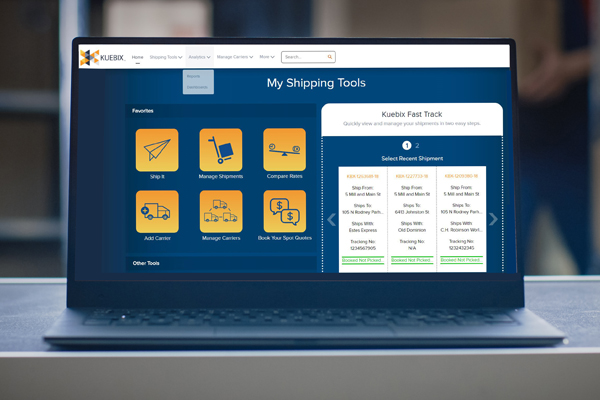 Kuebix provides a transportation management system (TMS) that powers North America's largest shipping community. Kuebix is transforming the transportation industry with a common TMS platform for shippers, carriers and intermediaries that enables new levels of visibility and efficiency for the entire market.
By connecting all logistics stakeholders on a single platform, shippers gain unprecedented access to available capacity and competitive pricing, while brokers and carriers increase their business and gain superior asset utilization. In addition to connecting directly with carriers for all their contracted rates, Kuebix users can leverage Community Load Match, Kuebix's built-in truckload spot marketplace, to fill assets or find capacity without leaving the technology they use to manage daily operations.
Kuebix offers an array of integrations to help businesses connect internal and external technologies to completely manage their logistics operation within a single pane of glass. Popular among these are ERP integrations, like those with NetSuite and Microsoft Dynamics, which automatically populate order information from the ERP to Kuebix and vice versa. This greatly reduces human error, speeds up order creation and booking, and helps companies position themselves to make more strategic decisions. API integrations with Kuebix allow organizations to connect their e-commerce or quoting platforms. These integrations enable the shipper to leverage the power of the Kuebix rating, booking, scheduling and tracking engines in a single system, providing enhanced customer service.
As a modular, cloud-based solution, Kuebix can seamlessly scale to meet the needs of supply chains of every size and level of complexity. This ensures a diverse network of supply chain stakeholders power Kuebix's shipping community, resulting in superior collaboration opportunities. Kuebix offers rapid onboarding and optimal return on investment.
Connectivity, collaboration and visibility define Kuebix TMS. All Kuebix users—whether they are shippers, carriers, brokers, freight forwarders or intermediaries—can realize increased efficiency through the use of Kuebix TMS. When all supply chain players connect and collaborate, everyone wins.

Kuebix
5 Mill & Main Place
Maynard, MA 01754
978-298-2100
www.kuebix.com