Atlantic Container Line

Andrew J. Abbott
President & CEO
Cargo capacity for ACL's G4 vessels include:
420 ton quarter ramp enables load and discharge of oversized cargo
28,900m2 for high/heavy roll on/roll off cargo
1,300+ vehicle capacity
3,800+ TEU cellular container capacity
ACL Featured Services:
Weekly RORO Service to and from 7 North American and European Ports
4 weekly Transatlantic Container Services with Direct Calls at 15 Ports
Unique ports, directly serving Baltimore, Halifax and Liverpool
2 UK port choices: Liverpool and London Gateway
Fast connections to Ireland and Scotland
Easy access to interior France and Germany
RORO Service from North America to Asia, Baltic, East & South Africa, Mediterranean, Middle East & South America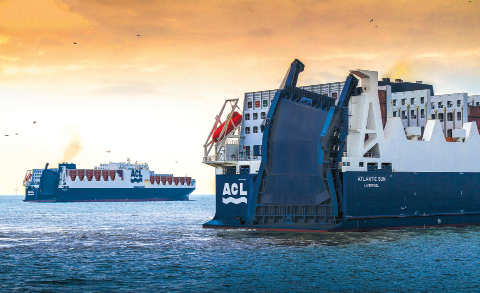 ACL's new G4 (Generation 4) fleet, the Atlantic Star, Atlantic Sun, Atlantic Sea, Atlantic Sail and Atlantic Sky have been placed in their transatlantic service.
The G4 vessels are the first of their kind vessels and the largest RORO/Containerships (CONRO) ever built. They incorporate an innovative design that increases capacity without significantly changing the dimensions of the vessel. The G4s are bigger, greener and more efficient than their predecessors. The container capacity is more than doubled at 3800 TEUs, plus 28,900 square meters of RORO space and a car capacity of 1300+ vehicles. The RORO ramps are wider and shallower and the RORO decks are higher (up to 7.4 meters) with fewer columns, enabling much easier loading and discharge of oversized cargo. Emissions per TEU are reduced by 65%. The fleet continues to employ cell-guides on deck, a feature that will allow ACL to extend its enviable record. For over fifty years, ACL ships have never lost a container over the side.
The five new G4 vessels dramatically improve ACL's competitiveness on the North Atlantic. The G4s demonstrate to our customers that our Parent Company, the Grimaldi Group, continues to do things differently than all of its competitors. We employ unique ships, go to unique ports and carry cargo that others cannot carry.
The new G4 fleet will enhance our cargo carrying capabilities. Combined with Grimaldi's ever-expanding service network, the G4s enable ACL to provide even more services as a high quality container and RORO operator for years to come.
Since 1967, ACL has been a specialized transatlantic carrier of containers, project and oversized cargo, heavy equipment and vehicles with the world's largest combination RORO/Containerships. The Company's headquarters are in Westfield, New Jersey with offices throughout Europe and North America. ACL offers four transatlantic sailings each week and also handles the Grimaldi Lines' service between the U.S. & West Africa and the Grimaldi EuroMed Service between North America and the Mediterranean. The Company also offers service for oversized cargo from North America to Asia, the Baltic, East and South Africa, the Mediterranean, the Middle East, and South America. ACL is a subsidiary company of the Grimaldi Group of Naples, Italy.