Capacity LLC

Jeff Kaiden
Chief Executive Officer
Capacity works with brands that need value-added order fulfillment. Our passion for executing to the highest standards of excellence sets us apart from the competition.
We take an engineering-based approach to problem solving, and see innovation as an everyday resource we always have on hand.
At Capacity, it is always our mission to deliver fulfillment solutions that delight and build trust with brands, consumers, and retailers in our target markets.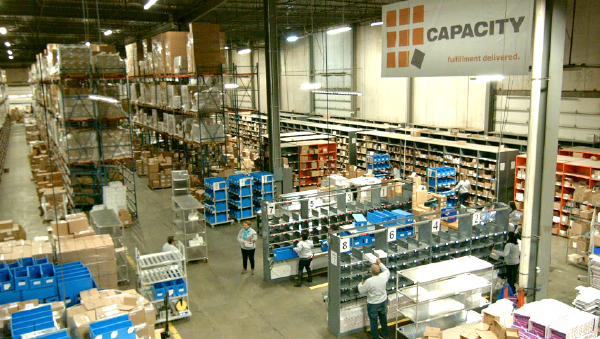 Capacity fulfills tens of thousands of e-commerce and pick and pack orders daily. We can modify product, create gift sets, replace unit cartons—anything that helps our clients unlock value and delight customers. We enable clients to ship to hundreds of retail trading partners, complying with EDI and other requirements. We are an omnichannel order fulfillment provider, with decades of experience handling higher-value consumer products.
Our engineering, process-based, approach to problem solving and execution is how we deliver exceptional solutions. We design our facilities, processes, and technology with careful attention to each individual client need. Capacity's in-house teams of engineers, programmers, and operations specialists ensure we can respond in real-time to all the challenges that modern fulfillment presents.
We have on-site experts available when clients need to discuss a range of topics, from creative problem solving to supply chain challenges that occur away from our facilities. When our clients want to think creatively to improve product packaging, we are there. We have the experience, vendors, and equipment to make it happen. If our clients just want to connect about another crazy day navigated successfully, we are there. We know just how much energy goes into getting product to the end consumer. Capacity's culture of excellence is the difference that helps our clients build their brands, giving us a charge that never goes away.
If a project seems out of the ordinary, clients count on Capacity to provide the extraordinary. We do the basics well, but it's the unexpected where we truly excel. That's where we are at our best, and where our clients experience the greatest value. That's the Capacity difference. That's why our clients get what they want, when they want it, the way they want it. That's our idea of 'fulfillment delivered.'
Capacity provides global fulfillment solutions from our locations in New Jersey, California, the United Kingdom and France. Our US locations are close to the major ports of Newark/New York and Los Angeles/Long Beach. Our UK location is close to Gatwick Airport, and in France we are near Lyon. These strategic locations allow for reduced transit times, access to our clients' key markets, and we are always expanding our footprint and our geographic reach.