FLS Transportation Services
The # 1 3PL for Cross-Border Freight …and a perfect choice for your domestic freight too!

John Leach
Chief Executive Officer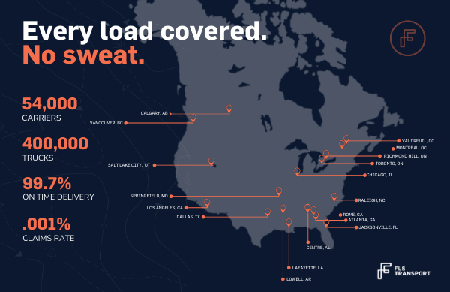 At FLS Transportation Services, we care about your freight. It is this mindset that not only sets us apart but has also earned us a place among the Top 50 Freight Brokerage Firms in North America and the distinction as the #1 3PL for cross-border freight. Ever since our humble beginnings in 1987 in Montreal, Canada, our team of logistics experts has been driven by a single shared goal: delivering every load on time, with the least amount of headaches. It's what shippers want. It's what carriers want. And, it's what we want.
In an industry dominated by a lack of differentiation, we strive to be different with our 3x3 support; proven carrier compliance; and fair price guarantee. Our base of 54,000 carriers and 400,000 trucks ensures that we always meet this promise. 32 years, 430 employees, and 18 offices across North America later, we still take great pride in saying: Every Load Covered. No Sweat.
If you need freight delivered in North America contact us for a quote today!