Old Dominion Freight Line, Inc.

Greg Gantt
President and CEO
Vision Statement: To be the premier transportation solutions company in domestic and global markets served.
Mission Statement: To provide innovative solutions designed to exceed customer expectations, increase shareholder value and ensure the continued success of the OD Company and our family of employees.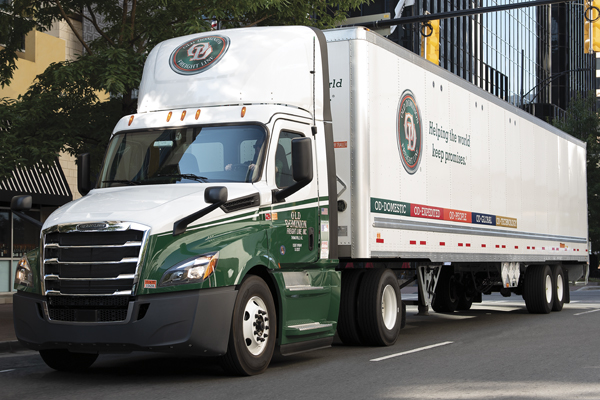 Old Dominion Freight Line, Inc. (Nasdaq: ODFL) is a leading, less-than-truckload ("LTL"), union-free motor carrier providing regional, inter-regional and national LTL services through a single integrated organization. Our service offerings, which include expedited transportation, are provided through a network of more than 236 service centers located throughout the continental United States. Through strategic alliances, the Company also provides LTL services globally. In addition to its core LTL services, the Company offers a range of value-added services including container drayage, truckload brokerage and supply chain consulting. For 86 years, Old Dominion has been Helping the World Keep Promises®.
Recently, Old Dominion was recognized with the following acknowledgments for company leadership in the industry:
Mastio & Company, a global B2B research and consulting firm, ranked Old Dominion as the No. 1 National LTL carrier for an unprecedented tenth consecutive year. On top of being named the Top Value among national LTL carriers, OD ranked #1 in 33 of 35 attributes most important to logistics and LTL industry decision makers.
The U.S. Environmental Protection Agency recognized Old Dominion as a leader in freight supply chain environmental performance and energy efficiency for a fifth consecutive year.
Logistics Management recognized Old Dominion with the Quest for Quality award as Top Multi-Regional LTL carrier for the tenth consecutive year.
Inbound Logistics recognized the company as a 75 Green Supply Chain Partner (G75) for the tenth consecutive year as well as a Top 100 Trucker for the eighth year in a row.
Forbes recognized Old Dominion as an employer of choice on three rankings in 2019: America's Best Large Employers List, America's Best Employers List, and America's Best-in-State Employers List. Forbes worked with Statista by surveying tens of thousands of working Americans.
For more information about Old Dominion, visit odfl.com or call 800-235-5569.