PCF, Inc.

Michael Giordana
Executive Vice President
Our Mission
We aren't the biggest last-mile parcel delivery provider and that is not a bad thing. In fact, it brings a lot of advantages, such as being nimble, responsive and easy to work with, especially in our dense and desirable Northeast territory. We answer to our clients, not a board of directors. My family started this business on a philosophy of fair, firm and friendly partnerships, which continues to this day. The last-mile/parcel delivery environment continues to evolve rapidly, and our goal is simple: to take complexity—and pain—out of the equation.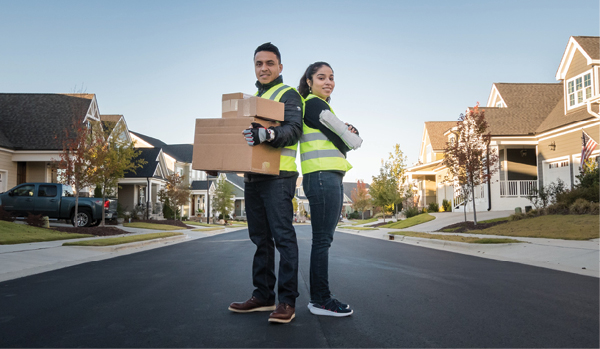 Parcel Delivery Made Easy
PCF is a logistics service provider focused on the last-mile delivery needs of the high-density, high-pressure Northeast region. Every day we work to earn your trust and provide value, making it easy and affordable to do business with us.
With over 40 warehouse facilities, a tenured team of distribution experts and a vast network of delivery providers, we've built a reputation for getting it right or making it right every day — accurately, safely and on time. Plus, people like doing business with us and so will you — no bull.
Northeast Know-How
We've got four decades' experience delivering every day in the cities and suburbs of the Northeast. We know the roads, the shortcuts, the workarounds and the customers. Our footprint covers southern New Jersey up through southern New Hampshire, a swath that includes over 11 million households. We've got hubs strategically located in Massachusetts and New Jersey and our network of couriers are on the road everyday — 7/365. After billions of Northeast deliveries, we can say we've seen it all and we're undaunted.
The Earlier, The Better
We built our business on early morning demand, which gives you an affordable edge to have your customers' packages there, usually by 8AM. We do it all — early morning as well as standard day-side — while offering flexible transportation solutions, state-of-the-art tracking, verification and visibility every step of the way.
Deliberately Affordable
Satisfying Northeast customers is demanding. You need a partner who's got the technology to keep costs in check and an approach that is straightforward and easy. When it comes to pricing and accessorial charges, "nickel and diming" is not our thing. We take a streamlined approach, limiting and reducing accessorial fees to keep things simple. For example, we don't believe residential or delivery area surcharges are appropriate, because we're already in those neighborhoods, nor should you pay a lot extra for morning delivery, simply because it's early.
Call us today to learn how easy it is to partner with PCF, and how our simple approach to pricing and our ability to deliver on time can lead to better performance.
LET'S GET GOING.
CALL 1-877-PCF-6668 OR VISIT PCFCORP.COM