RateLinx

Shannon Vaillancourt
President and Founder
Corporate Mission:
We're on a mission to revolutionize the Supply Chain. We partner with customers to accelerate their supply chain intelligence by driving data quality in logistics and delivering real-time, accurate, and tailored analytics, dashboards, and reports.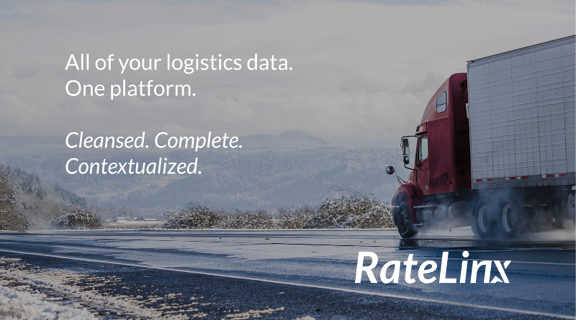 Data quality delivers 2020 clarity into logistics.
In the Supply Chain of 2020, you're constantly relying on data to make decisions every day. But what if the data is bad? It probably is. In 2017, Deloitte discovered that nearly 50% of businesses cited supply chain data as a major barrier. And it's costly. According to IBM, bad data costs US businesses more than $3.1 Trillion per year.
So, what about your logistics data? Are exceptions a burden? Are costs growing? Can you trust your data enough to make confident decisions?
AI-driven data quality to fuel TMS, track and trace, and freight audit.
RateLinx is changing the logistics industry. We are the industry data technology leader in transportation intelligence and spend management. Using our nearly two decades of experience working with some of the largest and most reputable supply chain organizations in the world, we're powering the next generation of technology to deliver unprecedented intelligence and visibility into your logistics network.
Our cloud-based data-cleansing technology leverages artificial intelligence (AI) and machine learning to eliminate errors and standardize your data. It delivers powerful insights, accurate analytics, and tailored reporting through an all-in-one logistics data and analysis platform.
With TMS, track and trace, and freight invoice management capabilities, our customers are able to analyze logistics performance and optimize strategies in their global transportation network, from shipment to invoice—all in one place. Equipped with the complete picture and context, customers are able to reduce costs, optimize inventory allocations, and improve customer satisfaction.
Data collaboration and partnership.
We're more than a technology provider. We're your collaborative data partner. Our team uses our proprietary data-first approach called Logistics-in-3D℠ to help you diagnose problems in your logistics and supply chain networks, develop data-validated solutions, and deploy new strategies with confidence. You can tap our team for support at any time, without paying more.
Reduce costs and get 10x ROI.
With cleansed data at your fingertips, you'll have everything you need to confidently improve inventory management, enhance customer service, and optimize your network. We help you by eliminating exceptions and rate-tolerances, driving tangible results to cost-saving initiatives. By automating processes, we help improve the allocation of financial and human capital, equipping your team to focus more on what matters. Our analytics, reports, and dashboards will show exactly where you are at all times. In fact, we even have an ROI KPI built-in.
Live in 45 days, no IT resources required.
The industry today is placing ever-increasing strain on limited IT resources: budget, personnel, and technology. That's why we've designed a cloud-based system that requires no internal IT resources. Our team will have you up and running, with the carriers of your choice, in as little as 45 days.