Werner Enterprises/Werner Logistics

Derek Leathers
President & CEO
Purpose Statement:
To deliver world-class supply chain solutions to the global marketplace responsibly and safely while exceeding the expectations of our customers, shareholders and associates.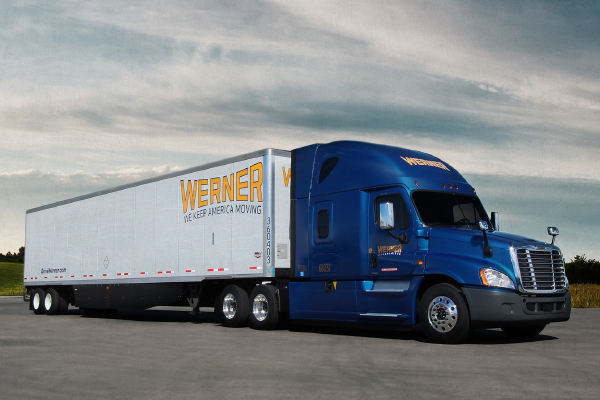 Average Is for Other People
Werner Enterprises, Inc. was founded in 1956 and has evolved from a one-truck operation to the full-service premier transportation and logistics company it is today. Werner is among the five largest truckload carriers in the United States. Through our extensive network, we maintain coverage throughout North America, Asia, Europe, South America, Africa and Australia.
With its global headquarters located in Omaha, Nebraska, Werner also operates offices in the United States, Canada, Mexico and China. Our comprehensive solutions are supported by leading-edge technology, top transportation professionals and an extensive global network. Our highly trained and experienced professionals combined with our dedication to advancements in technology produce unmatched customer service.
Our diversified portfolio of transportation services includes one- way van, dedicated, cross-border Mexico and Canada, expedited, temperature controlled, freight management, brokerage, intermodal, flatbed, ocean and air, global freight forwarding, final mile and home delivery.
Werner Logistics is a comprehensive Top 20 logistics provider and key component of the company's portfolio of transportation services solutions. Werner Logistics generates over $500 million of revenues annually with operations in over 150 countries.
A substantial focus has been placed on our 5T's initiative. This initiative includes investments in trucks, trailers, talent, terminals and technology. While the average age of trucks in the industry is over five years, Werner's average truck age is 1.8 years. A newer fleet means less maintenance downtime and more on-time delivery. The 5T's initiative is designed to maintain Werner's standard of best-in- class well into the future.
Committed to conservation and sustainability, we have saved more than 275 million gallons of fuel and reduced the company's carbon footprint by more than 3 million tons since 2007.
Werner also developed the first truck driver apprenticeship program in the industry approved by the Department of Labor and the Department of Veterans Affairs. We are a proud supporter of military veterans and veteran spouses, who comprise approximately 20 percent of the company's workforce.
Beyond the Assets
With more than 60 years in business, Werner maintains a strong financial condition with low debt. Werner has consistently produced profitable financial results, a solid financial position and is publicly traded on NASDAQ under the symbol WERN.

Werner Enterprises
14507 Frontier Rd.
Omaha, NE 68138
800.228.2240
www.werner.com