Prosponsive Logistics
What We Stand For
In 1997, we set out to pave a new name in the transportation game. Our initial goal was to give shippers and carriers a freight brokerage service that uniquely combines the personal attention provided by a smaller brokerage with the technology and capacity of a large-scale freight management company. Today, Prosponsive Logistics continues to provide trusted transportation, while developing meaningful relationships with our carriers and customers along the way.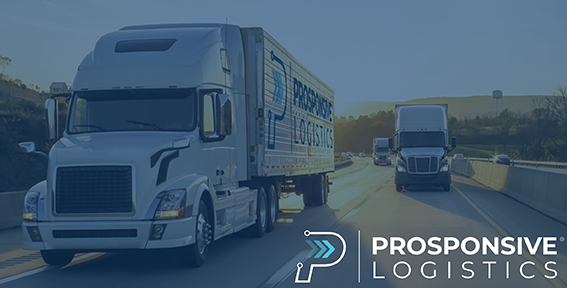 At Prosponsive Logistics, our experienced logistics team combines technology with dynamic industry knowledge to execute shipping solutions aimed to exceed your expectations–by being both proactive and responsive in every way. Formerly known as C.L. Services, the professionals at Prosponsive Logistics work diligently to ensure that your shipment arrives on time, keeping you updated every step of the way.
EXPERIENCE LOGISTICS AS IT SHOULD BE
Formerly known as C. L. Services, Prosponsive Logistics opened its doors in 1997 with the goal of providing a world-class logistics service and an unmatched customer service experience, based upon our Prosponsive Approach. The company rebranded in spring 2022 to better reflect this approach, and it continues to develop innovative ways to deliver tailored shipping solutions that combine the personal attention of a small 3PL with the versatility and capacity of a large-scale freight management organization. Prosponsive Logistics builds upon its foundation laid over twenty years ago, offering trusted freight services and innovative solutions, backed by the industry's most dynamic team.
ONE COMPANY TO MEET ALL YOUR NEEDS
Trusted by Fortune 500 companies and small businesses alike, Prosponsive Logistics' commitment to 24/7/365 customer service and reliability makes us a top choice in the industry. Our innovative training program keeps our employees updated on the latest technology and market trends, helping our team have knowledgeable and informed conversations to help save you time and money.
Our carrier compliance division continually monitors our carrier network to maintain our industry leading standards, allowing us to leverage our 45,000+ strong carrier network and maintain a 95% on-time standard. Prosponsive Logistics is a full-service, asset-based 3PL, offering truckload, LTL, refrigerated and dry van, intermodal, cross-docking, container services, trailer pull and more specialized freight services. If you have freight to move, we have the equipment to move it on-time and in budget.
STRESS-FREE LOGISTICS
When you work with Prosponsive Logistics, you work with the future of logistics. We quickly evaluate and choose from the best rates, the best carriers, the best pick-up and delivery times, all in one place and on-demand. We book your load with the Prosponsive Logistics carrier match program. You will feel confident your freight is in reputable hands every time. We monitor your shipments from pick-up to delivery; we know where it is, shipment status, and when it will be there! We believe in transparent logistics. Your job gets easier when you turn it over to the pros at Prosponsive Logistics.
Full transparency with track and trace 24/7/365
A select group of consistent people assigned to your account
Live after-hours communication
Freight optimization technology
Expert consulting services
Expedited & guaranteed shipments

Prosponsive Logistics
4245 International Pkwy
Suite 125
Atlanta, GA 30354
800-533-3922
678-686-0933 (Atlanta)
prosponsive.com