Syfan Logistics

Steve Syfan
Executive Vice President
Who We Are
Syfan Transport is a Southeast-based carrier fleet featuring 24-7 dispatch, on-board GPS and ELD-compliant systems on every truck, and transparent reporting on all shipments. Together with its 3PL arm, Syfan Logistics, the company meets a diverse array of shipping needs throughout the continental United States, Mexico and Canada
Vision Statement:
We seek to be a guiding light of ethics, integrity and Christian faith in our service to the transportation industry.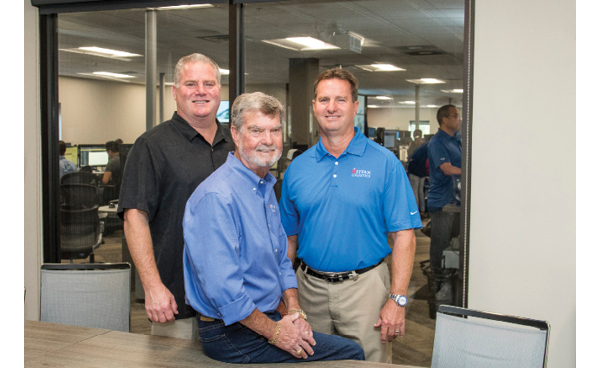 Shipping & Logistics A Partnership of Trust and Transparency
Syfan Logistics and asset-based Syfan Transport have always focused on delivering the highest level of transparency and reliability for customer shipments—drama-free with no surprises.
This partnership of trust and loyalty has never been more important than today due to tight capacity of drivers and equipment. We stand by our shippers, work out challenges, and refuse to ever let them down.
Syfan honors these commitments because it's the right thing to do. During the COVID-19 pandemic, Syfan Logistics has been an essential provider trusted by the Centers for Disease Control & Prevention to ship medical supplies across the country, as well as hauling for food shippers, parcel delivery companies and other critical industries.
Continued Growth
Syfan began a new expansion project in late 2021 that will add 15,600 square feet, and room for 150 additional team members. Syfan currently has 370 team members at its main office on a 65-acre campus. It will be completed in the third quarter of this year. This project is vital to our growth plan.
Primary Insurance
Syfan also goes the extra mile by backing every load with primary cargo insurance— a commitment practiced by only a small percentage of the industry.
Syfan Services
Transport
Numerous Syfan Transport fleet trucks and equipment options are available around the clock. And all support is personally handled by the company's own 24-7 dispatch team (as opposed to a third-party answering service).
Expedited
Syfan's long history with JIT shipping for automotive manufacturers and small parcel air loads has forged a unique sensitivity to deadline-oriented shipping.
Third-Party Logistics
For shippers faced with a sudden spike in shipping volume or the occasional spot load, Syfan Logistics fills emergency gaps.
Syfan Power Only
With much greater shipper demand for drop-and-hook shipments, Syfan's Power-Only single drivers and teams excel in easing sudden spikes in your shipping volume or filling in for your company fleet.
Yard Management Support
For warehouse and storage operations, our independent sister company—Turbo Sales & Leasing—provides leasing of new and used terminal tractors; sales of used terminal tractors; and leasing of truck trailers. Turbo leases all brands of terminal tractors for large fleets based at warehouses, distribution centers and ports across the country.
Freight Management Services
Syfan Logistics also can manage a company's entire shipping program, providing significant cost savings.
Project Management
Whether relocating a frozen food shipment from a damaged warehouse or moving large equipment, no job is too big or too small.
Customer Industries:
Food and Beverage
Parcel shipping
Automotive
Manufacturing
Healthcare
Construction materials
Retail/Consumer products
Electronics
Paper products