This Month in Inbound Logistics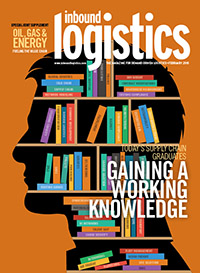 It's no longer enough for today's supply chain professionals to only know logistics or procurement or transportation. They need to grasp all the links in the chain from raw materials through finished product and final delivery. To make that happen, colleges, universities, and associations are working hard to give employers the talent they want. Also in this issue: logistics and supply chain education guide, the oil, gas, and energy supply chain, and more.
Decision Support Tools
Search our databases of the Top 100 providers in key segments of the supply chain industry.
Exclusive Online Resources

UPDATED FOR 2015!
Browse more than 130 in-depth company profiles—all searchable and organized by category—then build and send an RFP to get expert solutions to your logistics challenges.
NEW: Live social media feeds and Like/Follow buttons!
The most comprehensive and clutter-free directory of supply chain web sites on the Internet—organized by category, cross-references, and fully searchable. You can
browse by category
or start searching now.