Digital Issues & Editions

All Inbound Logistics' digital content is in PDF format (requires Adobe Reader). You can read the digital edition on your computer, print articles, or take the issue with you on your iPad or other tablet.
To receive e-mail notifications when new digital issues are available for download, start a free subscription to Inbound Logistics now.
Digital Issue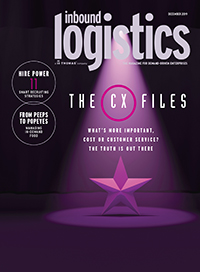 The CX Files: Investigating Customer Service
December 2019 | 68 pgs. | 14.3 MB
From the mind-bending ways technology can help delight customers to the ways food logisticians hit their targets when demand spikes, this edition shines a light on sure-fire supply chain stratagems. Also investigating recruitment techniques that can help shippers get much-needed talent, this edition digs deep.