IN BRIEF: New Services and Solutions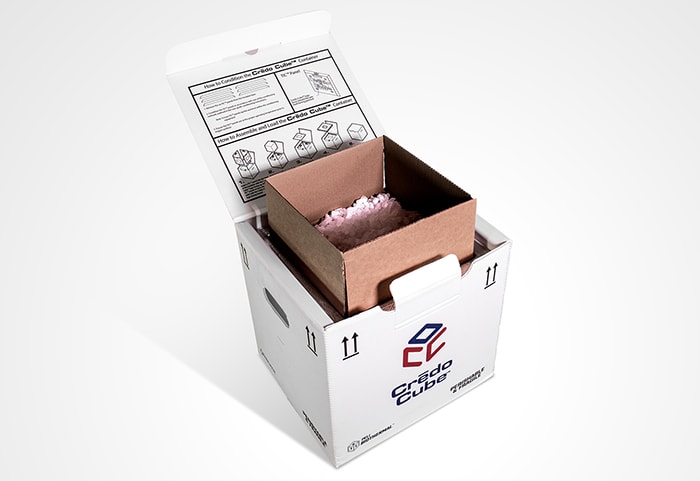 Products
•  Peli BioThermal expanded its reusable Crēdo product line to meet deep frozen requirements for transporting pharmaceutical products. Able to transport temperature-sensitive biologics and time-sensitive cell and gene therapies, the five new Crēdo Cube Dry Ice shippers deliver deep frozen payload protection for up to 144 hours.
•  The newest tire from Trelleborg, the XP900, is made for high-intensity materials handling applications. The XP900 block tread is designed with a large footprint for easier cornering and load positioning, offering 7% more stability when handling heavy loads.
•  Printronix expanded its line of printers for industrial applications through an exclusive distribution agreement for Serial Impact Dot-Matrix printers with Fujitsu Isotec Limited. The Printronix line and Serial Impact Dot-Matrix printers are designed to print invoices, reports, build sheets, shipping and transportation documents, labels, and other supply chain documents.
•  Ranpak, a provider of paper-based packaging solutions for ecommerce, introduced the Geami MS Mini wrapping system, a biodegradable, recyclable, and plastic-free alternative to traditional plastic bubble roll. The Geami MS Mini takes up less space on warehouse packing stations and cushions products with the die cut paper's honeycomb structure.
Services
•  Gebrüder Weiss opened a logistics terminal in the Kreckelmoos industrial area in Reutte, Austria, to streamline the processing of imports and exports. Goods reach Reutte directly, are cross-docked or stored there, and delivered via short routes, including as express shipments. The site also offers customs clearance and air and sea freight services.
•  DHL Express relocated to a larger service center facility in Las Vegas, Nevada. The $11.1-million investment enables DHL Express to move closer to the commercial core of Las Vegas, resulting in earlier deliveries and serving international shippers in the area.
•  Speed Commerce, an ecommerce order fulfillment and call center services provider, opened a fulfillment center in Las Vegas, allowing the company to reach 95% of the United States with 2-day shipping using its network. The facility is equipped to handle ecommerce order fulfillment for retailers, including those needing climate control or product personalization.
•  Freedom Freight Solutions, a subsidiary of Tradition Transportation Group, launched intermodal services from its Savannah, Georgia, location beginning in the second quarter of 2023.
•  DDC FPO added customer care services for ground and air freight operations, offering added support for air freight, over-the-road, accounts payable and receivable processes.
GEODIS expanded its direct-to-customer cross-border delivery service by opening two new airport gateway facilities at John F. Kennedy International Airport and Los Angeles International Airport.
Transportation
•  Lufthansa Cargo bolstered its European route network with new destinations—Larnaca (Cyprus), Athens, and Milan. In total, Lufthansa Cargo serves 12 destinations in the intra-European short- and medium-haul network on more than 50 weekly flights with Airbus A321 freighters.
•  Providing exporters with additional reach into Asian markets, UWL and Swire Shipping added a port call for export refrigerated containers in Busan, Korea, on the Sun Chief Express service. The service rotation is now Seattle, Busan, Haiphong, and Ho Chi Minh.
•  Crowley launched an integrated ocean and rail service between Mexico and the U.S. Midwest region and into Canada. Utilizing Crowley's new Mexico-U.S. ocean route in the Gulf, the service leverages the inland rail network of CN and its U.S. rail subsidiaries.
•  Oceanus Line now links Florida's SeaPort Manatee and Port Freeport in Texas with ports in Mexico and Colombia. Oceanus Line's X-Press Cotopaxi, with a capacity of 1,740 twenty-foot-equivalent container units, provides direct links to these two U.S. Gulf gateways, with inland rail and truck reach encompassing Southeast, Northeast, Southwest, and Midwest markets.
Technology
•  Synkrato, a logistics platform, released an update to its digital twin and slotting solutions. The update allows Synkrato users to connect a warehouse digital twin to the slotting engine and perform slotting and re-slotting to test outcomes.
•  Supply chain visibility provider project44 introduced a new artificial intelligence to its platform. Using the capabilities of generative AI, Movement GPT is an enhancement that draws on project44's dataset gathered from tracking 1 billion shipments.
•  The new PowerSwap Nucleus MINI Lithium Power System from Newcastle Systems provides power to devices such as a small barcode printer, laptop or tablet, and scanner for 8 hours at a time. Once the battery charge is depleted, users can swap it with a fully charged one in a matter of seconds; battery life is estimated at 5 to 7 years or 3,000 cycles.