U.S. Ports: New and Notable Developments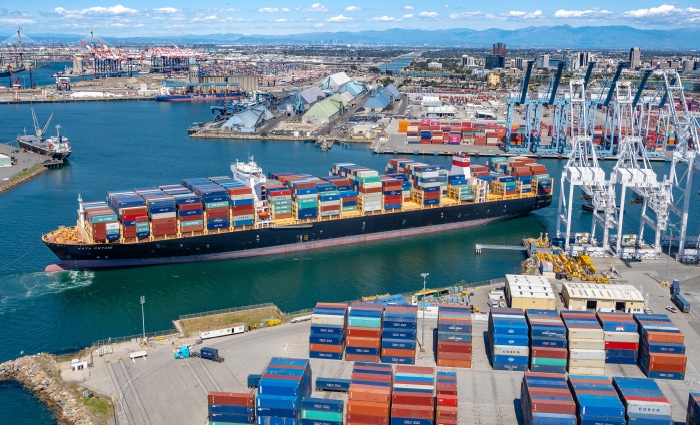 At a time when simply staying the course could be considered an achievement, ports across the country are making significant advancements in their capabilities to serve shippers.
During the pandemic, schools and businesses across the United States began to close or go remote at flank speed. For U.S. ports, the description "open and operational" became not merely a status report but also a testament to the ports' resilience.
The pandemic ultimately unleashed a supply chain logjam that has yet to fully clear. The ports, however, have not allowed the pandemic to set them adrift. In conversations with port officials from coast to coast, Inbound Logistics uncovered an array of initiatives to improve port services and solutions, including significant investments in sustainability, infrastructure projects, and cargo handling.
In what may have been the understatement of the year, the U.S. Bureau of Transportation Statistics wrote this at the beginning of 2022: "With a perfect storm of existing capacity limits, rapid demand increases, and labor shortages from initial pandemic reductions, container ports are facing major challenges in moving cargo."
This perfect storm, the bureau noted, created conditions in which ports might be disinclined to bankroll improvements.
"Excess capacity means idle resources, and ports are less likely to invest in greater capacity before market indicators signal the need to expand," the bureau wrote in a January 2022 report outlining the ports' "daunting challenges."
Yet through all of this, numerous notable developments indicate that the ports have continued to move full speed ahead.
Sustain the Environment
Increases in cargo imports, as well as supply chain slowdowns forcing container vessels to remain at anchor for excessive periods, resulted in severe congestion at port terminals. This, in turn, led to increases in freight-related emissions damaging to air quality in port communities.
It is a law of nature that shifting air cannot be contained by region—either on land or at sea. "There's no dividing line in the middle of the air," says Chris Cannon, chief sustainability officer and director of environmental management at the Port of Los Angeles, the busiest container port in the Western Hemisphere.
With that in mind, in 2021 the Port of Los Angeles announced a partnership to create the world's first transpacific green shipping corridor between ports in the United States and China. As part of the effort, the Los Angeles port is teaming up with the Port of Shanghai as well as with C40 Cities, a global network of mayors working collaboratively to address climate issues.
Multiple discussions about the corridor were conducted among interested parties in the closing months of 2022. The discussions included the office of John Kerry, the former U.S. senator and secretary of state who now serves as special presidential envoy for climate, a cabinet-level position that leads the Biden administration's efforts to combat global climate change.
"Ports have a key role to play in spurring the transition to a green and resilient shipping sector," Kerry says. "Their leadership—and their collaborative efforts—can help us reach a tipping point in the uptake of zero-emission fuels and technologies.
"This will help ensure that the sector becomes aligned with the goal to limit global temperature rise to 1.5 degrees C," he adds.
The Los Angeles-Shanghai partners aim to steadily reduce greenhouse gas emissions from the movement of cargo and to begin transitioning to zero-carbon fueled ships by 2030.
The Los Angeles-Shanghai corridor could be a maiden voyage. "We hope that this is the beginning of a network of corridors," Cannon says, adding that the vision is for several such corridors to be created around the globe.
The Port of Long Beach, which often partners with the Los Angeles port on clean air and other initiatives, recently joined the green corridor project with Shanghai.
"Long Beach has joined us to identify best American practices, set goals, and overall make plans to reduce the carbon intensity of cargo movement between Shanghai and Los Angeles," Cannon says.
Meanwhile, the Port of Long Beach and the Port of Los Angeles continue to collaborate on a variety of other anti-air pollution strategies through the San Pedro Bay Port Clean Air Action Plan (CAAP).
CAAP projects include a Clean Truck Program, vessel pollution-reduction programs, and advanced new technology. Each port operates an air-quality network that collects continuous data on ambient air quality and meteorological conditions in the San Pedro Bay region.
"The plan is a sweeping strategy to reduce or eliminate air pollution emissions from every port-related source," says Noel Hacegaba, executive director of the Port of Long Beach.
Build for the Future
In addition, the Port of Long Beach is investing $2.6 billion in strategic projects over the next decade to enhance marine terminal productivity, deliver greater efficiency to customers, and improve the sustainability of its overall operations.
In late October 2022, the U.S. Department of Transportation Maritime Administration announced $703 million in grant awards for the national Port Infrastructure Development Program, a greater amount than any year in the program's history.
The grants encompass a wide range of sizes, from $68.7 million for a shoreline reconstruction project for the Port of Alaska in Anchorage, to $353,500 for the Putnam County Port Development Plan Project in Palatka, Florida.
At the Long Beach port, $329.1 million already had been budgeted for capital projects in FY 2022, a figure representing 53% of the port's total spending plan. For FY 2023, $322 million is budgeted for capital improvements, about 47% of the port's total spending plan.
In April 2022, the Port of Long Beach completed construction of the Pier G to Pier J Double Track Rail Access project, adding a second rail line that enables four terminals in the port's south basin area to simultaneously handle arriving and departing trains. The $34.7 million project minimizes conflict with neighboring terminals' on-dock rail operations and improves overall safety in the vicinity.
The project is a vital piece of the port's ongoing rail infrastructure capital improvement program aimed at shifting more cargo to rail, Hacegaba says.
On the Gulf Coast, meanwhile, investment is likewise robust. "In the past few years, we have focused on building capacity," says Michael Rubin, president and CEO of the Florida Ports Council. "We have tried to build that capacity whether it is on-port or off-port relief for container storage and other services."
In Alabama, APM Terminals Mobile is doubling its capacity for future growth to more than one million TEUs in 2025 supported by the Mobile harbor channel deepening and widening project. The harbor improvements will make Mobile the deepest harbor in the U.S. Gulf, attracting more ocean carrier services.
Still more growth is occurring in Georgia, where a major expansion project has been completed at the Port of Savannah. The Mason Mega Rail Terminal has increased the Port of Savannah's rail lift capacity to 2 million TEUs per year.
Changing the Picture
In its 2021 Report Card for America's Infrastructure, the American Society of Civil Engineers rated U.S. ports a mere B minus, while noting that varied ownership structures can affect—positively or negatively—the relative investments that ports make. According to the report, an industry saying is: "Once you've seen one port, you've seen one port."
In the neo- and post-Panamax era, the look of many U.S. ports has significantly changed. Throughout the country, seaports have continued dredging and widening projects to accommodate wider vessels while simultaneously outfitting terminals with new cranes and cargo-handling equipment to handle increased demands.
U.S. ports are proving that equipment conversions and expansions can serve both evolving demands and environmental imperatives. The Georgia Ports Authority (GPA), for example, reports that electric ship-to-shore cranes at Georgia's ports have integrated generators to capture power while lowering boxes. In this way, the cranes produce enough energy to power themselves for 18 minutes of each operating hour.
Innovations such as those implemented by the GPA, a state authority governed by a 13-member board of directors, have enabled the country's ports to efficiently handle growth even while pandemic-related challenges have strained resources.
Also notable for its leadership in this regard is South Carolina Ports (SC Ports), which maintained fluidity for vessels calling the East Coast while handling a record number of containers in September 2022.
Supporting Productivity
To quickly work vessels, SC Ports offers an express lane for vessels with 1,000 moves or less and prioritizes vessels with balanced imports and exports. Hiring more than 150 people in operations and deploying new ship-to-shore cranes further supports berth productivity.
"We have invested in capacity to efficiently handle the cargo flowing into the Southeast port market," says Barbara Melvin, president and CEO of SC Ports.
The port authority's $2.6 billion capital plan includes equipment purchases and upgrades for its terminals, including the Hugh K. Leatherman Terminal that opened along the Cooper River in North Charleston in March 2021. It was the country's first container terminal to open in more than a decade.
Phase one of the Leatherman Terminal adds 700,000 TEUs of annual throughput capacity and an additional berth to the East Coast port market. When fully built, the 286-acre, three-berth terminal will add 2.4 million TEUs of throughput capacity to the Port of Charleston.
In neighboring North Carolina, Gov. Roy Cooper announced in summer 2022 that Savannah, Georgia-based Port City Logistics will open a $16-million facility near the Port of Wilmington, to be completed over the next two years.
"The North Carolina State Ports Authority has made significant capital investments to enhance capabilities at the Port of Wilmington," says Brian Clark, executive director of NC Ports. "This partnership will increase local cargo volumes, while further enhancing the state's economy." The new facility is expected to create 75 new jobs.
The port's capital investments in recent years have included the acquisition of three cranes, which allows the Port of Wilmington to simultaneously service two neo-Panamax vessels.
Continuing to Push
"We are continuing our capital improvements push," says Laura Blair, NC Ports vice president for administration and external affairs. "To date, we have initiated more than $260 million in infrastructure investments in our terminals. Specifically, in calendar year 2022, we have focused on increasing our cold storage footprint and services."
This effort includes an agreement with Sun Valley, Idaho-based Cold Summit Development to further expand NC Ports' cold chain and cold storage facilities. "NC Ports has made significant contributions to bring this port on par with other leading eastern ports," says Scott Pertel, president and CEO of Cold Summit Development. "With the delivery of our multi-functional cold storage campus, we look to facilitate additional growth of NC Ports' import and export capabilities."
Recent investments and upgrades as part of its more than $200-million infrastructure investment campaign have enabled NC Ports to gain a competitive edge in the cold chain logistics market, demonstrated by a more than 250% increase in the port's refrigerated import/export volumes over the past few years.
U.S. ports are eager to show off what they have continued to accomplish through difficult times.
In late 2022, the Port of Los Angeles partnered with EarthCam, a leader in live camera technology, to provide 24/7 streaming services for its Los Angeles waterfront live camera. As upgrades to infrastructure and waterfront redevelopment at the port continue, the live stream can provide a look at the progress of projects reshaping the surrounding communities.
Located on the roof of the Los Angeles Maritime Museum, the LA waterfront live camera replaces the port's older web camera with an upgraded 4K camera that streams in high resolution and shares panoramic views from the center of the port's Main Channel.
Sharing Common Interests
The initiative is emblematic of the pride that ports in Los Angeles and elsewhere take in their progress—both individually and collectively. Business competitors though they are, port officials recognize that they have common interests.
Referring to the green corridor initiative with Shanghai, for example, the Port of Los Angeles' Chris Cannon says the "goods movement community"—a community he defines as including, not only the ports but also shipping lines, trucking companies, tugboat operators and rail lines, among others—shares a responsibility to protect the welfare of those they serve.
"It's important that the ports work together," Cannon says. "We feel it is our duty to do that."
---
Rotterdam Models Collaboration
As U.S. ports innovate, expand, and forge a more sustainable future, they may well look to Europe—and particularly to the continent's largest seaport, the Port of Rotterdam, in the South Holland province of the Netherlands—as a model for collaboration.
In its quest to be the world's number one port for the import of sustainable energy, the Port of Rotterdam Authority is exploring importing hydrogen from countries where it can be produced cost-effectively. This has resulted in more than 80 connections with the most likely exporting countries.
"We look at countries that have a strategy for the production and export of hydrogen and that have sufficient renewable energy sources such as wind, solar, hydropower, and geothermal," says Monica Swanson, the port's program manager for hydrogen corridors.
One of Rotterdam's key projects is with the Pecém Industrial Port Complex in Ceará, located in the northeast part of Brazil on the Atlantic coast, where the Port of Rotterdam Authority is a shareholder. "We have a joint venture with the state to manage the Pecém Industrial Port Complex," Swanson explains.
Together with the state government, the Federal University of Ceará and the Federation of Industries of Ceará, the port has established an effort to create a green hydrogen hub.
"That multidisciplinary approach is what makes the difference," says Duna Uribe, executive commercial director at Pecém.
---