Asia: Manufacturing Dynamo or Consumer Powerhouse?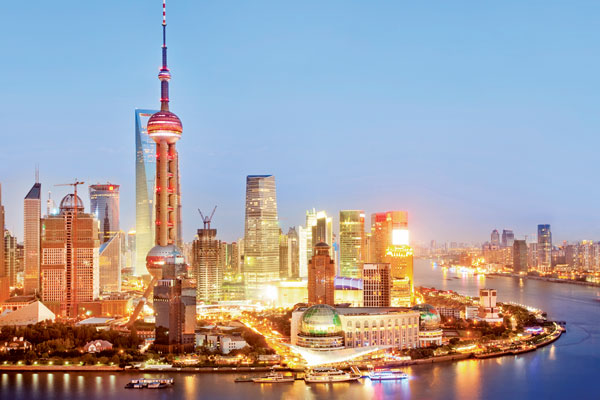 Asia today is not just about manufacturing; it's also emerging as a consumer powerhouse. To seize the opportunity, manufacturers and retailers alike are rewiring their global supply chain strategies.

More to the Story:
Asia is no longer simply the seat of cheap production capacity. In 2008, Asian consumers spent $4.3 trillion, representing about one-third of consumption expenditures of the Organisation for Economic Cooperation and Development's 34 member countries. By 2030, consumer spending in Asia is likely to reach $32 trillion— or about 43 percent of worldwide consumption, according to Asian Development Bank (ADB), a Manila-based financial institution.
These statistics signify Asia's emergence as a consumption powerhouse, prompting global manufacturers and retailers to re-think their supply chains to address both the challenges and opportunities of serving Asian markets.
A closer look at the region's economic demographics tells the story. Asia's middle class— defined by ADB as earning $2 to $20 per person per day— is growing dramatically relative to other regions of the world. Some 56 percent of developing Asia's population was considered middle class in 2008, compared to just 21 percent in 1990 (see chart below). Those consumers accounted for more than 75 percent of the region's aggregate annual expenditure and income.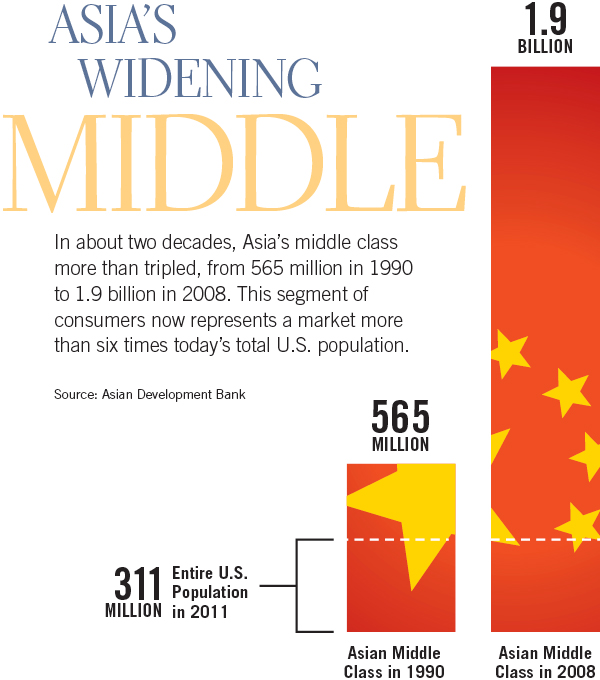 The sheer size of Asia as a developing mega market for both products and services offers new and huge growth potential for retailers and manufacturers alike. Multinational companies, for example, expect more than 50 percent of their revenue growth over the next 10 years to come from developing economies. And in 2009, China surpassed the United States for the first time as the world's largest market for new vehicles, according to global management consulting firm The Boston Consulting Group.
"Multinational companies must learn to support mature markets such as Europe and the United States, while serving diverse emerging markets in Asia and other parts of the world," says Danny Goh, vice president, North Asia Region for APL Logistics, a global third-party logistics (3PL) provider with U.S. headquarters in Scottsdale, Ariz.
Indeed, rapidly escalating development in Asia is reconfiguring global trade patterns. Supply chain flows used to move almost entirely east to west. Not anymore.
"Growth in Asia is shifting the demand center from west to east," says Carlos Alvarenga, managing director for global management consulting firm Accenture Supply Chain and Procurement Services. "BMW and Ferrari, for example, will sell more cars in China than in the United States in 2011."
These shifting trade patterns represent a significant change for shippers. "During the period of manufacturing offshoring, companies focused on bringing mass quantities of goods from Asia to Europe and the United States," says Christopher Logan, chief strategy and marketing officer in Asia for global 3PL Agility. "Today, shippers must deal with a complex supply and demand point network within and outside Asia. The global supply chain has become a web rather than a linear east-west flow."
Logistics Infrastructure
Capitalizing on emerging Asian markets is not always easy. "Within populous countries such as China and India, selecting the right distribution facilities and hubs can be challenging," notes Goh. "This is particularly true as companies start to move away from more established cities— for example, from China's coastal regions to the interior, where production costs are lower. And it doesn't help when, in many of these markets, the effective reach offered by organized and reliable transportation providers does not typically exceed 13 percent of total volumes."
These challenges elevate the need to factor logistics infrastructure development into operational strategy. Logistics service providers continue to build hubs and logistics parks in Asia to handle current and future trade volumes. China leads as the largest investment market for logistics companies, according to the 2011 Emerging Market Logistics Index, a study conducted by Transport Intelligence, a European market research firm, and sponsored by Agility. The study takes a country-by-country look at logistics development trends and capabilities, comparing the major emerging markets on a number of metrics that identify the key attributes attracting logistics providers, air carriers, shipping lines, and freight forwarders.
From a manufacturing perspective, survey respondents consider western China the next low-cost region of opportunity. This location has benefited from cost increases in China's coastal areas, which have driven some manufacturers to move farther inland. Poor infrastructure, particularly roads, has impeded western China's growth potential, however. Development of new roads and airports is underway to link this region with eastern China, but it is too early to determine how effective these infrastructure investments will be, says the Transport Intelligence report.
Migrating Management
Logistics infrastructure issues aren't the only constraints impacting supply chain capability in Asian markets. Rapid development has significant implications for the human capital side of the supply chain, as well. As the demand center shifts from west to east, so, too, will the design and innovation center. Qualified employees with analytical skills such as forecasting are moving east to Asia.
"When trade was focused on the West, it was natural to operate management hubs there," says Alvarenga. "Today, however, Singapore and Geneva are emerging as neutral zones for locating management activities such as supply chain and procurement. There has been a shift in where global supply chains are managed, and where products are manufactured and consumed."
As a result, Asia is sprouting a new generation of highly trained supply chain professionals. "A few years ago, a generation of supply chain executive ex-pats were working in Asia," Alvarenga says. "These professionals are being replaced by local managers trained by Western corporations. As these managers rise through the corporate ranks, they push for local employees to play a bigger role. This push will accelerate the movement of supply chain and other managerial jobs to Asia."
As Asia develops, however, costs increase— and this is just as true for human capital as for any resource.
"The cost differential between Louisiana or Texarkana and the most expensive locations in China or India is narrowing," Alvarenga notes. "In a traditional low-cost sourcing location such as Bangalore, management salary costs are increasing 15 to 20 percent per year. A senior manager at a large U.S. consulting company earns between $150,000 and $200,000. In India, that same position breaks the $100,000 barrier.
"In the United States, however, salary increases are flat, averaging two to three percent annually, while India's workers receive 20-percent annual increases," he adds. "So in five years, U.S. and India managers will be paid the same salary."
One factor driving supply chain salaries up in emerging Asian markets is the relative scarcity of management talent in emerging markets such as China and India.
"While the lower level workforce is abundant, options may be limited if you want to hire English-speaking employees with five or more years of management experience," says Hans von Lewinski, managing director of Accenture's Asia Pacific Electronics and High Tech industry group.
To Move or Not to Move?
Significant wage increases at all levels— from management to factory worker— in China and elsewhere, together with quality concerns, the weakening U.S. dollar, rising fuel costs, and the risks inherent in longer supply chains are driving many companies to re-examine their Asia sourcing strategies.
"Certain sectors have already started insourcing back to the United States," Alvarenga notes. "Companies are moving service jobs back because of the recession, increased costs, and high turnover. When you consider cultural issues, the cost differential is not a factor."
Is it time for manufacturers to retrench? Not if you want to stay in the game, according to Joe Manget and Pierre Mercier of The Boston Consulting Group. They insist the market opportunities are just too great, given the growth in consumer population and income across Asia.
To capitalize on this tremendous potential market opportunity, companies are better off producing in Asia. "Companies understand markets better when they live in them," observes von Lewinski. "They design products well-suited to local preferences, so items sell more easily. They can get the right product to market faster to capture share, and they can sense demand better. That's worth a lot of money, particularly with the tremendous promise of Asia's emerging middle class.
"The bottom line is, companies should think twice before moving out of Asia," he says.
Managing a supply chain in developing Asia clearly poses significant challenges and risks for companies. Rather than be daunted by and/or withdraw from these challenges, however, companies can be smart about addressing them. Doing your homework, researching the constraints and bottlenecks, and choosing partners or practices that can best assist you may avoid costly mistakes.
To this end, Manget and Mercier offer the following advice:
Look beyond cost. Cost arbitrage isn't a strategy; it can't sustain a competitive edge over the long haul. Forward-looking companies see outsourcing and offshoring as tools to achieve strategic objectives such as scale, flexibility, and access to talent, resources, and new markets— not just to reduce costs.
Diversify sourcing. Given the risks and uncertainty around rising costs, labor shortages, currency volatility, and growing protectionism, companies should adopt a more diversified approach to global sourcing. This means maintaining a portfolio of supply sources in different regions to mitigate risk.
Stay flexible. An enterprise with a truly global strategy can make, buy, or sell wherever the customers, talent, or resources are, and wherever it makes the most sense from a cost, quality, or efficiency standpoint. Conditions, customers, and costs all change over time, so the "best" locations will also change. Supply chains must stay flexible and ready to adapt.
The keys to succeeding in Asia are simple: first, make sure you understand the degree of logistics difficulty before going into a country. Then build a supply chain network based on local talent and partners, and tailored to each country or region.