COVID-19 Supply Chain Resources & Recovery Strategies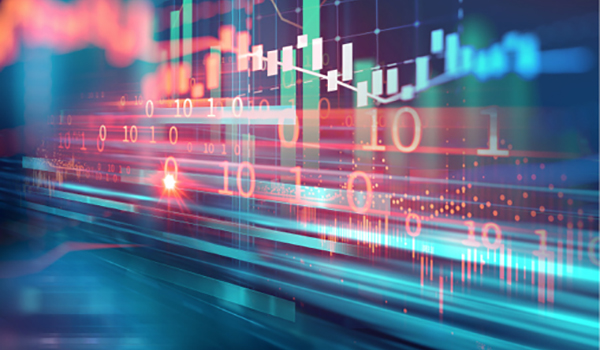 2021: The Year of Analytics-Driven Logistics
The effect of COVID-19 on supply chain efficiency has been profound. As the demand for critical products, components, and raw materials surged, the ripple effects transformed the industry. Supply chain stakeholders must now identify, package, and deliver shipments faster, while also finding new ways to reduce cost and improve performance.
At the same time, the volume and variety of relevant data sources have grown by leaps and bounds. IoT, telematics, autonomous vehicles, and machine-to-machine communications, along with traditional systems, are creating data at an unprecedented rate. This has fostered the emergence of new analytics and artificial intelligence tools that have helped logistics professionals understand and respond to the avalanche of data.
Amid all this information, the challenge for logistics professionals is to find the needle of data in the haystack. Without faster analytics, as well as a way to separate critical data from background noise, it's impossible to find the anomalies and critical connections at the speed that modern business demands.
Fortunately, new forms of accelerated data analytics are available to solve the problem. These analytics platforms not only allow interrogation of billions of rows of data at the speed of human curiosity, but can be accessed via the cloud to reduce adoption cost.
Of particular relevance to logistics problems is the ability to get location intelligence from data. Advanced geospatial analytics make it possible to continually track trucks, ships, trains, and other modes of transport, as well as connect data from one mode to another. They also make it possible to cross-reference external datasets to integrate traffic, weather, safety, and emergency information in real time.
—Todd Mostak, CEO & Co-Founder, OmniSci
---
"Although we expect a choppy economic recovery, the logistics sector should persevere with strong demand as we see the recovery accelerate following vaccine deployment cycles. With businesses expecting to rebound and labor markets improving, the logistics sector will be the nucleus of the global economic rebuilding endeavor."
—Greg Tuthill, Chief Commercial Officer, SeaCube Containers
Food Sector Serves Up Success Story
The most successful pivot and biggest resilience story in the U.S. supply chain during COVID-19 is in the food sector.
In the spring of 2020 there was an unprecedented pivot in manufacturing, distribution, and retail from the restaurant to the grocery retail endpoints. (The air transport industry is another major success story.) Depending on whether a company primarily serviced the restaurant or grocery sectors, it either had to absorb 90%+ declines or 100%+ increases in volume in the span of a month, then pivot to realign customers with suppliers, including renegotiating freight and contracts.
In the fresh produce picking and meat processing operations, adversity was even greater due to the compounding effects of outbreaks among workers and health-related shutdowns. Despite this, we have seen relatively few food sector bankruptcies (yet) and people have been fed, with relatively little increase in cost or availability to the consumer.
The lesson learned here is that the tremendous diversity of suppliers, distributors, and retailers, along with the freedom of the private sector to rapidly shift its operations without much red tape, and the largely self-sufficient nature of the U.S. food supply, are major resilience assets.
These systemic strengths contributed to an amazingly resilient food system in the spring of 2020. This is a huge success story, and the people who made it happen deserve so much credit. We should also be on guard against private or public actions in coming years that could compromise the resilience the system has already demonstrated.
At the same time, we have been reminded of the pitfalls of just-in-time approaches. Buffers, inventories, and reserves are a valuable hedge against risk and shock to supply chains, and we should carefully consider where in the supply chain we need to accept the cost of carrying increased inventories and stockpiles—and who should pay for that.
Failure to adequately protect worker health and safety—especially in this case farm and food worker health—has shown itself to be a major threat to our national food security, and this also needs focused attention and improvement from both private and public players. While there are some lessons to learn from this hard year, we should not lose sight of the main lesson: Our food system and the people who run it have proven extremely effective and resilient under the stress.
—Dr. Benjamin Ruddell
Professor and Director, School of Informatics,
Computing and Cyber Systems, Northern Arizona University
Director, FEWSION Project, a national supply chain mapping and analysis science project, funded by the National Science Foundation and operated out of Northern Arizona University
Three Must-Haves for a Post-COVID Comeback
COVID-accelerated e-commerce presents considerable challenges for supply chain operations. With door-step delivery, buy-online-pickup-in-store, curbside pickup, and traditional retail store fulfillment, logistics managers must consider how to stock for multiple delivery points. While increasing safety stock levels is one solution to avoid out-of-stocks, it can erode profits. Retailers should focus on the following:
1. Boost inventory transparency. To keep up with e-commerce growth, retailers need to know where an item is throughout the supply chain at any time. With RFID technology, they can run stock queries based on real-time item visibility and accurate item counts.
Using radio transmission, as opposed to barcode line of sight, RFID sensors gather individual data from multiple items that may be packed inside boxes. The ability to read individual item signatures in milliseconds reduces errors in the count and enables the system to produce real-time stock queries by location.
2. Get help from artificial intelligence. AI plays a crucial role in supply chain management, taking over the heavy lifting and repetitive tasks that are often done manually. AI can offer recommendations on how and what can be improved to boost supply chain speed and efficiency, while also considering cost-effectiveness.
AI can be linked to RFID data and automatically create orders for stock replenishment. RFID compares the on-shelf items to the store merchandising plan. AI can display alerts for missing items and identify what needs to be replaced, down to color, size, and count. By integrating AI into the supply chain, businesses can better plan for demand peaks and improve performance.
3. Improve 5G reliability. Getting a reliable WiFi connection in a warehouse can be challenging. 5G provides high bandwidth and low latency features, offering a unified platform for multiple device connectivity. Not only is it 1,000 times faster than 4G, it can also handle 10,000 times more traffic. This enables employees to track the global movement of goods in real time, while significantly increasing speed and productivity.
—Philip Calderbank RFID Consultant, BSN
Re-Imagining Warehouse Logistics Amid Global Disruption
With online sales surging, the demand for warehouse space is exponentially increasing as organizations look for larger fulfillment centers to store their products. This shift has significantly impacted the real estate market, as e-commerce retailers demand three times more physical space than brick-and-mortar stores.
These pandemic-spurred changes have forced organizations to rethink how they approach using warehouse space.
A CONVOLUTED ECONOMIC CLIMATE
The current economic climate forces organizations to reconsider their investment in all the spaces of their business, and warehouse space must be a key consideration.
With increased uncertainty around supply chains, forecasting appropriate inventory levels and corresponding warehouse needs has quickly become both more complex and business-critical. Using the right advanced technology can lend a hand to organizations seeking assistance in re-imagining warehouse logistics.
TECHNOLOGY IN THE WAREHOUSE SPACE
To navigate the unpredictability we currently face, organizations need tools that not only take a more in-depth look across historical data in the entire supply and demand ecosystem, but also help with evaluating the complex "what-if" scenarios. Leveraging technology, supply chain decision-makers can gain greater insights on how to optimize warehouse space.
Automation. Deploying automation capabilities allows organizations to rapidly scale up or down, dependent on buyer demand, providing warehouses with greater flexibility to accommodate an influx of products.
Internet of Things (IoT). Inventory management in warehouses has dramatically improved with the use of IoT devices to track and analyze the movement of goods in real time—allowing for greater visibility into how much warehouse space is needed to store products.
Machine learning and AI. Artificial intelligence has improved forecasting and planning for manufacturers as they navigate unique buyer behavior related to the pandemic. With accurate forecasting abilities, supply chain speed and accuracy improve, and organizations can be more cost-efficient when looking at other manufacturing logistics.
SCALING TO DEMAND
By deploying these technologies, organizations can make more informed warehousing decisions by gaining a holistic view of cyclical sale patterns—along with how these have changed over the past six months. This allows them to better understand where to build up inventory or scale down, as well as provides greater visibility into inventory levels and upcoming product expiration dates.
With this information, senior leaders can make assessments that more accurately project a company's future warehousing needs within today's changing world, and help avoid any knee-jerk reactions that may hold back future ambitions.
—Mike Edgett, Product Marketing Director, Sage
Microfulfillment is Here to Stay
Companies like Walmart and Target have deployed microfulfillment centers by bringing the warehouse to the consumer and optimizing contactless pickup.
More businesses are adopting this system, implementing fully automated contactless customer pickup logistics systems that work with shippers to provide pickup optimization for big and bulky goods such as building supplies and appliances, to integrate a safe and seamless customer pickup experience at warehouse and store locations.
The pandemic has reinforced the importance of customer experience and rewarded creative ways to ensure needs are met, even when they change rapidly. We'll see this new strategy implemented for years to come.
—Satish Natarajan, CEO and Co-founder, DispatchTrack
---
"COVID accelerated the role of technology in supply chains—what we thought was on the horizon for 2025 will be implemented in 2021."
—Ryan Yost, VP/General Manager
Printer Solutions Division
Avery Dennison Corporation
Build Stronger Relationships and Acquire Better Data
The COVID-19 pandemic sparked economic unpredictability and volatility. U.S. freight capacity suddenly increased alongside shutdowns and stay-at-home orders. Then, capacity tightened again as industries such as automotive rebounded and consumer demand for certain products rose.
The misalignment between freight and carrier capacity pushed shippers into the spot market more than we normally see, and brokerage became a more central method for moving goods.
Reliance on brokers and the spot market remains high, but maintaining this trend over time will continue to cost shippers millions. With variable rates running 30 cents per mile higher than contracted rates, costs add up quickly across billions of annual freight movements.
Brokerage is helpful on volatile shipments and under tight deadlines, but using their services conceals underlying data that could benefit shippers and carriers.
Without direct access to who is moving freight, and when, it's impossible to recognize when patterns emerge. This is especially true when brokerage matches freight with small- and mid-sized carriers that are an ideal network fit, but typically fly under the radar for shippers in their RFP.
Two key recovery strategies for shippers are to rebuild carrier networks with flexibility and to broaden their access to a wider transportation dataset.
1. Diversify your carrier network for improved agility. Rather than using brokerage or the spot market as a long-term solution, shippers should identify smaller carriers that fill gaps in their routing guide. Shippers can refocus network strategies around contracted freight and pursue direct relationships with carriers, then actively monitor and amend those agreements.
This avoids unnecessarily paying brokers for connecting carriers with freight, so they stand to make more money. It's also ideal for shippers because they avoid brokerage premiums while gaining transparency into how freight is being moved. This creates much stronger partnerships.
There will always be times when turning to the spot market and relying on trustworthy brokers is necessary, but a balanced carrier portfolio gives shippers flexibility.
2. Get insight from data outside your network. Another limiting factor is shippers' limited access to data from only their own transportation networks. This provides an incomplete picture of what's happening across the wider industry.
When you make procurement decisions based only on your own network, it's easy to lose sight of the variability that is created by your peers, third parties, and thousands of carriers. What you see in your own data may or may not be reflective of reality.
In uncertain times, looking at the freight movements happening around you informs better decision making by clarifying what is happening now and what could happen next in the freight market.
—Heather Mueller, Supply Chain COO, Breakthrough
---
"By broadening supplier breadth, companies can significantly reduce the impact of unforeseen circumstances—and by doing so, they'll be more prepared for the next big risk."
—Emma Vas, Director, Product Marketing, Epicor Software
---
"It's all about the data in 2021. Accurate and detailed customer data is critical to optimize the supply chain."
—Matthew Furneaux, Director, Location Intelligence, Loqate
COVID-19 Redefines Supply Chain Partnerships
While we have experienced observable changes like e-commerce acceleration, we've also seen some less obvious shifts following COVID-19. Mainly, there is now an increased emphasis on companies looking to their transportation and distribution providers to create value that transcends traditional cost-based decision making.
VALUE CREATION
Performance will surpass cost as the number one factor in maintaining successful relationships with logistics providers. Labor shortages and a shift toward quality and stability will result in a reevaluation of lean supply chains.
The extreme disruptions experienced in 2020 will shift C-level perception of their supply chain functions from cost centers to value creators. With organizations willing to pay for quality service and reliable capacity, shippers will increasingly demand flexible solutions from providers.
Data and solutions design capabilities will play an increasingly important role in differentiating the financially healthy and growing carriers/3PLs from the rest of the pack. Providers will accelerate sustainability initiatives as shippers look to partner with organizations that value and focus on people and the environment.
Shippers will increasingly contract with providers that offer a partnership approach vs. the more traditional procurement sourcing model of price-driven RFPs.
Logistics organizations that foster trusting relationships by offering innovative solutions, non-biased feedback, and excellent operational performance will thrive.
To someone outside our industry, these ideas make common sense, but for years shippers and non-asset 3PLs have focused their efforts primarily on reducing costs in traditionally siloed transportation and operations functions, often at the expense of stability and resilience.
COVID-19 caused triggering cracks to form in what executives assumed were strong transportation and distribution networks.
Going forward, we will experience greater collaboration between shippers and carriers, with providers that offer solution design expertise uncovering cost savings opportunities, while also helping organizations build more resilient networks to protect supply chains from future disruptions.
These partnerships will become more prevalent between shippers and asset-based providers, as asset-based carriers back up their design solutions with contractual commitments and capital investment, and as a result have more skin in the game.
CULTURE SHIFT
2020 was a challenging year for the supply chain. However, through all the challenges, a culture of true partnership is emerging. Shippers are moving beyond simply looking at the cheapest option when choosing a transportation and logistics partner, and instead, are focused on finding true partners they can rely on for increased stability and resiliency. By forming these deeper partnerships, carriers and shippers are able to collaborate and critically examine operations to find places to reduce costs across the board.
—Frank Granieri, COO, Supply Chain Solutions, A. Duie Pyle
---
"COVID exposed an imbalance in the relationship between buyers and suppliers. As buyers focus on building resilience to future shocks, we need to consider how best to equip suppliers to come with them on that journey. Technology can help to address this challenge, unlocking faster, more predictable cash flow, better access for diverse suppliers, and increased optionality in the event of disruption. What's good for suppliers is good for buyers."
—Christian Lanng, CEO, Tradeshift
Strengthening Supply Chains for Temperature-Controlled Vaccine Distribution
During the height of pandemic disruptions, most supply chains bent, but they did not break. Planning, collaboration, and flexibility proved paramount. Supply chain and logistics experts are using the additional knowledge gained over the past year to help ensure safe, efficient delivery of vaccines.
One big hurdle is the vaccine's temperature-control requirements, which can be especially challenging for four reasons:
1. Transport, packaging, and facilities need to be temperature-controlled and monitored, and stability data regarding effective temperature ranges need to be followed.
2. There are limits to the amount of dry ice allowed on aircraft and potential re-icing during transport requires specific accoutrements/apparel and safety protocols.
3. Last-mile efforts are vital to ensure vaccine delivery and replenishment for a network of vaccination sites, including remote locations.
4. These facilities are highly regulated. They cannot be built just anywhere at any time. They have to be licensed, inspected, and adhere to specific standards and regulations. This can take time.
Fortunately, these are not insurmountable challenges. For instance, one vaccine manufacturer developed specialized packaging to hold dry ice. It also opted for a more direct distribution model—mainly using express carriers—to minimize any risk that temperatures are compromised in transit.
As for other models, such as delivering vaccines to warehouses where they are broken down and delivered to the point of care, manufacturers will rely on partners like 3PLs that have specialized capabilities and capacity—or the ability to add it at short notice. In developed markets, there is generally sufficient capacity in place. Certain 3PLs can supplement capacity with additional certified cold chain capacity quickly as vaccines come online.
With regard to last-mile delivery, the networks of the integrators will play a crucial role, particularly in emerging markets. There is also an important role to be played by 3PLs, as they support allocation and capacity planning, scheduling, routing, monitoring, and exceptions management.
Thanks to new visibility tools and increased data exchange with pharmaceutical companies that emerged during the pandemic, 3PLs are able to track shipments and take action to ensure on-time, secure delivery like never before. It is a great example of how management of data flows in logistics can be just as important as physically enabling the flow of the product.
The amount of activity, cooperation, and coordination occurring is historic. Many supply chain and logistics leaders are focused on helping get vaccines into the hands of healthcare professionals as soon and effectively as possible. It is a great opportunity for our entire industry to step up and demonstrate the value we deliver—usually behind the scenes—for our customers and society at large.
—Scott Cubbler President, Life Sciences & Healthcare
DHL Supply Chain, North America
Three Trends in the New Normal
1. The concept of "peak" may no longer be tied solely to the holiday season. COVID-19 brought record-breaking, peak-level demands to retailers at various points throughout 2020, forcing their warehouses to be prepared for any and everything and questioning the idea of a single peak season.
While holidays will always remain one of the busiest times for retailers, it's likely we'll begin seeing more demand-generation events throughout the year to bring in profit that has previously only been attainable during the final months of the year.
2. "Concierge" fulfillment will begin to emerge over the next several years. The pandemic increased consumer interest in e-commerce, BOPIS, and BOPAC, changing the way retailers think about their commerce strategies. Retailers can no longer just focus on improving one of those forms of fulfillment, but must look at all of them (in addition to in-person fulfillment) to create a cohesive strategy in which customers experience the same level of service, regardless of the way they shop.
Once this strategy is executed successfully through proper supply chain and warehouse tracking, retailers can begin looking toward more "concierge" fulfillment efforts like deliver-to-trunk or deliver-to-garage strategies.
3. We will see a greater democratization of fulfillment. Consumer demand during the pandemic gave independent 3PLs and fulfillment centers the ability to step up and prove themselves as viable options. Retailers are turning to other fulfillment networks to deliver on fast fulfillment because industry leaders failed them.
We will continue to see more vendors working together to create access to flexible, affordable fulfillment automation solutions that empower brands of all sizes to more easily scale operations and meet customer expectations, without an outsized price tag.
—Guy Courtin, Head of Global Alliances, 6 River Systems
Collaborating with Competitors: Grocery sector has it in the bag
Grocery stores worked swiftly to address the challenges brought on by COVID restrictions, adjusting their approach to managing inventory, stocking shelves, and servicing customers.
Working to balance the uncertainty of the supply with the increase in demand, grocery stores re-examined their lean supply chain strategy. Across the board, they promptly worked with their logistics partners to implement a collaborative effort, aligning supply strategies with demand requirements.
As the direct point of contact for the consumer, grocery stores took a leadership position in collaborating with supply chain stakeholders to ensure high-demand items were at the right place at the right time. This cooperative effort was a carefully orchestrated symphony of moving parts from manufacturing, to delivery, to placing the goods on the shelves.
In addition to working in tandem with the supply chain community, grocery stores worked with their local communities to create a safe shopping experience. Many stores implemented one-way shopping aisles, sanitizing protocols, and plexi-glass barriers, and allowed a reduced number of people in the store. They also introduced or enhanced the option of online ordering and curbside, contactless pickup.
One key takeaway for the industry is that we need to build supply chains as well as business models that are designed to be agile and flexible, bending as the challenges and opportunities present themselves.
The grocery store sector's ability and openness to working cooperatively with its supply chain partners should be considered one of the greatest examples of collaboration between manufacturers, motor carriers, and retailers, which will have both short-term and long-term impact on all parties. We, as an industry, need to work toward building a stronger supply chain, comprised of collaborative partnerships.
The value of the concept of collaborating with competitors in the name of supply chain fluidity was brought to life by the grocery store sector and its logistics partners.
—Mike Wilson, CEO, Consolidated Chassis Management
Prioritize Supply Chain Strategy to Control Costs
Post-pandemic planning requires you to assess potential risks that exist and plan alternative ways to respond to evolving demands. Proper contingency planning today positions you for growth tomorrow. Consider these tips to maintain customer service levels while controlling costs.
Be prepared to adjust. Even in typical years, budget planning requires some guesswork. As consumer behaviors and disruptions rapidly evolve, the forecasting game has become significantly more challenging. Since costs can be a moving target, scarce resources and funds must consistently flow to the most valuable business outcomes.
Use supply chain resources. Determining the corporate impact of plans produced by other organizational departments reveals the levers that affect cost and service. Third-party logistics providers possess analytical capabilities to construct a global picture of the organization's total business from a data perspective.
Always be a partner. When a supply chain succeeds, all those involved will succeed. A supply chain partner with a continuous improvement mindset will uncover ongoing opportunities across your network. This added visibility allows you to be a better partner to your domestic and foreign vendors. With the right knowledge, you can accurately and openly communicate sales information, time-in-transit data, and other key performance indicators. Enhanced transparency fosters better relationships.
Evaluate and modify. Aggressively evaluate your entire supply chain and take an open-minded approach to the long-term structure. Does your supply chain strategy align with your corporate strategy? Are you leveraging analytical tools and supply chain expertise to monitor your strategy? Maybe you are getting your products out the door, but are you making money? Constant evaluation and adjustment are key.
Look internally. Examine internal processes and systems. Balancing resiliency and efficiency, supply chain leaders will secure their networks. The past year reminded us of the importance of agility. You must be ready to shift rapidly, yet balance service and cost to protect profitability.
—John Richardson
Vice President, Supply Chain Consulting
Transportation Insight
How to Overcome Hurdles and Build Resiliency
Future-looking supply chains need to combine digitization, optimization, and diversification to incorporate the level of resilience necessary now and into the future. Here are key strategies to build greater resilience into the supply chain:
Diversify your supply. Now is the time to re-evaluate supply chain geographies and look to diversify supply. This means a combination of international and domestic sourcing options. According to McKinsey, this trend started pre-COVID, but not as a means to mitigate risk. Instead, it improved speed to end consumers, which is a critical value proposition. At the same time, supply diversification has been shown to build resiliency and minimize the impact of disruption.
For example, by diversifying its supply chains in North America, Europe, and Asia, Toyota was in a very different position in 2016 when an earthquake hit Japan than it was during the 2011 Fukushima disaster when the company produced all parts in Japan. It averted worldwide downtime in 2016.
Prioritize digital tools for greater visibility. The ability to improve supply chain operations hinges on end-to-end visibility. ERP systems, transportation management systems, warehouse management systems, and manufacturing execution systems have allowed organizations over the past decade to create a plethora of unstructured data. This data is at their disposal to drive better insights, visibility, and predictions across the supply chain.
This data can inform necessary facets that will aid in recovery and create transparency, allowing them to estimate available inventory, determine realistic final-customer demand, secure logistics and distribution capacity, and maximize the management of cash flow and working capital.
The ability to aggregate disparate data from different supply chain segments then synergize it into a clear view isn't new to supply chain management. But the pandemic has accelerated this trend.
Nike, for instance, pulled off a pivot during COVID-19 and is an example of how digitization pays off in the long term. A McKinsey podcast shared how Nike was able to mitigate the impact of China-based operations when COVID hit because of its investment in a digital platform linked to its contracted manufacturer. The platform provided an understanding of where goods were in its supply chain. As a result, Nike was able to see the products on hand and re-route the goods toward e-commerce fulfillment centers rather than brick-and-mortar stores. In conjunction, the company shifted its marketing strategy to focus on available inventory rather than planned goods.
Continue to optimize and innovate. Supply chain leaders need to keep their eye on the big picture, future landscapes, and immediate optimizations. The pandemic response was reactive in many ways because strong disaster recovery plans were not in place. It opened our eyes to over-dependencies, workflows that need immediate changes, and opportunities to speed up innovation.
The trend toward direct-to-consumer technologies was amplified in 2020 as online shopping accelerated at lightning speed, and consumer preferences and shopping behaviors shifted. Consumer goods manufacturers and retailers need to rethink operations, build closer ties, and become better equipped to transform capabilities.
Continued optimization and advancement of new opportunities can help decrease human dependency and move supply chains from reactive to responsive as innovative capabilities better equip them today and against future market disruption.
—Doug Mefford
Product Marketing Manager
Generix Group North America
---
"Logistics providers will need to be cognizant of projections by vaccine manufacturers of the available supply to align the distribution capacity to match both demand and supply."
—Dr. Madhav Durbha
Vice President, Supply Chain Strategy
LLamasoft, a Coupa company
Enable your workforce with AI and low-code solutions
The consumerization of artificial intelligence technologies has empowered everyday knowledge workers to be able to use intelligent software to complete content-centric tasks. There are now no-code and low-code solutions that can be plugged into automation platforms to train and enable digital workers with cognitive skills to read, understand, and make decisions specific to various roles from customs forms, invoices, delivery receipts, waybills, and more. AI- and machine learning-based applications can help eliminate labor-intensive, error-prone processes associated with many supply chain processes and documentation.
—Bruce Orcutt, SVP, Product Marketing, ABBYY
Gaining Visibility into Inventory
Successful retailers have pivoted to prioritizing internal visibility. True visibility into inventory location and fleet availability is what lets shippers activate the appropriate shipping options during the checkout experience.
For example, many retailers don't have the ability to show a specific store's inventory, and they may only be able to offer same-day delivery if orders are shipped from stores. So they can't offer that service reliably for their e-commerce site.
Retailers who can unlock store-specific inventory will be able to offer shorter timeframes for shipping.
One of the pivots that's becoming more common with larger shippers is moving from an internal, first-party fleet to orchestrating delivery through multiple logistics service providers. This is a more demand-driven approach that lets shippers be elastic in responding to surges and falls in demand over time or across different locations or regions. This allows shippers to better control the consignee experience and ensure specific SLAs are met, and deliveries are on time.
—Nick Schurman, Director of Sales, Bringg
On-Demand
The impact of COVID-19 on the supply chain and the world underscores the importance of collaboration among colleagues, partners, and customers. The on-demand needs of current supply chains will lead to an increase in digital supply chain platforms. These platforms will enable companies to scale up or down based on demand. This will be made possible by large networks of carrier partners across all modes of transportation providing intelligence in real time.
A digitally empowered adaptive/flexible responsive logistics platform that leverages a global carrier network will enable companies to quickly move to alternate suppliers in other regions when needed and provide better data across multiple resources.
—Glenn Jones, GVP Products, Blume Global
Intelligent Sortation Re-Envisions the Last Mile
As B2B operations shift to direct-to-consumer processes, warehouses are doing less bulk shipping to stores and more individual shipping to residences. This huge increase in parcel volume puts more focus on the role of the last mile. End-to-end supply chain transparency will enable the last mile to meet the future.
AN RFID SOLUTION
More supply chain leaders are adopting a total RFID solution as a means to optimize supply chains and provide end-to-end transparency for each parcel: its location, its contents, its destination, and when it is expected. Automated data-driven approaches in the supply chain are essential to keeping goods moving quickly and accurately.
From manufacturing to end destination, RFID will enable supply chains to meet the rising demands of post-COVID e-commerce. A total RFID solution has the capability to maintain intelligence as well as interpret it throughout the supply chain. Moreover, RFID can enable additional functionalities—specifically intelligent automated sorting in the last mile.
The fundamental element for intelligent sortation is having meaningful data enabled by RFID at the parcel level, partnered with AI. In what may well be its most significant benefit, applying RFID technology to intelligent sortation is the next iteration of a total RFID solution. Ultimately, the flexible capability offered by RFID and intelligent sortation in last-mile fulfillment will allow a more strategic allocation of human resources as well as a significant increase in the speed, accuracy, and volume of parcels to flow through the facility, loaded for final delivery.
—Ryan Yost, VP/General Manager
Printer Solutions Division
Avery Dennison Corporation