Transport Funding: Who Gets the Big Piece of Pie?

The U.S. Department of Transportation's second round of stimulus funding for infrastructure development exposes a widening gap between U.S. roads, rails, and bridges and government special interests.

More to the Story:
Atlanta's downtown streetcar project pulled away as the big winner in the U.S. Department of Transportation's (DOT) second round of the Transportation Investment Generating Economic Recovery (TIGER) sweepstakes announced in October 2010. The new commuter system, which will operate four trolleys and 12 stations in connection with the existing Metropolitan Atlanta Rapid Transit Authority light rail system, received $47.7 million in grant money.
In Fort Worth, Texas, the Tower 55 Multimodal Improvement proposal ($34 million), aimed at alleviating freight bottlenecks at an intersection between the Union Pacific and Burlington Northern Santa Fe railroads, finished a distant second— and the disparity in funding reveals a much broader chasm in government's ability to practice fiscal discretion.
The DOT awarded nearly $600 million in grants to 42 capital construction projects and 33 planning projects from a pool of 1,000 applications valued at $19 billion. When transportation officials introduced TIGER subsidies almost two years ago— as legislated by the American Recovery and Reinvestment Act of 2009— they rolled out 51 grants worth $1.5 billion.
Roughly 29 percent of the TIGER II funds were approved for road projects, 26 percent for transit, 20 percent for rail, 16 percent for ports, five percent for planning projects, and four percent for bicycle and pedestrian right of ways, according to the DOT.
But whatever the perceived balance in terms of transport allowances across modes, officials have made it clear that public-facing commuter facelifts— when job growth and unemployment are arcing in opposite directions— take priority over much-needed freight infrastructure development.
Of the 42 capital projects awarded grants, 20 (48 percent) are purposed for passenger transport, 14 (33 percent) for freight projects, and eight (19 percent) for dual use (any project that contributes to both freight and passenger improvements). In terms of funding, freight proposals received $194.7 million in direct aid, passenger initiatives were allotted $248.4 million, and $113.6 million was spent on shared initiatives.
This distribution of funds is not an anomaly. The initial TIGER dispersal in February 2010 reveals the same imbalance. Nearly three times as much money was doled out, but of the 51 grants, 25 passenger-oriented projects raked in $691.7 million, 13 freight projects received $494.8 million, and 13 dual-purpose proposals accounted for $311.7 million.
One positive footnote is that the two grants in excess of $100 million were both directed toward freight infrastructure efforts— the CREATE Program Projects in Chicago and the Crescent Corridor Intermodal Freight Rail Project in Tennessee and Alabama.
Freight Doesn't Rate
The imbalance in freight transportation spend, as dictated by the DOT, will only stoke wildfire debate about the dire condition of U.S. roads, bridges, rails, airports, ports, and their surrounding infrastructure. In October 2010, the U.S. Chamber of Commerce's first-ever nationwide and state-by-state Transportation Performance Indexes revealed a significant decline in how the country's transportation network is serving the needs of the economy.
From an economic development perspective, a well-developed system for moving cargo is the dangling carrot that entices investment, attracts manufacturing, and creates jobs— this, in turn, stimulates consumer spending for automobiles, walking shoes, and bicycles. Allocating nearly $50 million for a downtown trolley system exposes a severe lack of transportation leadership at the federal level and the need for a national transportation policy that can provide governance for distributing transportation funding such as TIGER.
While the DOT reports that only four percent of the 2010 grants will be directed toward bicycle and pedestrian projects, in fact, 15 of the 42 winning proposals (36 percent) have provisions for bicycle and pedestrian enhancements. The 47-page press documentation publicizing the TIGER II recipients contains 45 references to "pedestrian," 41 to "freight," 37 to "bicycles/bikes," and three to "cargo." Observers need look no further than the fine print to gauge the government's priorities.
Even more telling, $20 million has been set aside for California's Crenshaw/LAX Light Rail TIFIA Subsidy in Los Angeles; $10.2 million appropriated for the East Bay Pedestrian and Bicycle Network in Alameda and Contra Costa counties; and $10 million for the San Bernardino Airport Access plan. All three projects, totaling more than $40 million, are primarily dedicated to public transit improvements. Only the airport initiative will have a measurable impact on alleviating freight network congestion in the area.
The fourth TIGER II recipient from California, the Port of Los Angeles' West Basin Railyard development ($16 million), will have a direct impact on cargo movement, connecting on-dock railyards to the Alameda Corridor.
With the first TIGER pass, two of California's four winning applications— the Alameda Corridor and the Green Trade Corridor/Marine Highway— were specifically directed at cargo improvements. So the success of California's earlier considerations and priorities may have swayed the state's most recent transportation funding targets and the DOT's decision-making.
Still, California ranks among the worst states in terms of transportation performance as it relates to economic value, says the U.S. Chamber of Commerce. Light rail systems, pedestrian walkways, bike paths, and better access to a regional airport are cosmetic fixes that do little to resolve fundamental infrastructure problems beyond helping travelers avoid traffic.
In Illinois, priorities are similarly slanted. The grant awarded to the Warehouse District Complete Streets project in Peoria allows city officials to "pursue plans to revitalize the area through mixed-used development, combining housing with shopping and work destinations," according to the DOT. As far as transportation investment, money will go toward enhancing the local road system "to encourage walking trips through sidewalk and streetscape improvements." Among the project's highlights? It will bring dilapidated and non-existent sidewalks into a state of good repair.
Rural vs. Urban
The criteria the DOT used in vetting these recent grant applications remain largely unchanged from the first TIGER-go-round. Officials made one concession to set aside $140 million for rural infrastructure development, but approvals were based on shovel-ready projects, return of investment, innovation, and partnership.
The DOT's rationale for prioritizing rural development also raises a few questions— for one, how it defines rural. Seventeen of the grants awarded in TIGER II were designated accordingly, including Oregon's statewide Electric Vehicle Corridor, which will build 42 electric-charging locations along Interstate 5. Many of these sites will be concentrated in Portland, Eugene, Salem, and Corvallis. Another rural project is Moscow, Idaho's proposed Transit Center. Moscow is a city with a population of 23,000 people.
Less-populated areas generally have fewer congestion problems and possess better transportation resources simply because they have to in order to remain competitive. Modal accessibility and efficiency are necessary incentives for businesses locating industrial facilities farther away from demand centers. It's why North and South Dakota, Nebraska, and Montana are the top four performing states according to the U.S. Chamber of Commerce's transportation index.
Densely populated areas, by contrast, often have the greatest transportation infrastructure needs in terms of moving freight and people. So improving commuter services in a major port city— thereby helping to alleviate traffic congestion— would better serve the interests of the greater national good than a new light rail transit system in a "rural city" where a growing percentage of the populace drives electric cars.
Why make a distinction between rural and urban transportation requirements? If there is an immediate and deserving need, it should be met.
The DOT's TIGER II allocations are likely to spread further unease among transportation and logistics industry constituents— but one positive trend emerges among the 2010 grant recipients. Seven of the 42 requests were awarded to port authorities, totaling nearly $95 million, or 17 percent of the available funds. The American Association of Port Authorities' goal was 25 percent.
In this regard, the TIGER II distributions reflect a considerable progression from the first round of awards, when port-related infrastructure projects received only eight percent of the $1.5-billion kitty. Other sectors, such as transit, highway/bridges, and pedestrian/bicycle, collected nearly 67 percent of the pie.
With port capacity, congestion, and labor shortages latent concerns in the United States, investing in and developing rail/intermodal infrastructure is one critical step in expediting cargo throughput, moving freight off heavily trafficked roadways, and working toward a greener business environment.
For now, however, this most recent round of TIGER funding, and the lion's share of investment directed toward special interests that have little bearing on the country's best interests, will do little to elicit a roar from an economy that is otherwise whimpering.
Mapping the Money
Not only is there a discrepancy between government funding for public-facing commuter facelifts and freight infrastructure development, there's a regional discrepancy as well. The Midwest and West get the lion's share of TIGER II funding, followed by the Northeast and Southeast. The Southwest gets far less funding than any other region.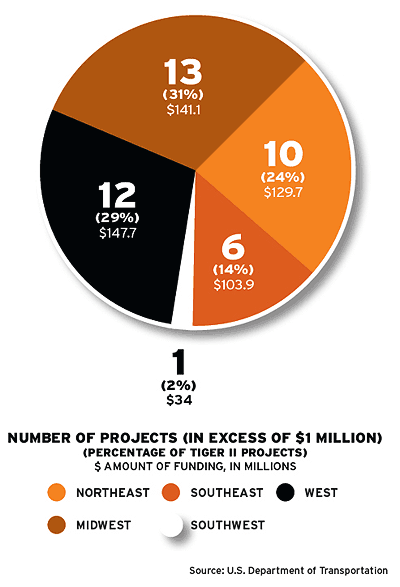 Source: U.S. Department of Transportation
Keeping an Eye on the TIGER
In two rounds of transportation infrastructure stimulus spending, the U.S. Department of Transportation has distributed more than $2 billion across nearly 100 capital improvement projects. Given the economic climate and the condition of U.S. rails and roads, the disparity between funding for public transport and freight transport is remarkable. To date, two-thirds of TIGER funds have been directed toward passenger transportation interests.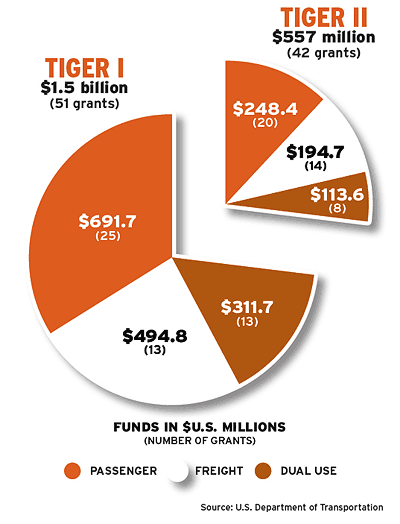 Source: U.S. Department of Transportation