Product Spotlight: Forklifts
Raymond 8250 AC Walkie Pallet Truck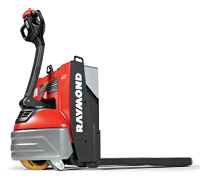 Powered by a lithium-ion power pack from battery maker Brammo, Raymond Corporation's 8250 instantaneously sends and receives communication between truck and battery pack. An onboard battery management system lets the user schedule charge times, notifies the user when charging is required, and monitors charging and usage.
Driven by Balyo, Yale MPE080-VG Robotic Lift Truck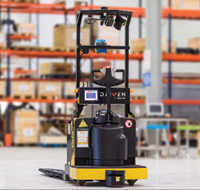 Yale Materials Handling Corporation's new robotic end rider lift truck picks up, transports, and drops off pallets anywhere on the floor using infrastructure-free navigation technology to map and guide itself. Without the need for tape, wire, or other additional infrastructure, the Yale robotic end rider lift truck adjusts to changing layout configurations. It can also switch to manual mode to help warehouses adapt to unexpected demands.
Hyster Electric Forklift J30-40XNT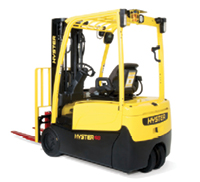 The compact design and tight turning radius of this three-wheel lift truck allow it to maneuver narrow or small locations. The AC-powered lift truck can change travel direction quickly and smoothly, offering operators precise speed control with rapid acceleration. A multifunction display located in the upper right corner of the operator's compartment provides visibility and ease of operation.
Jungheinrich EFG 213-220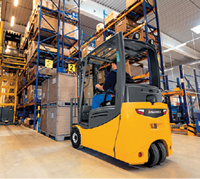 This new series of electric counterbalance trucks can increase productivity by running two shifts on one battery charge.Jungheinrich offers to cover the cost of a new battery if these lift trucks don't run two full shifts without stopping to charge the battery for five years. The vehicles also have curve control, which automatically reduces speed while turning corners, helping to ensure control over loads. The full-suspension seat helps cushion the operator from vibrations and bumps when traveling over uneven surfaces.
Mitsubishi FB16PNT-FB20PNT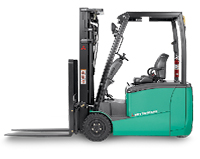 This three-wheel electric counterbalance forklift series features a heavy-duty AC drive and hydraulic motors. If the seat belt is not buckled, the Integrated Presence System locks out the lift truck's powered hydraulic functions and travel, sounds a warning buzzer, and illuminates a seat belt icon on the display. Electric power steering increases energy efficiency and operator comfort. Its wet disc brakes are durable and perform in wet or corrosive conditions.