Product Spotlight: Warehouse Workhorses
Raymond High-Capacity Reach-Fork® Truck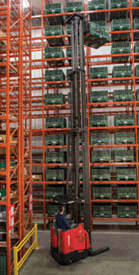 This new, integrated high-capacity reach truck from the Raymond Corporation lifts up to 4,500 pounds and reaches 542 inches. Applicable for cold storage and freezer usage, the high-capacity truck allows pallet storage from eight to 10 levels for potentially 25-percent more warehouse storage. The truck offers integrated telematics capabilities to increase efficiency, and universal stance and open-view mast for improved visibility and ergonomics.
Speedy Sort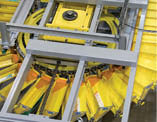 This new sorter from Sitma Machinery features a ring design and can reach speeds of up to 12,000 pieces per hour. Speedy Sort can work with four infeed points, each one featuring up to three conveyors, simplifying the operator's job. If the exit from the product flow is not available (e.g. because of a temporary obstruction or absence of the carriage), Speedy Sort keeps the product within the pocket until the exit becomes usable again.
---
---
BG Sorter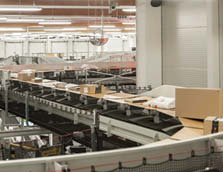 BEUMER Group's new sorter family offers precise, controlled sortation for a wide range of items in distribution centers. The cross-belt system maximizes the usable belt surface, permitting the handling of a wide mix of goods easily and safely. The tilt tray sorter prevents items from getting stuck between the trays, which helps to avoid collisions and downtime.
Jungheinrich EJG 212—216 Series Walkie Stacker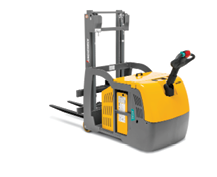 Recently introduced by Mitsubishi Caterpillar Forklift America to its North American product line, this lift truck series provides a high degree of maneuverability with an overall width of 35.4 inches—ideal for facilities demanding efficiency in tight spaces. With a 2,600- to 3,500-pound load capacity, these counterbalanced walkie stackers feature electric steering and a tiller arm that lets operators handle loads with precision and minimal effort.
iGo Neo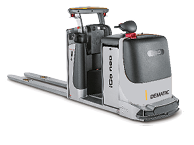 This dual-use automated guided vehicle (AGV) from Dematic operates as both a traditional walkie-rider machine and as an AGV for efficient, ergonomic, and economical automated mixed case picking. As an AGV, the iGo Neo automatically follows alongside the picking operator at all times during picking/putting. It eliminates the time-consuming actions of getting on and off the machine and walking with product over distance during picking.
Lydia Voice 8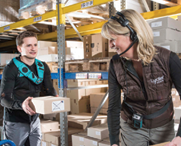 This voice recognition software solution from Ehrhardt + Partner Solutions (E+P) uses deep neural network technology for enhanced voice recognition performance. Along with the Lydia VoiceWear solution (pictured), a vest outfitted with specialized microphones and directionally optimized speakers, Lydia Voice 8 delivers almost-perfect recognition rates and helps with diverse workforces speaking a range of dialects.
RollerTop Autonomous Mobile Robot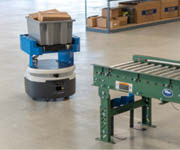 One of the latest additions to Fetch Robotics' VirtualConveyor family of autonomous mobile robots (AMRs), the RollerTop robot supports a broad range of workflows for materials handling and transport. These AMRs have integrated active conveyor modules that, combined with the robotic platform's new precision alignment feature, lets the robots hand off or receive material from fixed conveyance systems.
Pick-it-Easy Workstation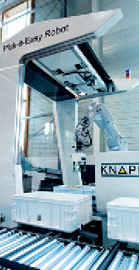 These workstations from KNAPP can carry out various tasks—picking, storage and retrieval, defragmentation, and consolidation—depending on the processes the warehouse needs to handle. The Pick-it-Easy series is based on a modular system, meaning the workstations can be tailored to specific demands. They reduce the number of monotonous and strenuous tasks involving lifting, stooping, and stretching to reach objects, boosting order processing efficiency.