Tracking Resins Avoids a Sticky Situation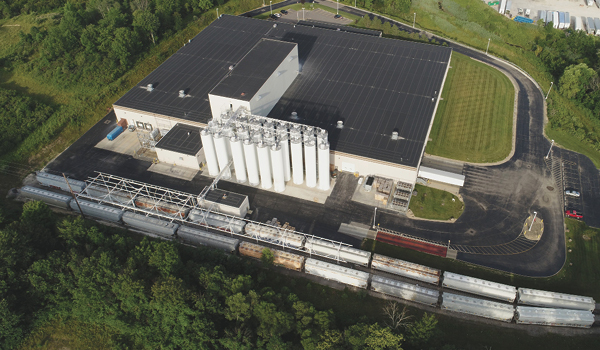 Thermoplastic compounds company Aurora Plastics turns to automation for all the right resins.
---
MORE TO THE STORY:
Getting a Grip on Efficiencies

In 2017, Aurora Plastics LLC moved ahead with one of the last pieces of automation required at its Streetsboro, Ohio, plant: improving how it unloaded resin from rail cars to the correct dedicated raw material silos.
With hardware from Janam Technologies LLC and a customized software application from Quest Integrated Solutions, the advanced polymer compounds developer and manufacturer eliminated time-consuming manual rail car content identification checks, improved its railyard management process, and delivered raw materials to their designated drop-off points with 100-percent accuracy.
Targeting Inefficiencies
Aurora Plastics, founded in 1997 in Streetsboro, Ohio, develops thousands of advanced polymers, custom plastics, and compound SKUs for a spectrum of markets from agriculture and automotive to HVAC, custom extrusion, and injection molding.
The company serves its global customers, the majority of whom are located in the United States and Canada, from five plants in Massachusetts, Ohio, North Carolina, Texas, and Quebec. It receives and ships raw materials in several packaging formats via truck and rail.
After implementing several IT-enabled automation solutions, the company shifted its focus to address inefficient manual processes at the Streetsboro facility.
Raw materials generally arrive at the plant in super sacks, in bulk, and in liquid bulk. The company blends the raw materials to make polyvinyl chloride (PVC) compounds, and the plant ships 500 different line items monthly. Five different types of resins account for the site's largest raw material usage, and it unloads more than 100 million pounds of PVC resins from rail cars annually.
Resin in Hand
Although many of the plant's other activities were highly automated, the fully manual, time-consuming process of handling resin rail deliveries, including performing multiple material quality cross-checks and off-loading the resins into dedicated silos, needed to be overhauled.
"In the past, any one of the rail cars coming into the plant could be carrying any one of five resins," says Seth Scott, Aurora Plastics' assistant plant manager. "The rail cars came in with an ID number, but that number didn't indicate the contents."
To determine the rail car's identity and contents, the raw material coordinator would walk up and down the railyard, write the rail car tagging information on paper, and cross-reference the information with the certificate of analysis (CofA) in the office. Afterwards, the operations team would double- and triple-check the rail cars and contents and ensure that they were hooked up to the right resin-storage silo.
These manual accountability checks happened several times every day because it was of utmost importance that the material was unloaded correctly into its dedicated silo.
"Unloading the resins incorrectly would contaminate the entire silo, which would then be considered non-conforming material," says Scott. "Our silos hold about 220,000 pounds. Unloading the wrong resin to a fairly full silo essentially contaminates 220,000 pounds of good material."
That kind of offloading error comes with a high price tag.
"The potential for error was huge. As many times as we would double- and triple-check, unloading mistakes still happened at least once every year," says Scott. "Once a year doesn't sound that bad, but it's very weighted. We had to shut down the plant for the entire day to resolve the issue. During the downtime to deal with the silo contamination, we are not producing materials."
Visible Results
Besides rail car identification and correct content unloading, plant workers needed an easier and more efficient way to visually see which rail cars were in the yard at any given moment. They also needed to know when a rail car came in and was being switched out, and that sufficient quality-control tests were completed before they began resin offloading.
The plant has the capacity to hold 18 rail cars on two tracks; there are typically 16 cars in the railyard and one to five cars being sent out daily. "It's a constantly rotating process," Scott says. "A lot of moving parts have to be considered."
The looming threat of a costly error made it clear that the company had reached an "enough" point. It had to find a more efficient way to manage the resin unloading while creating more rail car and railyard visibility. The missing link was a hardware and software automation rollout.
For help, Scott turned to Quest Integrated Solutions, a subsidiary of Technology Recovery Group in Westlake, Ohio. Aurora Plastics and Quest Integrated Solutions had a 12-year history of working together on other IT, barcoding, and data-tracking projects, and joined forces again in January 2017 to tackle the rail car offloading automation program.
"Seth [Scott] came up with the idea," recalls Jack Brower, director of Quest Integrated Solutions. "He knew that we could probably incorporate the RFID tag that already existed on all the rail cars into a tracking system."
Customized Solution
Over the course of 10 months, Scott and a small team from Quest Integrated Solutions developed a 100-percent custom application to monitor inbound and outbound rail car movement and facilitate the way the raw material coordinator reported and tracked products. For the hardware portion of the solution, Quest Integrated Solutions tapped Janam Technologies LLC, of Woodbury, New York.
"We received extraordinary support from Janam," Brower says. "Before they were involved, another hardware vendor had proposed a solution, but we found that it didn't work as touted. We asked Janam for help. Within 24 hours, we had a demo unit, software support, and a solution for our customer."
Aurora Plastics now uses Janam's XM2-RFID rugged mobile computer to scan the RFID tags on the rail car. Quest programmed the device and developed a desktop application to capture railyard data and send it to Aurora Plastics' SQL database. The application stores all of Aurora Plastics' transactions and enables the company to track and report historical data.
"About six years ago, we identified that the rail market was underserved in terms of technology," says Doug Lloyd, Janam's vice president of sales. "It had been supported by old legacy products, and as devices matured and migrated to higher-end systems, more features were needed. We worked with a number of experts in the intermodal rail network, and learned about the industry's product requirements."
Janam now integrates those features into solutions like the one it developed for Aurora Plastics. "The solution is not just a simple reader; it includes an operating system to write applications to, and a built-in barcode scanner that can scan and read RFID tags in a very compact product," says Lloyd.
The customized end solution now allows the raw material coordinator to walk the railyard with Janam's device, use Quest's drag-and-drop software application to feed up the rail car tag information, and better cross-reference the physical car data with the CofA—a significant change from the manual process of writing down the rail car ID numbers and retyping them into the system.
Going With the Flow
Aurora Plastics has improved its overall information flow as well, both within the company and externally. The railyard data is fed to the plant's operations team, giving them a clearer view of railyard activity, material quality, and products ready for unloading.
The solution also allows Aurora Plastics to share better data with its rail carrier and improve the coordination of rail car arrivals and switches.
The most important savings is the one that is hardest to calculate: the cost of an unloading mistake that would potentially shut down the plant and render a silo's worth of resin unusable.
"One mistake would have paid for the project," Scott says. "We haven't had any issues. It was a successful rollout."
Other benefits have been more tangible since Aurora Plastics officially launched the Quest-Janam solution in October 2017.
Aurora Plastics' Streetsboro plant has eliminated the manual paper process used to identify rail cars and their contents, resulting in efficiency gains across its operations and a 20-percent time savings, according to Janam. The raw material coordinator alone has saved about two hours of work every day.
Improved visibility, barcode scanning, quality checks, and offloading procedures have also led the company to achieve a 100-percent success rate for products being delivered to the correct locations.
Aurora Plastics continues to work with Quest Integrated Solutions on other lower-priority projects at its Lunenburg, Massachusetts, and Streetsboro plants. However, its main investment will be upgrading its newly acquired plant in Pasadena, Texas, where it may roll out similar RFID tagging, identification, and automation processes at a later time.
Getting a Grip on Efficiencies
Aurora Plastics wanted to improve and automate its rail car processes for unloading more than 100 million pounds of PVC resin annually at its Streetsboro, Ohio, plant. By deploying Janam Technologies' XM2-RFID rugged mobile computers and customized software applications from Quest Integrated Solutions, the resins maker was able to gain these supply chain efficiencies:
Achieved a 100-percent success rate for products being delivered to the correct locations at the Streetsboro, Ohio, plant through optimized data capture performance and reliability, combined with improved rail car and resin tagging and identification.
Eliminated manual paperwork and multiple quality cross-checks, resulting in a 20-percent time savings overall.
Freed up about two hours per day for the raw material coordinator, allowing the company to better utilize employee labor, time, and skills.
Improved transaction and historical data tracking and reporting, as well as communications between the raw material management, production, and operations teams as a result of integrated rail car and railway yard data sent to Aurora Plastics' SQL database.
Increased visibility and coordination of rail cars entering, staying in, and leaving the rail yard and improved communications with the rail carrier.
For the future, Aurora Plastics plans:
Rolling out similar RFID tagging, identification, and automation processes to its recently acquired Pasadena, Texas, facility.
Working with Quest to develop automation and barcoding solutions for smaller projects at its Lunenburg, Massachusetts, and Streetsboro, Ohio, plants