Transport Companies Mail It In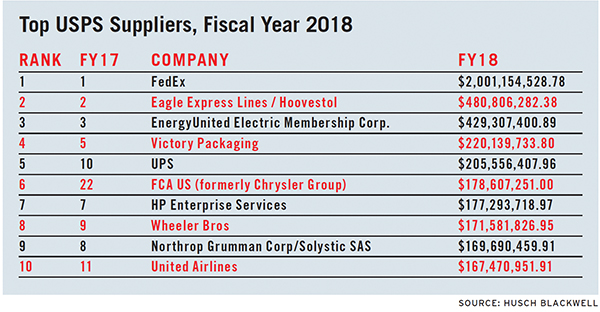 In 2018, the U.S. Postal Service (USPS) spent nearly $16 billion on outside purchases, and six of its top 10 contractors provide transportation services or equipment (see chart), according to Husch Blackwell's annual Top 150 U.S. Postal Service Suppliers list.
As a whole, air transportation suppliers increased their USPS revenue in 2018 from 2017's totals:
UPS had $206 million in revenue in FY 2018, which ups its 2017 total by $34 million and raises its ranking five notches to No. 5.
United Airlines revenue increased by $3 million.
Delta Airlines increased by $11 million.
American Airlines increased by $6 million.
Kalitta Air increased by $19 million.
These increases suggest the Postal Service is either moving more mail volume by air or paying more to do so.
Mail haulers Hoovestol and its affiliated company Eagle Express Lines again took second place with $480 million in revenue, freighting an additional $28 million from last year. The next largest ground carrier is Postal Fleet Services, with $161 million in revenue. Wheeler Bros., which provides automotive parts for the Postal Service's aging fleet, had $171 million in revenue to hold down the No. 8 spot.
FCA US (formerly Chrysler Group) accelerated from No. 22 to No. 6 with $178 million in revenue. FCA supplies the Postal Service with roughly 19,000 commercially available ProMaster vans from Fiat Chrysler Automobiles.
Technology companies also figure prominently in 2018's Top 10 Suppliers list. EnergyUnited Electric Membership Corporation, which provides telecommunication and energy billing services, again ranked third, this time with $429 million in revenue, an increase of $27 million over last year.
Computer equipment provider HP Enterprise Services was still No. 7, but with $21 million less revenue than 2017.
Northrop Grumman Corporation/Solystic SAS ranked No. 9 with $169 million in revenue. Accenture Federal Services saw a revenue decline of $39 million, dropping to No. 11.
The only company in the Top 10 not providing technology or transportation services is packaging products supplier Victory Packaging.