Georgia: Super Hub of the Southeast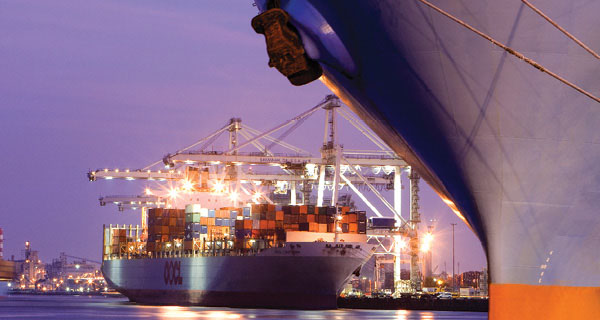 Manufacturers and service providers locating new or expanding operations in Georgia gain strategic business advantages, competitive efficiencies, and a whole lot more.
Peaches, peanuts, Vidalia onions—Georgia brings a cornucopia to the table, and not just at meal time. For companies that operate in Georgia, the state lays out a grand feast of transportation and logistics assets all day, every day.
Resources for receiving, storing, and distributing goods are part of the reason Site Selection magazine awarded Georgia the number-one spot on its list of top state business climates in both 2013 and 2014. Area Development magazine and CNBC joined in on the accolades, both naming Georgia the nation's top place to do business in 2014.
Home to transportation giants such as UPS, Delta Air Lines, and Saia, plus logistics software powerhouse Manhattan Associates, Georgia is also a major distribution hub. Walmart, Solo Cup, Kellogg's, Kimberly-Clark, Clorox, Walgreens, and Academy Sports+Outdoors are just a few of the companies to establish a large distribution presence in the state.
Georgia's logistics advantages start with its transportation network. The state's principal city, Atlanta, grew up around the end point of the Western and Atlantic Railroad. One of the city's early names, Terminus, refers to that landmark.
Today, Georgia is not so much a terminus as a center point from which roads, rail lines, and ocean and air routes radiate across the United States and around the world. Two interstate highways—I-75 and I-95—connect Georgia with the southernmost and northernmost reaches of the United States. Another four interstates—I-16, I-20, I-59, and I-85—put Georgia on a direct route to 15 states. Trucks hauling freight from Georgia on those highways reach 80 percent of the U.S. population within two days.
True to its heritage, Georgia remains a major rail transportation center, with 5,000 miles of track. Two Class I railroads—CSX and Norfolk Southern (NS)—operate there, along with 24 short-line carriers. Intermodal traffic makes the Atlanta area the second-largest inland port in the United States.
Georgia's Hartsfield-Jackson Atlanta International Airport, the busiest passenger airport in the world, is also the 10th-largest air cargo hub in North America. With three main cargo complexes, the airport houses 14 cargo-only carriers and two million feet of warehouse space for air cargo. Flights from Atlanta reach 80 percent of the U.S. market within two hours. The airport also offers direct flights to 75 destinations outside the United States.
---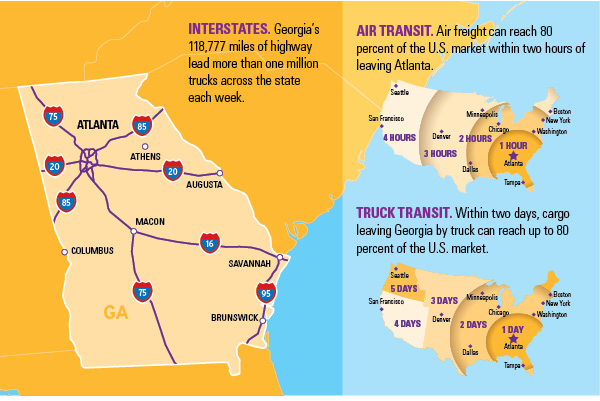 ---
The Power of the Ports
For companies that rely on maritime transportation, Georgia's Ports of Savannah and Brunswick—both owned and operated by the Georgia Ports Authority (GPA)—exert a powerful attraction.
The fourth-busiest container port in the United States, the Port of Savannah offers 38 shipping services, the most at any port in the Southeast. Savannah's Garden City Terminal, which handles containerized and refrigerated cargo, is the largest single-terminal container operation in North America. Its Ocean Terminal provides dedicated capacity for breakbulk and Ro/Ro (roll-on/roll-off) cargo.
"The GPA's specialized operations—containerized goods at the Garden City Terminal, breakbulk at Ocean Terminal, and Brunswick's three terminals specializing in breakbulk, bulk, and Ro/Ro—ensure expert and expedited handling in each cargo sector," says GPA Executive Director Curtis Foltz.
Shippers at the Port of Savannah enjoy quick, efficient connections to the domestic transportation network. "Garden City Terminal offers direct access to I-95 and I-16 without city traffic congestion," says Foltz.
Both NS and CSX operate on-terminal in Savannah, with overnight service to Atlanta, Charlotte, Jacksonville, and Birmingham, two-day service to Memphis and Nashville, and three-day service to Chicago, Cincinnati, and Dallas.
Shippers gain a particular advantage from the presence of two Class I railroads at the port. "Shippers get competitive rates, which they wouldn't if they had to deal with a carrier that has a monopoly or dominant market share," notes Trip Tollison, president and CEO of the Savannah Economic Development Authority (SEDA).
Shippers also benefit from the excellent balance between imports and exports at the Port of Savannah. "We're currently at about a 50-50 ratio between containerships that come here full and leave full," Tollison says.
Geography also sets apart the Port of Savannah: of all the ports on the Eastern Seaboard, it's located the farthest west. Companies that import through Savannah, and then forward goods to other locations, save money as a result. "The cargo spends more time on the ocean and less time on surface transportation," says Jannine Miller, director of the Georgia Center of Innovation for Logistics.
Recent infrastructure projects have made Savannah an even better choice for shippers. For example, the GPA has expanded its Mason Intermodal Container Transfer Facility. "Working in conjunction with a new Highway 307 overpass, and a wye installed by Norfolk Southern, the expansion has cut round-trip NS transit times to Atlanta by six hours," says Foltz.
The biggest improvement currently on the Port of Savannah's horizon is the Savannah Harbor Expansion Project (SHEP). "The U.S. Army Corps of Engineers will soon issue a contract to dredge the outer harbor to 49 feet at low tide," says Foltz. A subsequent contract will deepen the inner harbor to 47 feet at low tide.
"The deeper water will enable the Port of Savannah to better serve the Super Post Panamax vessels that currently call on Garden City Terminal, allowing them to arrive and depart without waiting for high tide, and to transit the channel more heavily loaded," Foltz says.
Another project currently in the works is the Georgia Department of Transportation's (GDOT) plan to complete the Jimmy Deloach Parkway Extension in 2016, providing a direct, highway-speed link for freight moving between the port and I-95 and I-16.
Savannah's Reach
While the port is a tremendous asset, Savannah also offers other advantages to shippers. One is access to markets. "Within 300 miles, we have 28 million residents in 11 major metropolitan areas, with eight major international airports and five ports—Savannah being one of them," says Tollison.
Resurging business activity has put pressure on industrial real estate in the Savannah region, but the number of available properties is on the rise. "Several private developers are looking at opportunities to build facilities," Tollison says.
Logistics operations in the Savannah region also benefit from the work of two local institutions of higher education. "Georgia Southern University, which is 45 minutes from the port, offers four different logistics degrees," says Tollison. And, students can earn an associate's degree in logistics management at Savannah Technical College.
Military facilities near Savannah also bolster the logistics workforce. "All branches of the armed services have some sort of presence within one hour of Georgia's ports," says Tollison. As service members make the transition to civilian life, many go to work for local employers. "Logistics companies, as well as manufacturers and others, love the opportunity to tap into the military workforce because of the value they bring," he adds.
Logistics Commitment
Among the many factors that make Georgia a prime location for logistics, one of the most notable is the Georgia Center of Innovation for Logistics. Part of the Georgia Department of Economic Development, the Center uses its expertise, resources, and connections to help companies operating in the state make their supply chains as efficient as possible.
For example, a company might need help choosing the best location for a distribution hub, with the right connections to the transportation infrastructure. "We'll explore what company officials are looking to achieve, then we'll go through our contact list to find logistics providers in Georgia that can tailor solutions to the shipper's needs," says Miller.
The Center also works with its state partners to connect logistics companies to programs such as Georgia Quick Start, which provides free training to logistics employees. Delivered in partnership with the state's technical colleges, Quick Start can provide training in classrooms, in mobile labs, or at a company's own facilities. "The training can cover everything from the basics of forklift operation to efficiency within the distribution center to truck driving and obtaining a commercial driver's license," Miller says.
In fact, she points out, Georgia offers top-quality educational opportunities for people who work—or want to work—in logistics at all levels, from the warehouse floor to the executive suite.
For instance, in Savannah, logistics firms have teamed with local high schools to create an internship program for students. "The interns work at the port and in the distribution centers, putting them on a path toward solid, well-paying jobs," Miller says. "We clearly have a need for those employees in our systems, and this gives us a way to connect with them."
At the other end of the spectrum, the Supply Chain and Logistics Institute at the Georgia Institute of Technology in Atlanta offers graduate degrees and certificate programs in logistics and supply chain management.
Several transportation infrastructure projects in Georgia are on track to make life even easier for companies that ship product into, out of, or within the state. The Savannah Harbor Expansion Project's move from the planning stage into actual construction is especially exciting. "That project will bring a five-to-one return on investment for the entire country, once we can move the bigger ships that are coming here through Panama," says Miller.
Another project already underway is construction to add two tolled express lanes to I-75 in metropolitan Atlanta. Although the new lanes are designed for passenger cars, they will help to speed freight by drawing traffic away from the lanes that carry commercial trucks.
"Every day, 16,000 trucks go through I-75 South," says Miller. Commercial traffic on the northbound side is heavy as well. "The new lanes will greatly improve the traffic flow in this major corridor," she adds.
Georgia is also planning future highway projects that will benefit freight transportation. In 2012, the U.S. Department of Transportation (DOT) awarded the GDOT one of its Transportation Planning Excellence Awards for the state's Statewide Freight and Logistics Plan. This blueprint identifies transportation improvements that will bring the greatest benefit to the freight industry. In making the award, the U.S. DOT cited GDOT's efforts to engage both public- and private-sector stakeholders in the plan.
"This is now on our books as a priority network—a grid of highways running north, south, east, and west throughout the state that prioritizes freight infrastructure," Miller says.
So dedicated is the state to promoting logistics that it has created an annual event just for that industry, the Georgia Logistics Summit. Founded in 2009 as a luncheon, it has blossomed into a two-day event that makes an impact far beyond Georgia's borders. In 2014, it drew attendees from 35 U.S. states and 11 nations.
The Summit provides a forum where shippers, service providers, and industry and government officials can talk about challenges and opportunities in logistics, share the latest news, and forge new connections. One of the most popular sessions in the program is the Rapid-Fire Transportation update, featuring news from the GPA, the Georgia Motor Trucking Association, the Georgia Railroad Association, Hartsfield-Jackson Atlanta International Airport, and GDOT.
Each summit also features a set of "Opportunity Sessions," focusing on issues connected to particular logistics markets. "The 2015 Summit featured panels on e-commerce, perishables, and intermodal transportation," Miller says.
One big fan of the Georgia Logistics Summit is Mike Owens, president of HWC Logistics in Savannah, one of the event's sponsors. "The Summit draws a big crowd we can sell our services to, and describe what differentiates us from other logistics companies," he says. "We also get a chance to tell attendees why Georgia is such a great place to do business."
HWC has provided service in Georgia and nearby states for 35 years. With warehouses in Atlanta and Savannah, as well as in Charlotte, N.C., plus a fleet of 40 trucks, HWC offers a single-source solution for shippers that require service in any of the company's five specialty areas—distribution, warehousing, transportation, import, and export.
Companies that work with HWC benefit from its long experience and ability to take advantage of cutting-edge technology. The company recently implemented a new transportation management system (TMS) and is now focusing on other technology improvements.
"We're enhancing our WMS (warehouse management system), and we're integrating radio frequency capabilities further and further into our warehouse operations," Owens says.
Loving the Location
According to Owens, the great advantage to running a logistics operation in Georgia boils down to location. The ability to reach 80 percent of the U.S. population within two days is a major plus, but that's only part of the story. Continued economic growth in the Southeast is also an important factor.
"Now that the population growth is pushing south, that demographic has to be fed with products and services," Owens says. Merchants need to get their products closer to that growing market. "The Southeast makes a wonderful place to do that," he says. "Once you get the product here, it's much cheaper to get it to market."
Georgia's extensive transportation infrastructure and temperate climate offer advantages as well. "You don't get the kinds of delays that increase the cost of a product for a customer," Owens says.
Recent labor slowdowns at West Coast ports have helped make Georgia an even more popular choice for shippers, says Owens. It's well-known that in recent years, companies that used to bring Asian imports into the United States through Los Angeles have started using ports in the Southeast as well, to import product bound for markets in the eastern United States. But lately, even product ultimately bound for the West Coast has started to enter the country through Savannah and other Southeastern ports. "I've never seen that before," he says. "It's happening now because shippers are frustrated with the congestion and delays at West Coast ports."
Cargo Group LLC operates a 255,000-square-foot U.S. Customs bonded third-party warehouse located just three miles from the main gate of Savannah's Garden City Terminal and three miles from I-95.
"Our proximity to both is a winning combination for moving freight through the supply chain quickly and effectively," says Jason Todd, who is responsible for Cargo Group's inside sales and marketing. "Our 28-year history in Savannah, and the fact that we own our facilities, also provide key advantages, as we effectively service our customers while maintaining a reasonable cost structure."
Cargo Group's customers include customs brokers, freight forwarders, trucking companies, and end-product users. Commodities the company handles range from auto parts to paint pigments, electrical insulators, plywood, boats, and cars, among many others. "Whether we're handling a palletized flat load or loading a multi-million-dollar submarine on a flat rack for exporting, we provide the same consistent service," Todd says.
Staying diversified keeps Cargo Group flexible. "If one market starts to slow down, another might start seeing an increase," Todd explains. This diversity lets Cargo Group's customers seek out varied kinds of cargo in turn. "They know they have a warehouse in Savannah that can meet their requirements and expectations, whether they need transloading, storage, crating, or heavy lift capacity," he adds.
Logistics Gateway
Georgia's continued investments in infrastructure, the pro-business mindset of its leaders, and the support provided by the GPA all make the state a great place to do business, Todd says. "Twenty percent of the U.S. population is already served by the Port of Savannah, and 44 percent of the U.S. population is within easy reach," he notes. "Savannah is a gateway to and from major markets."
Cargo Group's customers appreciate the quick transit times from the Port of Savannah to destinations in the Southeast. The consistent service that shippers get at Georgia's ports, and the state's hardworking population, also provide important benefits, Todd says. And by partnering with Cargo Group, companies effectively extend their own operations into a location just a few miles from the fourth-largest container port in the United States. "We provide warehousing services at a more cost-efficient rate than if shippers had to move the cargo to their own facility," he says.
Customers also appreciate the special services Cargo Group can provide in its Customs-bonded facility. Occasionally, for example, a load may arrive in port with product packed on wooden pallets that have not been treated against invasive insects, as U.S. Customs requires. If the shipper or forwarder was not working with a bonded warehouse, Customs would have to send that load straight back to the country of origin.
But Cargo Group's bonded status allows the company to receive such loads in its warehouse and correct the situation. "We take the cargo off the non-compliant wooden pallets, put them on compliant pallets, and re-export the non-compliant ones," Todd says. The cargo can then move on to its final destination without delay.
JIT Loves the GPA
Another business with close ties to the Port of Savannah is JIT Warehousing and Logistics. Located one half-mile from the Ocean Terminal and 3.5 miles from the Garden City Terminal, JIT operates more than one million square feet of indoor storage, 10 acres of outdoor storage, and logistics complexes on the Norfolk Southern and CSX rail lines. Along with warehousing, JIT's services include trucking, shipside delivery, intermodal services, specialty hauling, cross-docking, and more. Its trucks move steel and metal products, wood products, palletized cargo, and other commodities throughout the United States.
Proponent of the Ports
To Ben Goldberg, president of JIT Warehousing and Logistics, the prime reason for doing business in Georgia is access to the Port of Savannah. "Georgia Ports Authority has always been an industry leader," he says. "So many major ports in the United States are facing congestion and other logistics problems. But GPA has enough capacity to double its business in the next 10 years."
Goldberg points to an ongoing series of port improvements designed to make sure that cargo moves smoothly into and out of Savannah's marine terminals. One of those projects is the construction of Gate 8 at Garden City Terminal. "This new multi-lane truck gate will help the terminal avoid congestion while completing 9,000 truck moves per day," says Foltz at GPA.
In connection with that project, GDOT plans to upgrade Grange Road, the exit from the Jimmy Deloach Parkway that will bring trucks to Gate 8. "Expected completion is in 2016," Foltz says. Georgia also plans to build the Brampton Road Connector, a 1.1-mile-long road that will allow trucks to move directly from Garden City Terminal to Interstates 516/16.
Within the terminal itself, the GPA recently added four electric-powered container cranes, bringing the total there to 22. "Four more cranes are set to be delivered in 2016," says Foltz.
JIT Warehousing and Logistics is also beefing up capacity to accommodate the needs of shippers in Georgia's flourishing economy. "We've been adding forklifts, cranes, trucks, and trailers to accommodate our growth, " Goldberg says. "We've purchased additional heavy-haul equipment, a new quad axle-trailer, and a new triple-axle truck."
All About the People
Ask Hal Justice what's so great about Georgia, and you'll hear him sing the praises of its population.
"Vendors and employees in Georgia understand business," says Justice, vice president of sales and operations at Kennesaw-based Atlanta Bonded Warehouse (ABW). "The workforce is focused on seizing the initiative, getting things done, and satisfying customers."
ABW operates nine warehouses across the southeastern United States, comprising 2.5 million square feet of dry and temperature-controlled space. Along with warehousing and co-packaging, the company provides LTL distribution for temperature-controlled products through a sister company, Colonial Cartage Corporation. That transportation service covers the Southeast, Southwest, and Midwest, as far as Colorado with 80 power units and more than 250 trailers, plus another 25 contracted power units and drivers.
ABW primarily handles food, food-grade material and ingredients, and over-the-counter pharmaceuticals, with an emphasis on confectionary products. "Our largest customers are Mars, Hershey, Wrigley, Storck USA, and others that need products in a temperature- and humidity-controlled environment," says Justice.
The second great advantage ABW gains from its location near Atlanta is easy access to world-class transportation infrastructure. "Outside of megalopolis areas, there are few locations in the United States that have so many interstates converging in the metropolitan area, and all going in different directions," Justice says. But that's the case in Atlanta, where the convergence of I-75, I-85, and I-20 puts trucks on a direct route to points north, south, east, west, and in-between.
Proximity to Georgia's ports is crucial as well, because much of the product ABW handles is imported from Europe, the Far East, or the Middle East. "We get a lot of product inbound from Savannah for several customers," Justice says.
ABW has gained new business as Georgia's economy has accelerated in recent years. "The volume of inventory coming through our locations, and the tightening of available warehouse space, has been significant," Justice says. "Space that was empty four or five years ago is now getting a lot of interest."
ABW has grown to meet the new demand. "We've expanded about 30 percent in terms of space to handle new and existing customers, and in anticipation of new business," Justice says. "We've taken some additional space, and we expect we'll have it all filled by the end of 2015."
The company has also spent the past two years implementing a new Tier 1 WMS. "It's a large undertaking, but it's necessary to be able to provide the transaction speed and information that our customers require, as well as improve productivity," Justice adds.
Georgia's Got Talent
Georgia's talent pool is a tremendous plus for Nolan Transportation Group (NTG), a full-service third-party logistics provider (3PL) headquartered in Roswell.
"Many good schools here offer logistics programs, including Georgia Southern University and Georgia Tech," says Kevin Nolan, the company's chief executive officer. Georgia College recently added logistics to its offerings. Logistics professionals also come to Georgia with degrees from programs in adjacent states—at the University of Tennessee in Knoxville and Auburn University in Auburn, Ala.
With 10 offices throughout the United States, NTG helps companies of all sizes—from the Fortune 500 to small, family-owned concerns—move freight throughout the United States. It also operates OTR Capital, which provides financial services to small trucking companies. Among those services is factoring, a mechanism that helps small trucking firms ride out cash flow fluctuations when they can't get bank loans. "We purchase their receivables, so they don't have to wait 30 or 40 days to get paid," Nolan says. NTG also sells insurance to trucking companies.
For shippers, NTG serves as a kind of matchmaker, working with smaller carriers to provide capacity.
"The carriers we work with range in size from those with just one truck to those that operate 500 power units but don't have a national sales force," Nolan says. "The freight we move includes roll stock paper, steel coil, and just-in-time aviation and auto components." NTG also handles a great deal of produce from southern Georgia and Florida.
During the nine months of the year when Florida does not ship large volumes of produce, much more freight moves into that state than moves out, Nolan says. The imbalance creates a capacity bonus for Florida's neighbor to the north.
"Every day, thousands of trucks move out of Florida with no freight on them. Georgia can capture a lot of those trucks," he says. Georgia's ports and Atlanta's airport also promote an abundant flow of capacity into the state.
Georgia's diverse mix of businesses and lively economy certainly has kept NTG busy in recent years. "Many large companies have moved their headquarters and manufacturing here, and we've hauled building materials in during the construction process," Nolan says. "Later, we help them move freight out." That's what happened, for example, when Kia Motors built a plant in West Point.
All that activity has spurred a significant growth spurt at NTG. "We hired 90 people in January 2015, and we plan to hire another 90 in June," Nolan says. "The new hires work in service, sales, and operations, and they're great people."
Although NTG operates all over the United States, it can thank the abundance of large businesses with hubs near Atlanta or Savannah for a lot of its growth. "There's endless opportunity for our business to gain customers right here in our backyard," Nolan says.
Growing Economy
Brown Integrated Logistics traces its history to a business founded with a single dump truck in the mid-1960s. Located in Georgia since the early 1970s, the company took its current form and name in 2011. Today, it operates through four subsidiaries: Brown Logistics Services, West Logistics, Brown Fleet Services, and Brown Trucking. Its portfolio includes third-party logistics services, brokerage, warehousing, fleet maintenance, and dedicated trucking.
Brown's headquarters in Lithonia, east of Atlanta, includes a brokerage terminal, truck dispatching facility, and fleet maintenance facility. The company also operates truck terminals in Savannah and Columbus, Ga., and a warehouse in Rome, Ga. Outside Georgia, Brown operates trucking, warehouses, and repair shops throughout the Southeast, plus brokerage offices in Chicago and Dallas, and two warehouses in California.
Georgia is the right location for Brown Integrated Logistics because of the state's booming manufacturing sector. "Few of our customers are based here, but they all have facilities here," notes President and CEO Brian Kinsey. "There are a tremendous number of distribution and manufacturing operations in the state."
With a strong pro-business climate, Georgia has done an excellent job of attracting new companies, says Kinsey, who points to a recent announcement that Mercedes-Benz USA will move its headquarters to Atlanta as one example.
"The economic development initiatives have been attracting additional businesses, which generates more business for us," Kinsey says.
Although Georgia, like the rest of the country, was hit hard by the recession of 2008-2009, it has made a remarkable recovery in recent years. New arrivals create new opportunities. "Many industry verticals are coming to the area," Kinsey says. "We're starting to focus on what they need, such as special equipment."
For example, Brown has begun moving compressed wood fuel pellets to the ports for export. "We're also doing dedicated flatbed hauling for utilities and building materials companies, some of which require a moffett—a forklift attached to the trailer—for offloading in the field," he says. In addition, Brown uses specialized high-cube vans designed for handling ultra-large rolls of paper. "We're also looking at a lot of other opportunities to offer customized solutions," Kinsey adds.
All that activity has prompted Brown to expand its presence within Georgia. "We opened our first warehouse in Georgia in 2014, and it's doing well," Kinsey says. "Every one of our divisions has a significant operation in the state and is looking to add more."
One of the brightest aspects of running a logistics company in Georgia is that there seems to be plenty of customers to go around. "I don't have to steal market share from somebody else in order to get new business," says Kinsey.
With no end to its growth in sight, it's no wonder that more companies keep coming to Georgia to savor its grand banquet of opportunities.
For information on featuring your region in an Economic Development Supplement, contact Keith Biondo at 212-629-1560.