Intermodal Efficiencies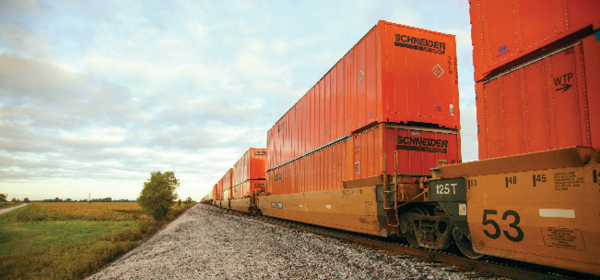 How shippers save money without sacrificing service by letting railroads handle the long hauls.
More to the Story:
It's inexpensive, safe, super-reliable, and available when you need it. That's what proponents say about intermodal transportation, and it explains why intermodal carriers have been moving so much freight in recent years.
In August 2013, intermodal traffic in the United States averaged 257,795 units per week, the highest weekly average ever recorded, according to the Association of American Railroads (AAR).
"Domestic intermodal is growing much faster than almost any other area of the U.S. economy or industry," says Scott Webb, senior vice president at NFI Intermodal, a carrier based in Cherry Hill, N.J.
The term intermodal refers to moving a container or trailer by more than one mode of transportation—generally truck plus rail, ocean plus rail, ocean plus truck, or all three modes. Some recent freight industry trends—such as long-haul trucking capacity shortages, higher fuel costs, and a drive to reduce environmental impact—have sparked new interest in intermodal, especially pairing truck and rail as an alternative to over-the-road (OTR) trucking for domestic moves.
And recent trends in intermodal transportation, such as major initiatives to upgrade rail networks and service, have created some new opportunities for shippers:
Lower cost. A load that travels as part of a train pulled by locomotives requires far less diesel to move than when it is hitched to a truck cab. A train, for example, can move one ton of freight nearly 450 miles on one gallon of fuel, according to CSX Corporation. That sort of efficiency cuts the cost of an intermodal freight move and, as a bonus, reduces a shipper's carbon footprint.
Consistent access to capacity. An ongoing shortage of long-haul truck drivers, combined with new Hours-of-Service rules and tighter safety regulations, can make it harder to find a truck to pick up a load as needed. "Intermodal offers shippers another option," says Tommy Barnes, president of Con-way Multimodal, the truckload brokerage company of Con-way Inc., based in Ann Arbor, Mich., and Portland, Ore. When carriers leave long-distance trips to the railroads—using trucks just for drayage at the start and end of each move—they have an easier time keeping drivers on the payroll. "With intermodal, we can handle six times as many truckloads as we could over the road, using the same number of drivers," Webb says. In addition, intermodal makes it easier to find extra capacity when you need it. "Trying to amass 250 empty trucks from over-the-road service is very difficult," says Dave Howland, vice president of land transport services at supply chain management provider APL Logistics in Phoenix. But moving a train of empty containers, or adding 20 empties to each of several trains that are also running loaded cars, costs little and is easy to arrange, he adds.
Reliable service. That might come as a surprise to shippers who recall the times when they never knew if a trip on a given rail corridor would take five, seven, or 10 days. "That's no longer the case," says Howland. "Today, all the railroads measure on-time service to the minute." As one example of the excellent service found on the rails these days, Barnes cites BNSF Railway's Los Angeles-to-Chicago corridor. "That offering competes heavily with truck, and provides service at the same—if not a better—level," he says. Although regular intermodal service often takes one day longer than OTR in the same corridor, railroads can close that gap with expedited services. "Expedited rail is equal to, or faster than, over-the-road transit in every instance," Howland says.
Increased security. Intermodal containers stay secure because they spend so much time in motion. "Freight at rest is freight at risk," notes Jim Filter, senior vice president, intermodal commercial management, at truckload carrier Schneider National, Green Bay, Wis. Double-stacking helps, too. "When you drop a container into the well car, the doors physically can't be opened," Filter notes. The top container in the stack rides 15 feet off the ground, making it tough to break into. "Additional security at each ramp also prevents theft while the containers are being placed on or off the rail," he says. These layers of protection make intermodal the mode of choice for many Schneider customers shipping from Mexico.
Investment and Innovation
The railroads have been working hard to make intermodal a better choice for shippers, spending large sums to improve infrastructure and extend their reach. "Over the past several years, the railroads have invested tens of billions of dollars in both maintenance and expansion capital," says Webb.
Norfolk Southern (NS), for example, has invested heavily in six transportation corridors. The biggest initiative is the Crescent Corridor, designed to compete with Interstates 81 and 75 in the eastern United States. NS has been upgrading rail lines and adding new terminals as part of that project.
"We have already built three new terminals, and one in Charlotte will be completed by the end of 2013," says Jeff Heller, the company's vice president, intermodal and automotive marketing.
Another initiative is the Heartland Corridor—between the Port of Hampton Roads, Va., and Chicago—where NS has increased the height of 29 tunnels and removed obstructions. "That construction gave us the ability to run double-stack trains through a shorter, faster route and add more capacity," Heller says.
Efforts like those by NS and other railroads are making intermodal a viable choice in more situations, especially in the East.
"Many of the terminals that are improving service—expanding or opening—are located in the East," says Filter. Those improvements are prompting shippers to choose intermodal for shorter hauls than in the past—for example, from Chambersburg, Pa., or Syracuse, N.Y., to Chicago.
Several other factors have made intermodal more popular. One is the introduction of refrigerated 53-foot domestic containers, which NFI was the first to use in the United States.
Railroads have carried dry domestic containers since the early 1990s. "But until NFI introduced the 53-foot refrigerated container, all temperature-controlled intermodal in the United States moved on trailer or flatcar," says Webb. That made the economies of double-stacking unavailable to refrigerated loads. Today, companies shipping temperature-sensitive loads can reap the same advantages as companies that ship in double-stacked dry domestic containers.
Some of those companies can skip refrigeration altogether by using another innovation: a new generation of insulating blankets that can protect some temperature-sensitive loads for days at a time in dry containers. Because it takes fuel to run a refrigeration unit, it's cheaper to ship in a dry container.
"The blankets also make more capacity available, because shippers are not limited to just refrigerated units anymore," Howland says.
The Technology Advantage
Information technology also helps make intermodal more attractive. For instance, Schneider has installed trailer-tracking devices on its containers. "For shippers using Schneider to move an intermodal load, it's just as if they're shipping over the road," Filter says.
New technology at rail terminals helps to streamline several aspects of an intermodal move. For one, drayage trucks no longer wait at terminal gates while inspectors examine containers for mechanical fitness and check that security seals are intact. "Today, at most rail terminals, digital cameras perform the inspections," says Howland.
And thanks to digital billing systems, drivers no longer need to pull out paperwork and wait while someone checks printed information against a computer screen. "When the truck comes through, a digital camera identifies the unit number, matches it automatically with the advanced billing data that has been entered into the system, and, in some cases, immediately tells the driver where to go with that unit—without any human intervention at all," Howland explains.
One further innovation is using intermodal to replace more costly less-than-truckload (LTL) services. "Because service times have improved so much, shippers can now use intermodal for pool distribution," notes Barnes. That means combining multiple LTL shipments to make a full containerload, putting that container on the rail to a service center in a distant destination, then using trucks to deliver individual shipments to their final destinations.
APL uses this strategy as well, relying on software called ShipMax to build LTL shipments from different customers into optimized truckloads. In one case, the carrier used the software to match two customers that made a lot of LTL shipments as well as full truckloads that, in one case, hit the legal weight limit before the truck was full and, in the other, filled the truck before the load met the legal weight limit.
By combining their loads, the shippers make better use of capacity. "For every four loads the two of them were shipping, they're now shipping three loads, reducing their costs by 25 percent," Howland says. And because those combined loads move via intermodal rather than OTR, the shippers save an additional 25 percent.
Best Practices
For companies that want to gain the efficiencies of intermodal transportation, carriers and shippers offer plenty of advice:
Consider intermodal transport when choosing site locations. "When companies build a manufacturing plant or distribution center, they need to consider the distance to the closest intermodal facility," says Heller. "The farther it is from the plant or warehouse, the higher the cost of dray—and that negates any savings a shipper would net from moving freight by intermodal."
Periodically re-evaluate the advantages of intermodal and over-the-road for specific lanes. "An annual bid is not frequent enough," says Webb. "The pace of change is so fast—there are technological innovations and new services, and the railroads are introducing new routes at an unprecedented rate." Companies should look for opportunities to convert to intermodal every six to nine months, he recommends.
Place the burden of proof on OTR. Whether to convert from OTR to intermodal isn't always the question. Some companies start by assuming all freight will travel intermodal unless a specific lane clearly works better with OTR. "Shippers move to an intermodal method because they reach the end goal much faster than adding incremental improvements year after year," Filter says.
Stay flexible. To take advantage of railroads' shipping schedules, shippers might need to adjust their departure and delivery times. For example, railroads tend to accept loads at their ramps until late in the evening.
"If a company has to ship at 8 a.m., the load will just sit at the terminal all day waiting to depart," Webb says. "Shippers can tighten transit times by 12 or 16 hours if they're willing to load and ship in the evening."
The drayage portion of a move might call for flexibility, as well. When Jelly Belly Candy Company started using intermodal to ship from a production facility in California to a distribution center in Pleasant Prairie, Wis., (see sidebar below) drayage drivers had trouble meeting specific pickup and delivery appointments.
"So we expanded our windows for both pickups and dropoffs," says Zahid Rashid, the company's director of distribution. "Rather than having a set appointment, we give our drayage carriers a multi-hour window to hit."
Keep enough product in the pipeline. Because an intermodal move often takes about one day longer than a truck move, it's that much trickier to obtain product quickly if demand suddenly spikes. Companies that use intermodal must ensure they always have the right volume of product flowing through the supply chain. "Intermodal shippers need robust demand planning, and a strong inventory management process," says Barnes.
Use an asset-based carrier. "Look for a carrier that owns the boxes, and operates its own dray fleet," advises Filter at asset-based Schneider National. A company that doesn't own those assets, or employ its own drivers, can't easily guarantee a stable capacity supply, he says.
Make sure your carrier can deliver on its promises. "The reason we terminate relationships with carriers is their inability to supply capacity," says Rick Anderson, vice president of logistics at Constellation Brands, a major supplier of wine, beer, and spirits (see sidebar below).
For a shipper such as Constellation, which moves steady volumes year-round, competition for containers grows particularly tough as other companies in California hit their peak seasons—harvest time for agricultural firms, or the year-end holidays for companies that import consumer goods. When the crunch hits, shippers must ensure their carriers won't divert containers to other customers.
Take a hybrid approach. "For a lane coming into a distribution center, a shipper might move two shipments by truckload and two by intermodal," says Barnes. Using that strategy, the shipper minimizes any risk of shortage that might arise if the intermodal trip requires an extra day, while still enjoying the advantages of intermodal transportation.
The railroad and trucking industries have been rivals for decades, but intermodal transportation has made them vital partners, too. Shippers can take advantage of those partnerships, using the best of both modes to gain maximum efficiencies.