Love it or Hate it, CSA is Here to Stay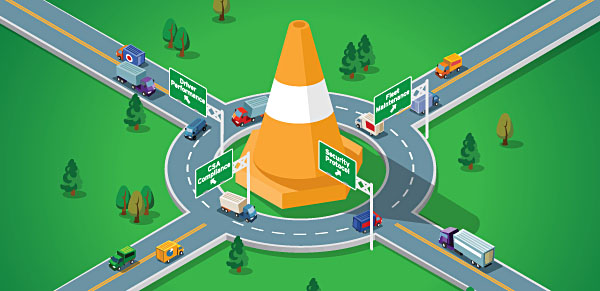 Whether you applaud or oppose the FMCSA's new truck-safety monitoring program, CSA will no doubt impact the way your carriers operate. Here's what you need to know.
More to the Story:
Since its unveiling in 2010, the Federal Motor Carrier Safety Administration's (FMCSA) new Compliance, Safety, Accountability (CSA) program has sparked significant interest from the transportation industry. Outcries that the new truck-safety monitoring program will place a stranglehold on the motor carrier industry and cause a severe dwindling of the driver workforce vie against passionate belief that CSA will provide the industry with concise and transparent data that can reduce safety risks on the nation's highways.
A point somewhere between the two extremes seems to be the most realistic outcome of the new program, which the government began enforcing in 2011.
Despite popular belief, CSA is not a set of rules or regulations, but rather an initiative designed to improve the efficiency of FMCSA's enforcement and compliance program. The aim of CSA is to measure carrier safety performance, identify potentially unsafe carriers, and prioritize them for enforcement interventions—all as part of FMCSA's ultimate goal of reducing commercial motor vehicle crashes, fatalities, and injuries.
Under CSA, motor carrier violations—as determined primarily by roadside inspections and crash data—are placed into seven Behavioral Analysis and Safety Improvement Categories (BASICs) (see sidebar). Eventually, the system will be used to assign safety ratings for carriers, based on their BASIC scores weighed against factors including size, violation frequency and severity, and how recently violations have occurred.
Reactions to the new program, and the amount and type of safety data that it makes available, have been mixed. "Conceptually, CSA is the right thing to do," says Rob Abbott, vice president of safety policy for the American Trucking Associations (ATA). "We support the program's objectives and its potential to help safe, responsible carriers distinguish themselves from carriers that don't place the same emphasis or resources on safety.
"But we have genuine concerns with the program's methodology, the means by which scores are developed, and perhaps the erroneous use of the scores in some areas," he adds.
Safe and Secure
Love it or hate it, CSA is here to stay. Shippers, carriers, and private fleet operators are working to become familiar with CSA's components and are implementing processes, procedures, and technologies to ensure their drivers, fleets, and loads meet the FMCSA's safety and security criteria.
While carriers bear the brunt of responsibility for safety under CSA, shippers are taking an active interest in the program as well.
"In the past year, shipper inquiries about CSA have increased tenfold," says Jason Wing, manager of safety compliance and training for Fort Smith, Ark.-based ABF Freight. "They also want to know whether ABF has practices in place to educate drivers. Shippers are definitely concerned about using a carrier that will transport their freight safely, and they want to protect their interests.
"Savvy shippers are keeping their finger on the trucking industry's pulse, and trying to get a feel for what implications CSA will have on how they manage their shipping operations," he adds.
In Good Spirits About CSA
One of those savvy shippers is Constellation Brands Inc., which is among the world's largest producers of wine, beer, and spirits. The Victor, N.Y.-based company—whose many brands include Robert Mondavi, Corona, Svedka, and Black Velvet—has a $57-million annual trucking and intermodal transportation spend, spread among 40 carriers that handle shipments from its New York, California, and Kentucky distribution centers. Constellation has taken a proactive stance to ensure that its 40,000 annual truckload shipments comply with the CSA program.
"We are a quality-driven organization, and we expect our carriers to meet our safety expectations," explains Rod Dutton, director of transportation management for Constellation. "We have a clear, distinct policy in place specifically for CSA, and we have shared it with all our carriers."
"We need to do our due diligence to make sure the carriers we hire and continue to do business with operate at a satisfactory safety level," adds Mike Bartholomew, senior transportation assistant, who helped develop Constellation's policy for ensuring its carriers comply with the CSA program. Constellation uses the data available under CSA to analyze its existing carriers and monitor any ongoing violations, as well as to evaluate potential new carriers.
"If a carrier we use has received any violations or has deficiencies in any of the seven BASICs, we'll find out where they are in the improvement process," explains Bartholomew. "We check whether the carrier is at the beginning stages of an intervention or has received warning letters from FMCSA, and if the violation has warranted further investigation or an on-site follow up."
Depending on the carrier's progress in that process, Constellation will conduct additional due diligence, such as requesting from the carrier a written explanation of what caused the deficiency, and what actions the carrier is taking to return its rating to an acceptable level.
"Also, if the carrier has received letters from FMCSA, we ask for copies to verify we have the correct information," Bartholomew adds.
On the Record
When deciding whether to add a new carrier to its roster, Constellation depends on several FMCSA tools to evaluate the carrier's safety record. In addition to the BASICs scores, Constellation checks the agency's Safety and Fitness Electronic Records System (known as SAFER Web), which rates carriers as Satisfactory, Unsatisfactory, Conditional, or No Rating.
"A Satisfactory rating is our goal," explains Bartholomew. "We will not work with any carrier that has an Unsatisfactory rating, and if they are listed as Conditional, we conduct additional research through FMCSA."
In addition, Constellation conducts quarterly reviews via SAFER Web to examine the history and trends of its carriers' safety ratings. "We can see if their trend is improving or declining—and if it is declining, we can take action," Bartholomew notes.
This intense focus on carrier safety records has been an adjustment for Constellation. Previously, the company included safety on its checklist of carrier qualifications and investigated carriers' operating authority, insurance, and DOT ratings. "The CSA program has enhanced our approach to safety," Dutton explains. "Now we track it regularly."
The Right Thing to Do
"Making sure our carriers comply with the CSA program has added responsibility for us in performing due diligence and monitoring the carriers we use," Dutton says. "But it's the right thing to do, and it fits the company's philosophy. We want safe carriers and drivers hauling our loads."
To lighten the extra workload, Constellation uses an electronic service called CarrierWatch, developed by transportation software provider TransCore Inc. Constellation provides TransCore with a list of carriers it uses or is interested in using, and the CarrierWatch system monitors them, sending Constellation an alert any time there is a change in a listed carrier's safety rating. It also tracks any changes to its carriers' insurance coverage—another safety red flag.
Constellation's enhanced approach to safety even trickles down to the carriers selected to transport loads contracted out to intermodal marketing companies (IMCs) and freight brokers. Each IMC and broker that Constellation hires is required to provide written proof of its policies and procedures for screening and monitoring carriers.
"It's our product on the truck, and even though we're not hiring these carriers directly, we want to ensure the screening process falls in line with ours," Bartholomew explains.
He cites the example of a broker the company recently hired that uses a load-tendering system called Aljex to monitor the carrier safety rating on every load it gives an outside carrier. "We want to hire brokers with that level of accountability for their carriers' safety," Dutton adds.
Carriers Carrying the Burden
Many carriers are also making major changes as a result of CSA. Indeed, carriers bear the brunt of the responsibility when it comes to safety measures, as their businesses have the most to lose—and gain—as a result of their safety ratings and scores.
"CSA requires motor carriers to pay more attention to their safety records simply because there is more data readily available," says Rick Schweitzer, government affairs representative and general counsel for the National Private Truck Council. "FMCSA can now take a broader range of enforcement actions, and the CSA data will affect a variety of business concerns, such as obtaining a special permit under hazmat regulations.
"And, of course, the data will be used by shippers and insurance companies, too," he adds.
Compliance data is also top of mind for motor carrier executives such as Jim Burg, owner of James Burg Trucking Inc., a regional flatbed operation based in Warren, Mich. Burg has spent a lot of time and money lately to ensure his 75-driver company is in compliance with FMCSA's safety regulations, and that his CSA data is as favorable as possible.
"We have to start by understanding our risks, the causes of our crashes and claims, and any negative CSA data," explains Burg. "Once we identify the root causes, we can implement processes, procedures, and equipment changes to minimize the risk of those claims."
When CSA data showed that the company had too many load securement issues, for example, Burg investing in improving that aspect of his operation.
He also began evaluating driver applicants' safety records using the FMCSA's Pre-Employment Screening Program (PSP), which provides electronic access to driver crash and inspection history. "That transparency has reduced the number of applicants we will consider, allowing us to develop a safer pool of drivers," Burg says.
He has also terminated existing drivers because of bad CSA scores, and uses the scores as a means to coach and reprimand drivers at their first violation.
Compliance Practice
Internally, Burg has instituted a number of new policies to boost his company's safety and compliance data. As a company that hauls 600 loads per week and averages just 1.2 weekly state-conducted FMCSA roadside inspections, Burg felt his company was not getting enough "practice" at being compliant under the new CSA program. So he hired a retired Michigan state police officer with roadside inspection experience to evaluate his company's vehicles and drivers the way troopers do on the highways.
"Our internal inspector's job is to check vehicles at our customers' locations, on the roadside, and at our facility," Burg explains. "If he finds violations, he educates those drivers, then follows up to ensure they are changing their behavior. He inspects about 10 of our trucks and drivers weekly."
In addition, Burg has incentivized his drivers to be more accountable for their own safety compliance. "We initiated a new safety bonus directly tied to CSA," Burg notes. The drivers are awarded a certain dollar amount each week, minus one dollar for every CSA violation point they receive. In addition, if a driver receives a violation-free report from a roadside inspection, they are awarded a $200 gift card.
"The incentives emphasize the value of hauling only compliant loads," Burg explains.
Business As Usual?
Other carriers, however, say that CSA has not impacted their operations much at all. They feel the program simply enforces across the entire motor carrier community the safety best practices that were already in place at many companies.
"Overall, I think CSA is a big positive for the industry. But because we had high safety standards to begin with, it hasn't impacted us much," says Stanley Stone, vice president of safety for Penske Logistics, which employs roughly 2,700 truck drivers.
The company has incorporated the CSA program into its focus on "operationalizing safety so it becomes part of the company's daily routine," Stone explains. Penske's safety policies include a comprehensive training program for all employees and Smith System training for drivers, focusing on safe-driving and accident-reduction techniques.
Stone believes CSA's most significant impact at Penske has been on its drivers' approach to safety. "Our drivers take this program seriously," he says. "They know there is a score for them, and that what they do behind the wheel can have a detrimental impact on their ability to remain employed in the future."
Penske has let go a handful of drivers as a result of CSA violations, but says most drivers now effectively police themselves.
"Early on, many drivers were unaware of the impact of their violations under CSA," Stone says. "Once we educated our drivers, we found only a few that couldn't or wouldn't change their behavior, and they were terminated."
The biggest challenge the company has experienced as a result of CSA is one of scale. Because Penske operates some 200 locations, it has been onerous for the company to analyze its monthly CSA data.
"FMCSA gives us a data dump that shows the drivers who had violations, but we have to determine where they are based," explains Stone. "Our ability to take action on those scores has been hindered. It is hard for us to get to that driver and manager so we can have a one-on-one discussion and change the behavior."
Penske has partnered with Vigilo International Consultants to help sort the CSA data and more effectively address concerns. "We are incurring additional costs and resources to go through the information and determine where the problems are occurring so we can fix the behavior," Stone says.
ABF Freight also reports only minimal impact from CSA. "We've had so many good safety practices in place for so long that CSA is merely a continuation of what we've been doing for many years," says Wing.
Driver accountability at ABF has also improved as a result of CSA, with drivers conducting more thorough pre-trip inspections. They better understand that they hold ultimate responsibility for the vehicle's condition.
Part of that accountability comes from the proactive stance ABF took in educating its drivers about CSA. The company produced an informational DVD, which all employees viewed; conducted multiple safety meetings over the past year to train employees on CSA changes as they occurred; and communicated information about CSA through various posters and company literature.
Now for the Downside...
Finding the new enforcement program less onerous than expected doesn't necessarily equal a ringing endorsement. The trucking industry is quick to point out the flaws in the CSA program, which are mostly centered on the methodology FMCSA uses to develop the BASICs scores that ultimately impact carriers' safety ratings.
"The most pressing issue is that the CSA program creates crash indicator scores based on all crashes that meet the DOT's severity threshold, not just those crashes that a carrier caused or could have prevented," explains ATA's Abbott.
A carrier whose truck is struck while parked, or is rear-ended while sitting at a red light, for instance, still has those accidents included in its crash scores. "As a result," Abbott says, "we think those scores don't accurately reflect the carriers' true safety."
Violation weighting is also a concern; many in the industry feel weights are inappropriately assigned. Abbott cites this example: A truck carrying 1,000 or more pounds of hazmat materials is required to have four placards on it; failing to have them carries a severity weight of five. But if a truck has all four placards, and one is not horizontal or is dirty, that violation is also considered a five.
Another sticking point for ATA is the fact that once added to a carrier's safety history, violations are particularly hard to remove, even if they are out-of-date or incorrect. "Trucking companies and drivers continue to be penalized for citations that are dismissed in court," Abbott says.
In addition, the availability of all this new trucking safety data could make the industry a sitting duck for frivolous lawsuits. Particularly in cases where a carrier is not responsible for causing an accident, trucking advocates fear that plaintiff attorneys will use any data showing a carrier has experienced violations to cast doubt on their safety records.
"There may be no connection between a driver's or carrier's CSA scores and a specific accident, but attorneys will try to use those scores against the trucking company anyway, as an attempt to get jurors to view the company as unsafe," says Lee Piovarcy, president of the Trucking Industry Defense Association, an organization that focuses on the legal and safety aspects of trucking.
But the bigger overall question may be whether the CSA program—with all its flaws and advantages—will actually make a difference to trucking safety.
"Our historical concern is that these scores and ratings reflect carrier compliance with recordkeeping and paperwork requirements, and not actual on-road safety performance," says Abbott.
This is where Jim Burg's biggest doubts about CSA surface. "For the past 18 months, I've been focused on compliance data because that is what everyone is watching, but I'm not sure that is taking me in the right direction in terms of improving safety," he says.
For instance, Burg wants to invest more in onboard safety systems that help reduce crashes, but feels obligated to spend the money on compliance instead. He cites an FMCSA advisory panel member who reported that 25 percent of truck crashes are rear-end accidents, and the FMCSA's Regulatory Impact Analysis, which found that only seven percent of crashes are fatigue-related.
"FMCSA says I need to focus on fatigue and safe driving issues, but my common sense says to invest in technology that reduces our crash risk, whether the driver is in compliance or not," he explains.
Only time will tell how CSA's focus on compliance will ultimately impact the industry's operations—and overall safety.
CSA Report: New Shades of Gray
What impact will CSA have on for-hire, interstate carriers, and the commercial trucking industry? The answer is not black-and-white, as you'll see in these results from TransCore's latest CarrierWatch CSA Industry Report.
CarrierWatch CSA Industry Report: Key Findings
CSA adds new data to carrier safety records, and nuance to validation processes.
Interstate freight carriers are almost twice as likely than other fleets to have CSA data.
Carriers may have alerts under CSA, even when they have no numeric scores.
More carriers have alerts under CSA than had "deficient" ratings in SafeStat.
CSA BASIC scores and alerts vary significantly by state.
CSA by the Numbers
758,000 commercial fleets are covered by CSA
166,000 (21%) of those fleets are identified as for-hire, interstate freight carriers
76% of interstate freight carriers have CSA data in their records
90% of interstate freight carriers with more than 500 trucks have at least one BASIC score
25% of interstate freight carriers with five or fewer trucks have at least one BASIC score
34% of interstate freight carriers have a numeric score for at least one BASIC
0.3% of interstate freight carriers have a numeric score for every BASIC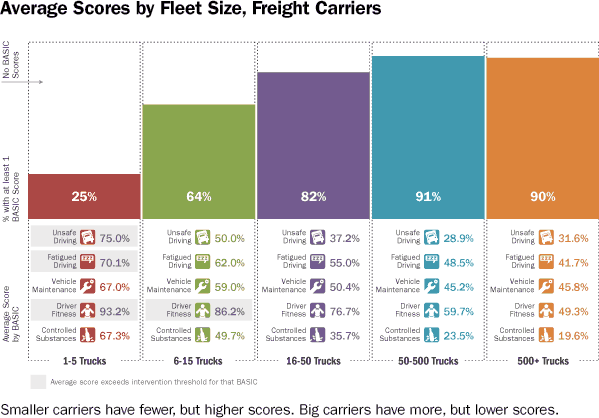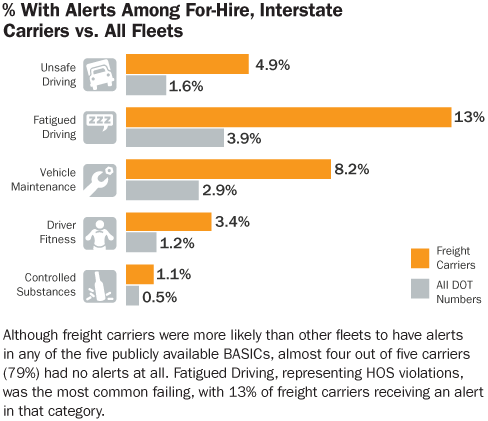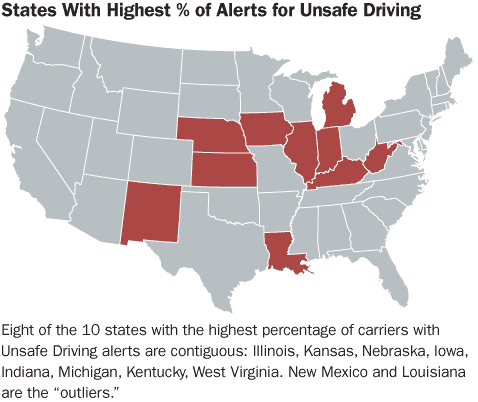 — All graphs and data courtesy of TransCore's CarrierWatch CSA Industry Report