Quick Look at the Last Mile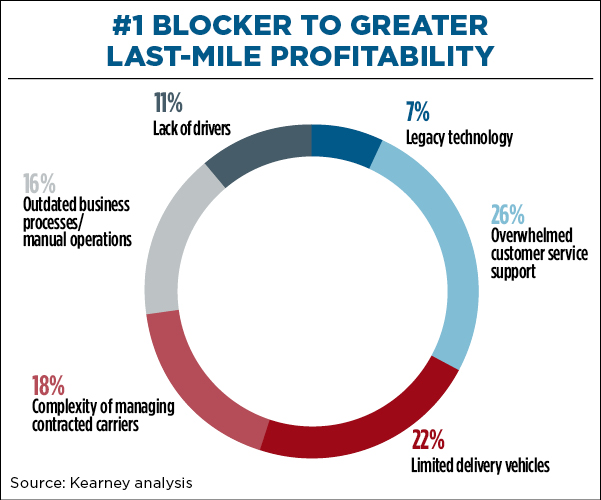 Two new studies take a close look at the last mile and shed some light on the current state of this crucial logistics segment. The quick takeaway? The last mile is becoming more important for customer satisfaction, and as a result, shippers are increasing their focus on it and looking for tools to boost delivery time frames and efficiency.
Brands are responding to customer demand for faster delivery by enhancing their last-mile fulfillment options, finds a survey of more than 200 U.S. retail and supply chain leaders conducted by UPS company Roadie, a crowdsourced delivery platform. The study also examined what brands look for in an ultrafast delivery provider.
Respondents' views on ultrafast delivery reveal three key themes:
1. Customers expect same-day delivery, and they're willing to pay for it.
2. Same-day delivery generates an immediate, positive effect on sales.
3. Brands face challenges in implementing ultrafast last-mile delivery.
"What came through clearly in the survey responses is that organizations know they need to offer same-day delivery because there's a lot at stake," says Valerie Metzker, head of partnerships and enterprise sales at Roadie. "When customers want something quickly, they'll go with the provider that can get the order to them when they need it."
Another report, 2022 State of Last Mile Logistics, from Bringg, which also offers an online delivery platform, takes a comprehensive look at the last-mile segment. Bringg surveyed 200 logistics and transportation leaders in Europe and North America to determine where they are focusing their last-mile operations today as well as what they believe are the key challenges and priorities for 2022 and beyond.
Overall themes that emerged include:
Connectivity is needed in order to manage last-mile delivery at scale.
Strong last-mile and returns services can provide a competitive edge.
Real-time visibility and automation will be an important focus.
More efficiency is necessary to increase profitability of last-mile services.
Better delivery experiences will help drive last-mile revenue growth.
Logistics providers struggle with managing multiple carriers.
The study also shed light on the top pain points associated with last-mile logistics. When asked to name their biggest last-mile challenges, respondents cite the following:
Shipper onboarding/integration (44%)
Outsourced delivery partner/agent visibility (44%)
Carrier and driver management (41%)
Driver onboarding and retention (38%)
Manual delivery scheduling (38%)
Manual back-office operations (37%)
Cost to deliver (23%)
Lack of real-time order tracking and visibility (23%)
In addition, Bringg's survey unearthed insights on what blocks companies from achieving greater last-mile profitability (see chart). The top culprits are:
Overwhelmed customer service support (26%)
Limited delivery vehicles (22%)
Complexity of managing carriers (18%)
Outdated business processes/manual operations (16%)
Lack of drivers (11%)
Legacy technology (7%)