Workforce Management: The Human Factor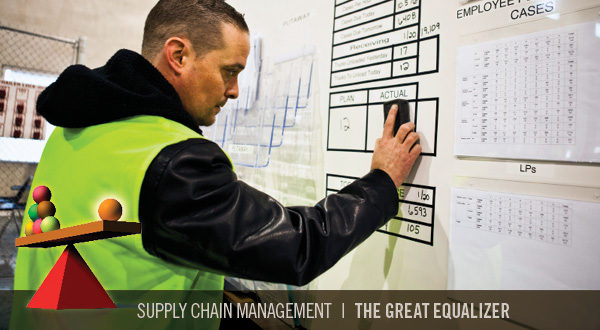 Training counts. A skilled, motivated, enthusiastic, and optimistic supply chain workforce gives you a strategic and competitive advantage.
More to the Story:
Goods don't flow on their own. It takes a well-trained, well-motivated workforce to run a competitive logistics operation. When employees understand their work and know how to do it right, they help a logistics facility operate efficiently. When supervisors measure performance and reward workers who exceed expectations, that also helps an operation shine.
Before you can train employees, you have to define the work you expect them to do. "Training evolves from several different steps," says Bryan Jensen, vice president and principal at St. Onge Company, a supply chain engineering and logistics consulting firm based in York, Pa. "The first is developing standard operating procedures or work instructions."
When members of the consultancy Total Logistics Solutions need to learn and document a process for a client, they put on jeans and hit the warehouse floor. "Picking orders and receiving materials helps us understand the process from the user's perspective," says René Jones, founder of the Burbank, Calif., firm.
Then, before putting documentation into final form, Jones and his team ask the warehouse associates for feedback on it. That helps ensure the consultants understand the nuances of the job; it also helps them gain the employees' cooperation.
Once the process is on paper, training can take several forms. St. Onge Company, for example, might develop instructional manuals for in-house trainers to use; create a syllabus and send one of its own trainers into the classroom or distribution center (DC); or produce interactive, computer-based training modules.
Whether delivered by a human teacher or via computer, a formal syllabus makes training consistent. The alternative—sending a new employee onto the floor to "buddy train" with an experienced worker—introduces variability. The employee who trains on the floor with Tom might end up doing the job a little differently than one who trains with Jane or Bob.
Execution consistency increases dramatically with formal training, making it easier to measure the value each individual brings to the job. "They've all been given the same tools and training, so the ones who perform better—when all other factors are equal—should be better employees," Jensen says.
In addition to being consistent, the best training is repeatable. Any instructor should be able to deliver the same material in the same way. In one sense, computers are the ideal teachers, because they will never emphasize one topic at the expense of another.
When humans take charge, it is important to introduce standards. "There must be a 'train-the-trainer' approach, so that trainers—when you do have them—can repeat the same input and get the same results on the output," says Jensen.
Show Me Your Phone
Because not everyone learns in the same way, or at the same pace, some experts emphasize the value of custom-tailored training. At Total Logistics Solutions, for instance, trainers might measure technology expertise at the start of a class by asking everyone to pull out their cell phones.
Associates who carry smartphones tend to have an easier time adapting to new technology on the DC floor. It's a rough gauge, Jones admits, but the distinction often holds. "If they have an older phone, it may take that individual a little longer to pick up the technology," he says.
Customized training is also important to third-party logistics (3PL) provider Ryder System, which uses the principles of Lean labor management in all its DCs. Managers who tailor training to individuals' needs promote greater efficiency, says Chris Merritt, Ryder's vice president and general manager, global retail supply chains. Custom training can become important, for instance, when a DC takes on extra staff during a peak volume season.
Some of those seasonal workers arrive with 20 years of experience operating forklifts. "There's no point in taking them through a three-week training process if they already possess the skills," Merritt notes. Conversely, when businesses need temps to perform tasks they have never done before, they might need extra training.
Once an employee learns to do a job, an operation built around the Lean principle of continuous improvement provides opportunities for further coaching.
For employees who don't quite have the hang of a job, feedback helps them get the details right. Once they have the basics down, response from supervisors can also encourage associates to work faster and better. Often, this kind of encouragement involves concrete incentives.
Rewarding Performance
It takes careful work by industrial engineers to break the many tasks performed in a DC into measurable units, then set expectations for each of those tasks. The trick is to develop neutral metrics that don't favor one kind of work over another, but simply count what each employee accomplishes—such as locations visited, distances traveled, and boxes picked.
Unfortunately, many companies—especially large ones—base incentive programs on the wrong kinds of measurements, says Jim Zimmerman, chief operating officer at nGroup Performance Partners in Fort Mill, S.C. Companies contract with nGroup to provide workers or manage in-house employees for their manufacturing and distribution operations.
Lean labor management practices that identify correct processes, then measure the employees who perform those processes, help companies match people to jobs.
"Companies look at what makes or costs them money," Zimmerman says. So when managers try to measure productivity, they focus on cumulative measures such as cubic meters moved into a DC, or the dollar value of product shipped.
Such measures might be relevant to the company's profit-and-loss statement, but they don't speak in meaningful terms to the people who are paid to move the product.
"We prefer to use more common-sense feedback, such as cases moved, pallets picked, orders completed, garments hung, and displays fulfilled," says Zimmerman.
nGroup sets goals based on those metrics, then trains employees on the best methods for achieving those goals. "When the employees meet and exceed those standards, both in production and quality, they receive 'Extra for Excellence' pay," he says.
Defining Expectations
Along with providing a fair way to determine who deserves a bonus, metrics of this kind provide a clear language that supervisors can use to encourage teams to increase their output. Simply stating that a team needs to get more orders out today than yesterday means little to associates who believe they're already picking as many orders as they can.
"We try to break it down and say, 'We need to pick 57 orders per hour. Last hour, you were at 52, so you need five more to meet the standard,'" Zimmerman says. Workers who want to earn excellence pay have to pick six more, he notes.
Companies that develop precise, consistent standards for how to perform work in a DC, train employees to meet those standards, and reward them when they exceed productivity goals will get extra value from their workforce.
Lean labor management practices that identify correct processes, then measure the employees who perform those processes, also help companies match people to jobs. A supervisor in charge of 30 people doesn't need to form an opinion on each one of them; data pulled from the warehouse management system and other sources provides an objective picture of each employee's performance and aptitudes.
Ask the Employees
In some cases, getting employees to work productively is less a matter of training and measurement, and more a matter of morale. Unhappy workers will slow a workplace down.
If poor morale seems to lie at the heart of a logistics operation's problems, the first consultants to engage in the search for a solution are the employees themselves.
Jones tells the story of a company that suffered from high employee turnover on the warehouse floor.
"We asked several employees why turnover was so high," he says. "They told us the facility was too hot."
Without fans or proper ventilation, workers felt completely drained at the end of the day.
"Most individuals said they would rather work someplace else and make a little less money, but at least have energy when they got home," Jones recalls.
The consultants persuaded company management to bring better ventilation into the building. "Within months, the turnover dropped from extremely high to almost none," says Jones.
Productivity increased as well. In the past, employees performed well in the morning, but the higher the sun climbed, the less they accomplished. Once the building was ventilated, productivity remained fairly constant.
Asking questions, taking measurements, setting standards, capturing data—to a large extent, training and managing logistics employees is all about paying attention. A company that gives the details their due on the warehouse floor, and enlists its workers in that effort, can gain a strong competitive advantage.