Port Everglades

Steven M. Cernak, P.E., PPM
Chief Executive & Port Director
As a premier gateway and powerhouse for international trade, travel and investment, Broward County's Port Everglades leverages its world-class South Florida facilities and innovative leadership to drive the region's economic vitality and provide unparalleled levels of service, safety, environmental stewardship and community engagement.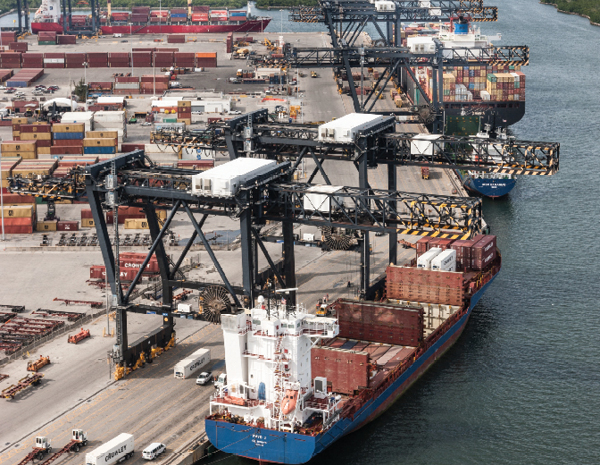 Port Everglades, one of the nation's leading container ports handling more than one-million TEUs annually, serves as a gateway to Latin America, the Caribbean, Europe and Asia. Its enviable location at the crossroads of North-South and East-West trade, and in the heart of South Florida's consumer-rich population, is strengthened by intermodal connections that reach 70 percent of the U.S. population within four days.
Port Everglades efficiently handles a diverse spectrum of cargos with cost-competitive services provided by multiple terminal operators. Port Everglades' users have long enjoyed the benefits of such attributes as:
24/7 customer service
location at the center of the nation's eighth most populous metropolitan region
direct access and just one green light to the Interstate highway system
favorable location less than one mile from the Atlantic Shipping Lane
on-port Foreign-Trade Zone
proximity to Fort Lauderdale-Hollywood International Airport (FLL), just two miles away
Ongoing capital improvements and expansion ensure that Port Everglades is ready to handle future growth in container traffic.
On the waterside, the U.S. Army Corps of Engineers has approved a long-awaited economic and environmental report that clears the way for Port Everglades to begin the next phase to deepening and widening its channels from 42 feet to 48-50 feet.
In addition, the Port's Southport Turning Notch Extension project will lengthen the existing deep-water turn-around area for cargo ships from 900 feet to 2,400 feet, resulting in up to five new cargo berths.
Landside, several multi-million-dollar infrastructure improvements have enhanced connections with South Florida's major highway and railroad systems, and will add new Super Post-Panamax gantry cranes in Southport.
Florida East Coast Railway's (FECR) 43-acre Intermodal Container Transfer Facility, entering its second year, efficiently transfers domestic and international shipping containers between ship and rail.
The Florida Department of Transportation (FDOT) invested $42.5 million to build the Eller Drive Overpass, allowing vehicles to travel unimpeded over FECR's rail tracks directly to Florida's interstate highway system.
Port Everglades also partnered with FDOT to realign McIntosh Road, the main roadway in the Port's Southport containerized cargo area, to build an efficient multi-lane loop road with ample room for truck staging.
As Port Everglades continues to advance major infrastructure projects to increase productivity, this South Florida powerhouse seaport will continue to serve as an ideal point of entry for products shipped around the world.