Span Alaska Transportation

Tom Souply
President
To be recognized by our customers as providing the highest level of service and reliability in the Alaska marketplace.
Extreme reliability provides for long-lasting customer loyalty.
Span Alaska has been proudly serving Alaska since 1978 with a simple philosophy that's proven itself for more than four decades: honesty and integrity, attention to detail, and plain ol' good service just make for good business. It's simple, effective, and profitable for both Span Alaska and our customers.
For Span Alaska, service goes beyond delivering on our immediate commitments. It means building relationships with our customers, constantly investing in and improving our services, and hiring and retaining the most capable people in the industry.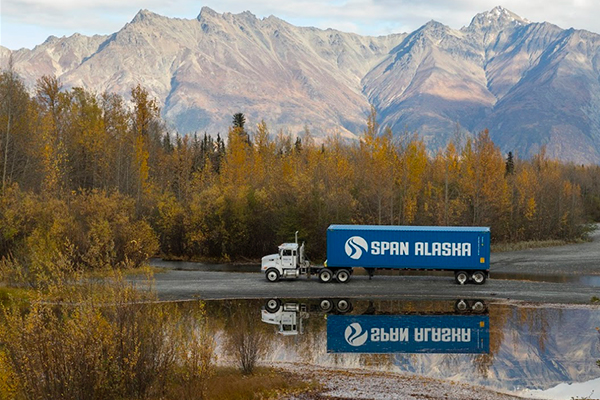 EXPERTISE
We understand Alaska – we have everything it takes to transport your shipments to, from, and around the state.
We recruit and retain great people with experience and in-depth knowledge of Alaska and freight transportation. Our team is empowered to make on-the-spot decisions. Span Alaska top-level management are highly accessible and actively involved in the company on a daily basis. Together we react quickly to situations, provide solutions and resolve issues quickly. Our ultimate objective is to provide the highest quality of service while saving time and money along the way.
Alaska transportation expertise
Our focus is Alaska. We've spent over four decades strengthening our relationships with Alaska-bound ocean carriers and trucking companies, finding new ways to stay competitive and responsive, and offering innovative solutions for our customers doing business in the Alaska transportation market.
SHIPPING TO ALASKA
Shipping freight to Alaska
Span Alaska Transportation provides over-the-water shipping of freight twice weekly via steamship, or weekly via barge, from the Port of Tacoma, Washington to the Port of Anchorage, Alaska. Our expert logistics team then uses rail, road, and air to deliver your freight to its final destination within Alaska. Have LTL (less than truckload) or LCL (less than container) freight? Not a problem. We move more LTL and LCL freight than any other carrier in Alaska.
KFF (keep from freezing) options from the end of September through the middle of April depending on weather.
We serve all points in Alaska. Please call your local Span Alaska office, or call 1-800-257-7726 for schedules and cut-offs to other Alaska destinations.

3815 W Valley Highway N
Auburn, WA 98001