Port Tampa Bay

Paul Anderson
President and CEO
"Port Tampa Bay is by far Florida's largest port by cargo tonnage and land. We are also one of the most diversified ports in the Southeast, handling all major cargo categories as well as a top 10 cruise port with more than 1 million passengers per year. But it is our container business that is growing exponentially as the explosive growth along the Tampa Bay/Orlando I-4 Corridor in Central Florida drives the desire for BCOs and container carriers alike to get closer to their customers. Fortunately, we envisioned this ability to provide greater efficiencies years ago. We have invested in cranes, road, rail and berth improvements and continue to do so to better serve this market. In the process, we have become the most efficient port to serve all of Florida because we are serving it from its middle."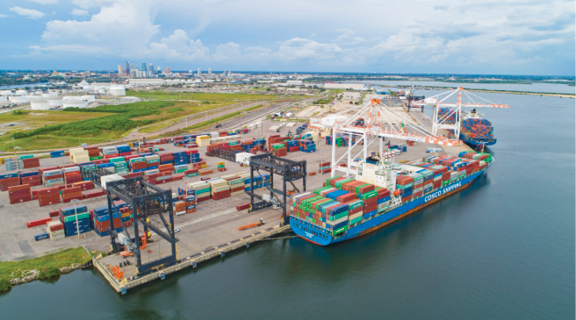 Port Tampa Bay has emerged as Florida's new supply chain solution for container cargo—and in many cases, it's most efficient.
The front door to I-4: The addition of three new direct Asia container services last year provided a giant leap forward in serving Florida's largest and fastest growing market—the Tampa Bay/Orlando I-4 Corridor. This Central Florida region is also one of the hottest industrial real estate markets in the country and Florida's hub for distribution, logistics and manufacturing. Home to close to half of Florida's population of 21 million residents, and welcoming a majority of the more than 126 million tourists who visit every year, the I-4 Corridor has the largest concentration of DCs in the state. This growth is fueling demand for everything from retail, ecommerce, food & beverage, to energy products, and construction & building materials. To keep pace, the Port is busy expanding terminal capacity with additional paved storage, extended berths, cranes and equipment, and new trans-load warehouse facilities.
Last year alone, Port Tampa Bay welcomed CMA CGM, COSCO, Evergreen, APL, OOCL, Maersk and Sealand to its family of container lines offering new services, joining established carrier partners ZIM, MSC and Seacat. For the beneficial cargo owners in its immediate backyard, this was especially good news. These companies are seeing significant savings in their supply chain/distribution costs as truckers can now make as many as 3 to 4 round trip deliveries per day from Port Tampa Bay to their DCs, which then service the entire state and reach into markets throughout the Southeast and beyond.
Together with partners like container terminal operator Ports America and cold storage specialist Port Logistics Refrigerated Services, Port Tampa Bay is expanding infrastructure and capacity to ensure it is well positioned for continued strong growth. In keeping with the Port's master plan "Port Vision 2030," it continues to align capital investment to sustain and grow its core lines of business, while also capturing new business through strategic diversification into additional new markets and commodities.

Port Tampa Bay
1101 Channelside Drive
Tampa, FL 33602
800-741-2297
www.porttb.com