Readers Choice: Top 10 3PL Excellence Awards 2018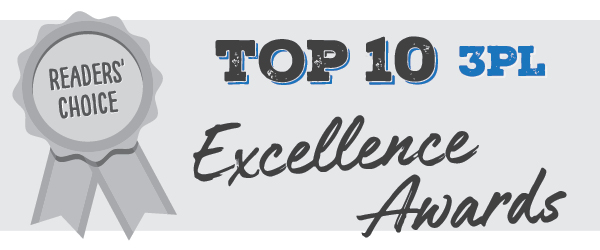 From truckload capacity constraints to the intricacies of trade compliance, the global supply chain presents shippers with an ever-shifting set of logistics conundrums. That's when they turn to the experts: third-party logistics (3PL) providers.
---
MORE TO THE STORY:
Ones to Watch
About the Survey Respondents
What Is More Important?
In Their Own Words: A Sampling of Reader Comments
---
Logistics is what 3PLs do. By handling a portion or all of a company's transportation and logistics operations, 3PLs help shippers deal with a complicated and essential part of their business. When companies know their supply chain is in competent hands, they're free to focus on what they do best—customer service, production, and profitability.
Each year, the Inbound Logistics Readers' Choice Top 10 3PL Excellence survey gives shippers the chance to give a shout-out to providers that have taken on so much of their load.
Approximately 13,000 voters responded to the 2018 survey and detailed the hallmarks of white-glove service: attentiveness, reliability, flexibility, and ability to execute.
Survey Says
With such a diverse and robust sampling of industries and job titles giving feedback, Inbound Logistics' annual survey provides a widely varied analysis of today's global supply chain.
From procurement to transportation management, manufacturing to retail, shippers from all links of the supply chain across 55 different countries chimed in, including supply chain decision-makers from household names such as Amazon, Apple, Ford Motor Company, General Electric, Hershey, IKEA, Kimberly-Clark, Pfizer, Starbucks, Target, Toyota, Walmart, and Unilever.
Those companies spend millions on transportation and logistics services each year from logistics providers like those honored here.
With 2017 bringing extreme weather events and 2018 ushering in global trade tensions, 3PLs need to remain reliable to ensure seamless and solvent supply chains. The most laudable providers offer experience, innovation, technology solutions, and the global connections necessary to keep shipments moving.
Service Reigns
Overall, shippers prioritize service—75 percent of survey respondents rate service as more important than price. Meanwhile, only 25 percent say price is their main concern. Forty-five percent rate poor customer service as the reason 3PL partnerships fail.
Year after year, the IL 3PL survey reveals the pivotal role customer service plays in shipper supply chains. The best partnerships are not always the cheapest, but they get the job done every time.
1. Echo Global Logistics
Why they won: At Echo, service and technology combine to create a leading 3PL. The logistics sector is on an impressive technology growth trajectory, and Echo has remained at the forefront of this growth with its increased technology investment and ongoing innovation.
"Our strong client partnerships helped us evolve our offerings by designing unique solutions to address their challenging and ever-changing needs," says Doug Waggoner, chairman of the board of directors and chief executive officer. "This helps differentiate us in the marketplace and allows us to build stronger relationships with our customers."
Austin Ryan, logistics manager at Stonecrop Technologies, praises the 3PL for being a reliable partner. "Transparency and the desire to drive constant improvement are keys to any successful partnership, and you'll get both with Echo. Their ability to apply data-driven analytics to develop overall strategic initiatives is invaluable, and as our company has continued to grow, Echo has continued to excel."
Customers commend Echo for its stellar customer service, communication, and competitive rates. "Our mission is to exceed client expectations and be the first choice for carrier partners," says Waggoner. "The transportation sector is a highly competitive, rapidly expanding industry, where our employees' experience, combined with our extensive network and proprietary technology, help us deliver unrivaled results."
Client Roster:
Action Gypsum Supply
Archway
Cholula Hot Sauce
Culligan International
Greenheck
Johnstone Supply
Monster Beverage
Stonecrop
2. Transplace
Why they won: Transplace leverages its deep vertical expertise, scale, and proprietary technology to deliver on the promise of strong execution and value delivery to the community of shippers that move more than $7.5-billion worth of freight through its logistics platform annually.
"Sonoco selected Transplace because of its scale, strong engineering capabilities, and knowledge of the North American freight network," says Richard Wynne, global sourcing director at Sonoco. "The partnership has added significant value to our organization."
"We are a tireless advocate for shippers, working closely not only to ensure that their logistics networks are optimized to perform at the highest possible service level with the lowest possible landed cost, but also to be a partner in continuous improvement and innovation, so that their networks evolve to meet the ever-increasing demands of their customers," says Transplace CEO Frank McGuigan.
The 3PL recognizes challenges the shipping community faces with evolving consumer buying patterns, a greater need for visibility, and velocity in their networks.
"The next generation of network management is upon us, and shippers need objective, transparent partners that bring the industry's best technology and expertise to lead them through these changing times," says McGuigan.
Client Roster:
Baker Hughes
BASF
Nestlé Waters
Del Monte
Borg Warner
Calumet
Campbell Soup
Cummins
Huhtamaki
USG Corporation
3. J.B. Hunt Transport Services
WHY THEY WON: J.B. Hunt forges long-term relationships with customers and includes supply chain management as an integral part of its strategy. The 3PL helps shippers drive out cost and adds value and functionality.
"Today's supply chain customers are adapting to the growing expectations of their consumers. J.B. Hunt customers expect full visibility, shorter delivery windows, and a seamless customer experience," says Shelley Simpson, executive vice president and chief commercial officer. "They need actionable, real-time data and reliable capacity from a company they can trust to get the job done."
Utilizing an integrated, multimodal approach, the 3PL provides capacity-oriented solutions centered on delivering customers value and industry-leading service. The company's technology solution, J.B. Hunt 360, has seen significant growth, as the company continues expanding its capabilities to provide shippers and carriers with a better, streamlined platform for doing business. Customers notice and praise the 3PL for its great service and communication, competitive rates, and dependability. "They are always on top of their game, offering flexibility and great communication," a customer says.
On-time deliveries are another strong point for the 3PL. "J.B. Hunt takes care of our transportation needs and goes the extra mile to get carriers in on time," says one customer. Another customer agrees, "They truly take ownership of the freight tendered to them and make sure containers are delivered within the timeline published."
4. SEKO Logistics
Why they won: SEKO Logistics stands out because of its people, technology, proactive attitude, and attention to customer service. "Our global network provides the infrastructure to meet the growing global demands of our client base and, as a mid-sized and global 3PL, we are small enough to care, yet, we have a large enough network to scale," says President and CEO James Gagne.
Customers praise the 3PL for its attention to detail and customer service. "With a robust plan for expansion, we want to have a relationship with a partner and carrier that can grow with us," says Mason Jones, marketing director at TruGolf.
As consumer buying expectations rapidly change and disrupt traditional supply chains, SEKO has been successful by listening to its clients and continuing to develop omnichannel logistics and white-glove solutions that emphasize the customer experience and customer demand, rather than supply.
"At our core, we are a technology-enabled, demand chain management logistics provider," says Gagne. "We believe the future is not solely comprised of being a one-stop shop logistics company with assets all over the world.
"It's not about being everywhere," he adds. "It's about having the right people, partnerships, and technology to create the best client experience possible."
Client Roster:
Cath Kidston
Danaher
Dippin' Dots
Escalade Sports
Jaguar/Land Rover
Kellogg's
Peak Scientific
Reiss
TruGolf
5. Werner Logistics
Why they won: Werner Logistics is supported by leading-edge technology, experienced professionals, and an extensive global network to manage the shipping needs of customers.
"Werner Logistics was able to react to our problem quickly, helping us minimize the impact to our end customer," says one customer. "When I contacted them, I had all the confidence they would provide solutions and options."
The 3PL helps shippers manage supply chain costs using optimal modes, schedules, and its vast partner carrier network, in addition to its asset-based resources for a wide range of capacity solutions.
"Werner continues to support our customers with truckload services in the middle-mile segment of the home delivery business, utilizing our extensive asset-based capabilities," says President and CEO Derek Leathers. "We support our own final-mile services network and those of our strategic partners with capacity and expedited services. This has been a fast-growing part of our asset division growth and we consider this a key advantage to our overall service offering."
Client Roster:
Dollar General
The Home Depot
Target
Walmart
6. C.H. Robinson
Why they won: As supply chains grow in both size and complexity, transportation management technology is an important way C.H. Robinson helps shippers gain a competitive advantage and exceed its customers' expectations.
"We have the largest pool of capacity in North America so we can match and manage the best carriers of all sizes to optimize the supply chain and ensure reliability for our customers," says CEO John Wiehoff. "We continue to evolve our technology with an eye toward speed and efficiency—helping our people do more, think more, and solve more complex supply chain challenges."
Customers praise the 3PL for its reliability, technology, and customer service. "Our C.H. Robinson team is consistently working with us to bring value-added solutions to our needs to better service our customers. We would not be leading the market if not for our CHR team," says one LTL customer.
The 3PL is focusing on what the innovative supply chain of the future will look like, and recognizes it will take people, processes, and technology to meet current and future challenges.
"The ELD mandate, combined with an already tight capacity market, has really heightened reassessments of desirable freight and appropriate pricing," says Wiehoff. "Organized and efficient loading and unloading times will become even more important.
"Both carriers and shippers are analyzing their networks and processes to identify and solve capacity shortages," he adds. "C.H. Robinson has the largest pool of quality, reliable capacity in North America, with a network of more than 73,000 active contract drivers."
Client Roster:
Target
Quest Diagnostics
Dollar General
Blue Ridge Product Solutions
7. Kenco
WHY THEY WON: Kenco is the largest woman-owned third-party logistics company in the United States and one of the only 3PLs that offers an in-house, vertically integrated suite of services.
"We are a nationally recognized leader in innovation, being one of the first and only U.S. 3PLs to establish a dedicated innovation lab," says President and CEO Denis Reilly. "To help customers respond to the changing market demands, operational needs, and competitive pressures, Kenco invested in its technical solution and design capabilities by adding talent from companies such as Amazon, Tesla, and other global 3PLs."
Kenco offers the scale and capabilities of a large corporation, along with customer service focused on long-term value and entrepreneurial agility. "For 68 years, our agility, customer dedication, and common-sense solutions have driven uncommon value and built relationships that span decades," says Reilly.
"We have a strong partnership with Kenco," says one customer. "The Kenco employees at our sites care about us as a company and care about serving our customers' needs."
Other customers applaud the 3PL's technology, execution, and procurement capabilities. "They are honest and seem to care about their employees," says another customer. "Kenco always strives to find ways to serve customers better and save them money."
Client Roster:
American Standard
Carrier
DuPont
Fanzz
General Mills
Honeywell
Komatsu
Reckitt Benckiser
Stryker Medical
Whirlpool
8. Penske Logistics (TIE)
Why they won: Penske Logistics finds new and improved ways to coordinate all aspects of customers' supply chain service every day.
"Penske Logistics provides us with the platform, technology, and execution we need to ensure world-class distribution services," says one customer. "Truly, it has been a collaborative partnership since day one."
Penske partners with customers to create solutions that help address critical business needs around trucking capacity, trucking and warehouse labor shortages, and leveraging technology investments across shippers' enterprises to increase productivity and supply chain transparency.
"A robust economy, low unemployment, and strong consumer and business confidence has created unprecedented demand for logistics and supply chain solutions," says President Marc Althen.
"Close collaboration between shippers and logistics providers has never been more important to compete successfully in today's demanding market," he adds.
Client Roster:
Kroger
Toyota
General Motors
Whirlpool
Ford
Cardinal
Delphi
Novelis
Lowe's
Shinola
8. XPO Logistics (TIE)
Why they won: XPO's people, technology, assets, and expertise work together to help customers around the globe succeed. The 3PL empowers employees to deliver world-class customer service through its information technology. XPO's global team of technologists understands how to drive innovation for customers' benefit.
"We are willing to invest significant resources and capital to create mutually beneficial solutions," says Ashfaque Chowdhury, president, supply chain—Americas and Asia Pacific. "In this era of rapid innovation, we continue to focus on technology to meet demand and overcome labor shortages."
XPO works closely with customers to look at their entire supply chains, from point of origin to the end consumer. "We've invested significant resources in developing customized programs that deliver continuous measured cost savings and efficiency improvements for customers," says Chowdhury.
XPO's experience can help companies reach their end goals quickly and efficiently. "Companies leverage XPO's scale, innovation, and expertise, as well as our global footprint," says Chowdhury.
Customers commend the 3PL for going above and beyond. "XPO has proven to be a customer-centric organization, willing to do whatever it takes to meet our needs and expectations," says Brad Morris, vice president of global logistics and fulfillment for Nu Skin.
Client Roster:
Boeing
Cummins
Disney
Verizon
Nu Skin
Siemens
Trinity Health
Navistar
European Wax Center
Dow Chemical
9. Unyson (TIE)
Why They Won: New supply chain demands, including speed to market through multiple supply chain channels and the capacity to execute, provide unique challenges that Unyson specializes in. The 3PL's holistic approach analyzes procedures and leverages technology to provide complete supply chain visibility, optimize processes, gain access to multi-modal capacity, and lower cost.
"Our partnership with Unyson has delivered value not only in terms of reducing our freight costs, but in meeting and exceeding our customers' service requirements," says Lindley Bennett, senior transportation manager at Massimo Zanetti Beverage Group. "By striving to fully understand our needs, the team they provide us with has increased the overall visibility of our logistics functions, helped manage costs, and driven continuous improvement initiatives that have helped us manage our business better."
Unyson starts with each customer's unique needs and creates a highly tailored solution that combines technology, operational excellence, and personal engagement.
"Over the past year, we have listened to the needs of our customers and reacted to that feedback by investing heavily in our technology," says Chairman and CEO David Yeager. "Increased visibility, better access to capacity, and enhanced supply chain modeling are deliverables that we give to our customers to improve their supply chains."
Client Roster:
Big Lots
Kimberly Clark
Toyota
Lowe's
Pfizer
NestlÉ
Owens Corning
WD40
Amazon
Jack Links
9. GlobalTranz (TIE)
Why they won: GlobalTranz offers continuous improvement processes and robust technology platforms to manage freight demands and market shifts, and optimizes logistics with maximum visibility to satisfy buyers' increasing delivery expectations.
"GlobalTranz has differentiated itself through technology. Technology is embodied in our culture, how we execute, and the way we manage our relationships with our shipper customers, freight agents, carrier partners, and employees," says Chairman and CEO Bob Farrell.
"We do everything through a technology lens. We create end-to-end freight management through a full range of systems integration options to seamlessly flow information between the supply chain of our customers and partners; all while leveraging the ubiquity of social media and other networking platforms."
Customers compliment the 3PL's reliability, customer service, and pricing. "GlobalTranz is our go-to any time freight needs to be moved," says one customer. "Not only do they respond quickly to requests, but updates are communicated from the time freight leaves the dock to the time it's delivered."
Another customer adds: "Our partnership with GlobalTranz is key to seeing our commitment to excellence and on-time performance."
10. Sunset Transportation
Why they won: Sunset Transportation puts customers first and works to perfect its approach to arranging logistics and freight. "We began our relationship with Sunset six years ago and the bond between our companies has matured and adapted in all the right ways," says Brad Knechtel, vice president of materials at Hopkins Manufacturing Corp. "Sunset's team has proven they are truly the right size fit for our logistics program; one they helped us design with flexibility and visibility to our entire supply chain."
Communication is key when handling supply chain challenges and disruptions. "Our customers face many challenges and disruptors in the current market. As their partner, it is incumbent upon us to provide real-time actionable data and market trends to ensure they are cost competitive, the freight is on time and intact, and they are knowledgeable of any regulations that may affect their business or their customers' business," says COO Lindsey Graves. "We do this through a robust configurable dashboard platform and a comprehensive approach to account management and communication."
Sunset says the key to its success is its exceptional customer service, and customers agree. "Sunset is always quick to take care of and answer any and all questions I have," says one customer. "We have a great line of communication and receive excellent customer service."
---
Ones to Watch
These 3PLs did not receive enough votes to place on this year's Top 10 list, but they have a large following among our readers.
Allen Lund
Amazon – FBA
Coyote
DHL
Dupré
OIA
PLS
Ryder
Saddle Creek
Schneider
Uber
Unishippers
Yusen
About the Survey Respondents
FUNCTION
Logistics/distribution
34%
Corporate
30%
Supply Chain/purchasing
15%
Transportation management
12%
Operations
9%
INDUSTRY
Retail/e-commerce/wholesale
47%
Manufacturing
39%
Services
14%
ANNUAL TRANSPORT/LOGISTICS SPEND
$10-$49 Million
39%
More than $50 Million
26%
$1-$10 Million
22%
Less than $1 Million
13%
SERVICES READERS BUY
Motor freight (TL/LTL)
83%
Third-party logistics (3PL) contract logistics
72%
Small package delivery, expedited freight, express services
66%
Warehousing & DC services
66%
Supply chain technology, software/systems
56%
Air freight
49%
International shipping, freight forwarding
49%
Materials handling systems, equipment, forklifts
35%
Site, port, or facility selection
30%
Fleet operations, dedicated contract carriage
25%
Transportation equipment
20%
Packaging/labeling systems
9%
What Is More Important?
Service
75%
Price
25%
WHAT IS THE #1 REASON 3PL RELATIONSHIPS FAIL?*
Poor customer service
45%
Failed expectations
30%
Cost
10%
More competitive options
7%
Loss of control
7%
Cultural dissimilarities
1%
*Note: Some respondents selected multiple answers.
Source: IL Top 10 3PL survey
In Their Own Words: A Sampling of Reader Comments
"Sunset handles our needs, getting the best prices and smoothly getting our elevators shipped from manufacturers." —Advantage Elevator
"GlobalTranz is on top of everything. Manufacturing a commodity product means I need to be competitive all the time. GlobalTranz is willing to work with me on price when necessary, keep me up to date when loads are time sensitive, and the whole team is just a blast to work with. "— Belco Forest Products
"Kenco is an excellent supply chain partner and very customer and patient focused."—Bracco Diagnostics Inc.
"J.B. Hunt is always on top of its game, offering flexibility and great communication."—Branded Spirits USA
"C.H. Robinson has gone way above and beyond helping me figure out logistics. Every single part of C.H. Robinson has been a delight to work with, and as my company grows, it will be in part because they took the time to help me in my first days. C.H. Robinson has treated me like gold."—Equiventurous LLC
"Echo is my number one. If there is a problem they handle it from start to finish; they file all claims and disputes for us. We never have to touch a thing. We provide them with the information, and their reps go to bat for us. It is great to know they are always in our corner."—GMG Products LLC
"Werner always meets or exceeds our demands."— Kyrox