Trends—January 2015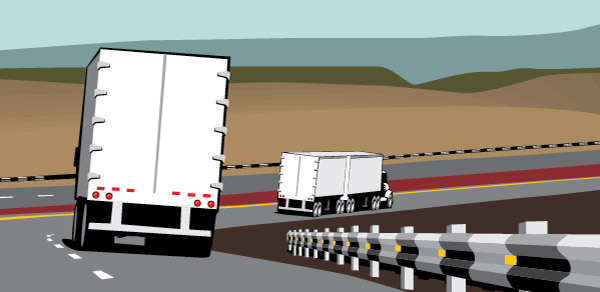 Truck Sizes and Weight: The Long and the Short of It
Truck size and weight has long been a sensitive and divisive issue, pitting railroads and the motoring public against a trucking industry already beset by the full heft of regulatory burden.
Proponents favor increasing the scale and scope of what trucks and trailers can pull on interstate highways as a means to increase economy, reduce carbon emissions, and mitigate capacity shortages. Those who disapprove cite safety concerns and the rising costs of maintaining and upgrading already crumbling infrastructure.
The U.S. Department of Transportation's Federal Highway Administration (FHWA) is currently bogged down with an impact study mandated by President Obama's MAP-21, Moving Ahead for Progress in the 21st Century Act. The research will evaluate and compare the differences between trucks loaded at or below current federal truck size and weight limits to those operating in excess of those limits. A report was due to Congress in 2014. That deadline has now been pushed back, making it unlikely any information will be available in time for the next round of surface transportation funding discussions later in 2015.
The railroad industry concensus is that the study will have little impact deciding the truck size and weight issue one way or the other. At the November 2014 RailTrends conference in New York City, Chuck Baker, president of the National Railroad Construction and Maintenance Association, and partner in the Chambers, Conlon & Hartwell government relations firm, noted that the 2012 congressional debate about truck size and weight ended in a convincing 33-22 vote. Legislators decided to kick the tire down the road, and study the issue some more. That's what the FHWA is currently doing.
What will be the outcome of the FHWA's research? "I feel safe in predicting that it will not be definitive," says Baker. He believes both sides will find talking points to walk away with. The impasse is likely to continue.
But federal inertia isn't stopping states from looking at the issue. Speaking at RailTrends, Joni Casey, president and CEO of the Intermodal Association of North America, suggested that eastern states would likely follow Ohio's direction in terms of debating truck size and weight. In 2013, Ohio tinkered with increasing its gross vehicle weight (GVW) limit from 80,000 pounds—the national standard—to 90,000 pounds. After gaining some initial traction, the effort was eventually tabled.
But truck size and weight is still a hot topic, especially in states where agriculture, forest products, and mining industries are major economic drivers. The city of Duluth, Minn., for example, is raising alarm over government efforts to increase GVW allowances. A recent article in the Duluth Tribune outlines the argument:
"The four states that border Minnesota all have higher limits than the 80,000 pounds generally allowed on Minnesota highways," writes reporter Peter Passi. "In contrast, Wisconsin allows trucks to top out at 90,000 pounds. The limit in Iowa is 96,000 pounds. Meanwhile, North Dakota allows 105,500 pounds, and its neighbor to the south permits truck weights of up to 129,000 pounds."
That's competitive pressure. Shippers ferrying product such as timber and aggregates in those states have to apply for special permits if weights exceed the national standard. And they still can't transport heavy loads on U.S. interstates. That pushes trucks onto state and county roads, which raises other issues—one of which is a perceived increase in safety hazards.
But empirical data also suggests moving heavier trucks off local roads onto interstates is actually a safer alternative.
The Coalition for Transportation Productivity (CTP), a DC lobby that represents a coalition of 200 shippers in favor of increasing the federal vehicle weight limit, supports such an argument. Touting a recent report that fatalities on Maine's roads reached their lowest levels in 70 years in 2014, CTP attributes that success to allowing heavier trucks on its interstates.
Maine provides a good test case, given its dependence on the timber trade. The state's forest products industry directly contributes nearly $2 billion annually to the economy.
There were 130 fatalities on Maine roads in 2014—the fewest since 1944, according to the Maine Department of Public Safety. In particular, commercial vehicle-related fatalities dropped to 10 in 2014.
It's also worth noting that Senator Susan Collins (R-ME) brokered a special congressional provision in 2011, after an initial pilot phase, that allows six-axle trucks weighing up to 100,000 pounds on all interstate highways in Maine for the next 20 years.
"The experience in Maine proves that targeted, sensible truck weight reform will not only make highways more efficient, but it will save lives," says John Runyan, executive director of CTP. "Many interstate highways are safer and better engineered for heavy traffic, and allowing properly equipped heavier trucks to access the interstate will provide a more efficient route while helping to avoid traffic lights, crosswalks, school crossings, and other potential hazards."
If Congress empowers other states to increase interstate GVW limits, Runyan argues, they will benefit from similar safety improvements.
"More than 40 states allow heavier trucks on state roads, and under the Safe and Efficient Transportation Act of 2013 currently pending in Congress, they would be given the option to transition heavier trucks equipped with safe six axles to the interstate," he notes.
Increasing truck sizes and weights will increase costs for motor freight carriers—which is why industry is pushing for a resolution sooner rather than later. Carriers would have to invest in trailers that can accommodate an additional axle.
Maine's success, as well as the trials and tribulations of Minnesota, Ohio, and their neighbors, will likely hasten debate in other state legislatures. Federal action ultimately depends on the FHWA's report, then congressional support.
Twenty-two of the 55 congressional delegates who voted on the issue in 2012 are now gone, Baker notes. That leaves railroad and trucking industry lobbies with new quarries to court and cull.
But don't expect conclusive evidence from the congressional report that will tip the balance of opinion. "There will not be any action," says IANA's Casey. "The FHWA report is going to have something for everyone and nothing for everybody."
Inside SETA
The U.S. federal weight limit on loaded trucks has been set at 80,000 pounds since 1982. Many shippers meet the limit with space left in their trailers, and must use more truckloads and fuel—while increasing emissions—when traversing interstates.
The bi-partisan Safe and Efficient Transportation Act (SETA), H.R. 612, gives each state the option to set interstate weight limits of up to 97,000 pounds. This higher weight limit, however, only applies to trucks equipped with safer six axles instead of the typical five. Without making the truck any larger, the additional axle maintains safety specifications—including stopping and handling capabilities, and current weight per tire.
By allowing shippers to better utilize space in each truck, and use fewer trucks to meet demand, SETA would make roads safer—especially as the U.S. economy and population grows.
Source: The Coalition for Transportation Productivity
TMS: Freight Savings Are What Matter
Transportation management systems (TMS) offer a strong ROI, primarily by helping companies save money by reducing freight spend. Respondents to an ARC Advisory Group study indicate freight savings of about six percent with the use of a TMS. They attribute these freight savings to lower-cost mode selections, improved routing, and better procurement negotiations.
Source: ARC Advisory Group
The Electronics Supply Chain: Tossing and Turning
The explosion of electronic device production and consumption over the past decade has been a boon for both manufacturers and retailers. But it also raises a new challenge: how do companies and consumers properly dispose of used product?
A recent survey conducted by Ingram Micro Mobility asked 1,000 U.S. consumers about their general awareness of how to properly recycle used devices, what incentives would increase the likelihood of recycling devices, and their interest in purchasing used devices.
"The study reveals a gap between device recycling and shorter mobile device life- spans," says Bashar Nejdawi, president, North America, Ingram Micro Mobility. "While the survey shows a challenging landscape for the mobile industry in terms of consumer understanding about properly disposing used electronic devices, there are opportunities to educate consumers on incentives and the value of device recycling programs."
The report offers an interesting glimpse into consumer behavior and how demand-driven manufacturers, retailers, and logistics service providers need to adapt and segment supply chains to better meet future demand, from product lifecycle management to secondary resale.
Here are some survey highlights:
Why "new" and "age" matter
Sixty-four percent of respondents say they are "unlikely" to purchase a certified-used electronic device compared to a new product.
Nearly half of millennials—consumers ages 18 to 34—report they would be "likely" to purchase a certified-used electronic device, compared to only 12 percent of seniors (65 and older).
Why recycling isn't habit-forming
Fifty-five percent of respondents indicate concerns about clearing data and identity theft as barriers to recycling devices, followed by a lack of knowledge about where to turn in devices (45 percent), and a preference to keep devices (43 percent).
Among those surveyed, millennials and seniors are least concerned with data theft as a barrier to turning in a used device, while two-thirds of adults ages 45 to 54 say this is the biggest barrier to turning in old electronics.
Why altruism is a good marketing ploy
Nearly two-thirds of surveyed consumers say that knowing a device would go to a person in need, or to a developing country, would be enough of a motivating factor to turn in old devices. Interestingly, millennials (74 percent) and 45- to 54-year olds (71 percent) are slightly more likely to say that altruistic incentives would help them recycle.
Consumers indicate that a "free upgrade or discount on a new device" (63 percent) and a "cash incentive or gift card" (62 percent) are motivating incentives for recycling devices.
One-Hour Delivery: Not Just for Pizza
When it comes to innovation, Amazon consistently leads the pack. At the start of 2015, that's still the case. The online retailer's launch of a new service in midtown Manhattan didn't disappoint.
Amazon's Prime Now laughs in the face of same-day delivery, providing one-hour delivery by bicycle messenger on thousands of items to Amazon Prime customers within the delivery radius of the company's fulfillment center in Manhattan, near the Empire State Building. One-hour delivery costs $7.99, while more flexible or patient customers can get two- to three-hour delivery for free.
This sort of ultra-fast delivery service isn't feasible in rural areas where the nearest distribution center can be hours away, but it's an exciting prospect for city dwellers. Amazon plans to roll out Prime Now service in additional U.S. cities throughout 2015.
Prime Now's bike messengers might be a low-tech alternative to the drones that Amazon hoped to have in the air in the near future—before the Federal Aviation Administration (FAA) stepped in the way, that is. But the retailer hasn't given up its dream of flying robots that can deliver online orders in 30 minutes or fewer.
Amazon is currently awaiting a response from the FAA for permission to begin testing drones on private property, far from any sort of airport or related operation, because testing and prototyping has gone about as far as it can indoors. Anything that flies outdoors falls under the FAA's jurisdiction, so typically this type of research and development is performed at government testing facilities. But Amazon wants the freedom that a rapid prototyping R&D team will require to make fast progress, rather than jumping through regulatory hoops with each new version of its delivery drone.
Meanwhile, the FAA is working on writing regulations for commercial drones operating within U.S. airspace, but those regulations aren't expected to be done until September 2015. Amazon wants to open the skies, at least over its own private testing grounds, earlier than that.
But Amazon won't sit on its hands forever. The company already had some success testing drones outdoors in the United Kingdom and other countries with more friendly regulatory environments.
"It is our continued desire to also pursue fast-paced innovation in the United States, which would include the creation of high-quality jobs and significant investment in the local community," wrote Paul Misener, Amazon's vice president of global policy, in a December 2014 letter to the FAA. But it remains to be seen how much longer the retailer will allow the FAA to hold back drone development before it takes those jobs elsewhere permanently.
We may not see drones dropping small packages on our doorstep for several years. And yet, whether packages arrive within one hour by air or by bike, Amazon has once again set a new bar for retail delivery, and left competitors scrambling to keep up.
—Jason McDowell
Shopping for Big Data
Shippers are turning over stones looking to find capacity and reduce costs. When they start digging, they invariably uncover data. Then more data. Eventually they find big data.
Collecting information has become a matter of formality for many companies. It's not hard. Machines hoard information, then send it to other machines. Consumers willingly share likes and dislikes through social media. The challenge is making sure information is accurate, then making it actionable.
Cris Kibbee, vice president and general manager of U.S. travel and transportation industry at HP Enterprise Services, knows his way around big data. Inbound Logistics sought his counsel to help make sense of this thing.
IL: How do you define big data?
Kibbee: We define big data using the 3 V's: high volumes of data; data generated at a high velocity; and data with a variety of structures. At the center of our approach is a 4th V—value.
We interpret value not just in terms of top- and bottom-line growth, but also that which is gained from the transformation of business, people, and key business processes that create sustaining strategic advantage. The amount of data bombarding freight and logistics companies requires more comprehensive real-time data collection and analytics to stay competitive and to innovate. Businesses need to embark on big data with both eyes wide open.
IL: Are there any misconceptions?
Kibbee: Yes. One is the notion that big data should be treated as any other new technology. Not so. It's a technology that is changing almost as fast as data is exponentially growing. Today's big data technology will be nearly obsolete in one to two years.
Another misconception is that big data represents the whole of the challenge. A company's biggest asset—its people—can't adopt a new process overnight, nor will processes automatically change to incorporate predictive models resulting from big data.
IL: What is the number-one problem that freight shippers face when managing big data?
Kibbee: The omni-consumer. They are empowered, digital, and derive value from price and experience. They incorporate everything into their buying decisions. Their shopping habits are the opposite of linear—they look more like a flight pattern toggling between mobile searches, online comparisons, and social crowdsourcing. They will purchase from anywhere, at any time, day or night.
Luckily, the new omni-consumer also generates data. This expanded layer of the value chain enables companies to grow.
IL: Capacity has become a hot-button issue in today's market. How can shippers and carriers use technology and information to create more capacity?
Kibbee: Improving capacity, whether it's drivers or more efficiently utilizing revenue-generating assets, is a matter of improving productivity. Technology can play an important role, especially with load optimization, route planning, and revenue management.
Case in point: Leveraging geospatial data, and applying analytics to that data, reduces terminal dwell time and improves warehouse throughput. This minimizes the time a driver spends in queue at the gate, the warehouse office, and the bay.
Shippers can also leverage real-time geospatial data to optimize routings when they encounter traffic or weather delays. An empty mile is an unproductive mile. When revenue management solutions are integrated with asset management and load optimization tools—all powered through an analytics engine—they can minimize empty miles, particularly in high density, imbalanced corridors. It's a technology-based solution that has transformed the passenger airline, and holds a great deal of promise in the logistics sector as well.
IL: What is the next big data revolution?
Kibbee: With so much information—real-time and archived—flowing across the supply chain, big data provides the visibility necessary for making crucial decisions. It improves day-to-day operations and processes such as maintenance management, route optimization, storage capacity, fleet utilization, and inbound/outbound shipping. Given the rise of mobile phones, tablets, and the Internet of Things in the workplace, we will collect even more data that needs to be filtered so it can be transparent and usable.
Social media is another area. It will allow freight and logistics organizations to reach out to customers, suppliers, manufacturers, and partners more efficiently, and strengthen those relationships in the process.
As supply chains grow more global, social media becomes an organization's eyes and ears. Information flows through these channels much faster than traditional outlets, allowing a company to react faster in the event of natural disasters or other disruptions. This creates a more resilient supply chain. Companies can also analyze social media using big data to predict customer demand patterns and partnership satisfaction.
Demand Planning a Must in 2015
Predicting future behavior is no small task. Throw in the caprice of global trade and fickle consumer demand, and it's a no-win situation—unless companies invest in technology and improve their ability to forecast demand.
Demand planning has reached a performance ceiling, with forecast value-added analysis (FVA) declining for a second year in a row, reveals Terra Technologies' Forecasting Benchmark Study. FVA is a lean metric used to measure the performance of each step, and each participant, in the forecasting process.
Specifically, the study analyzes demand-planning performance for 13 multinational consumer products companies, which encompasses almost $200 billion in annual sales from North American and European businesses.
"While driverless cars and drone deliveries are getting much of the press coverage, supply chain planning is finally starting to evolve," says Robert Byrne, CEO of Terra Technology. "Our study confirms demand sensing as an enabling technology to break through the demand planning performance ceiling."
Among the survey's key findings:
Network complexity is increasing at a rapid pace. The number of items for sale has increased by 30 percent since 2009. During the same period, shipments have grown by two percent, causing average sales per item to fall by 22 percent.
The rate of new product introductions is considerably higher, with more than twice as many new items introduced over five years compared to 2009; 85 percent of those items have been discontinued.
The long tail, or the large number of products that sell in small quantities, continues to be a challenge for consumer products companies. The slowest-moving 50 percent of items contribute only one percent of sales, while the fastest-moving 10 percent of items generate 75 percent of sales.
Demand planning is essentially stuck, with error rates around 50 percent.
Texas: Truck Congestion's Biggest Loser
Everything is big in Texas—including truck traffic. The state placed three locations—two in Houston and one in Austin—in the top 10 of the American Transportation Research Institute's (ATRI) annual ranking of truck traffic bottlenecks.
ATRI's Congestion Impact Analysis of Freight-Significant Highway Locations assesses the level of truck-oriented congestion at 250 locations on the national highway system. That data is also used in conjunction with the Federal Highway Administration-sponsored Freight Performance Measures (FPM) initiative.
While Texas wins on points, the top U.S. chokepoint is the George Washington Bridge, which spans the Hudson River connecting New Jersey with New York City. In 2014, it surpassed perennial front-runner Chicago's Circle Interchange. ATRI's analysis points to construction on the top deck of the George Washington Bridge that created significant delays for trucks in 2013.
"Identifying congestion impacts at freight-significant locations is a critical tool in the transportation planning toolbox," says Matt Hart, president of the Illinois Trucking Association and member of ATRI's Research Advisory Committee. "Better-informed decisions mean more targeted infrastructure investment at critical freight nodes.
"Illinois is seeing firsthand how ATRI's identification of the Circle Interchange as the number-one freight bottleneck in previous studies led to a significant state investment to fix the chokepoint," he adds.
For Texas, congestion is a concern, especially given the state's population growth—it ranks number two in the United States after North Dakota. It's also an important north-south corridor for cross-border trade with Mexico, as well as oil and gas business through its Gulf Coast ports.
To Hart's point in Illinois, transportation funding has been a hot legislative item for Texas officials as well. November 2014's mid-term elections revealed overwhelming support for Proposition 1, which allows state lawmakers to take oil and gas production tax revenue and help match a $5-billion transportation budget shortfall in the Texas Department of Transportation. Unfortunately, falling oil prices are reducing that expected windfall, which raises new concerns for how the state will be able to address these infrastructure concerns in the future.
Top 10 Congestion Chokepoints
Fort Lee, NJ: I-95 at SR 4
Chicago: I-290 at I-90/I-94
Atlanta: I-285 at I-85 (North)
Cincinnati: I-71 at I-75
Houston: I-45 at US 59
Houston: I-610 at US 290
St. Louis: I-70 at I-64 (West)
Los Angeles: SR 60 at SR 57
Louisville, KY: I-65 at I-64/I-71
Austin, TX: I-35

Source: ATRI
Truck Drivers in Wage War
The U.S. truck driver shortage is starting to create some significant ripples in transportation and logistics. As capacity tightens and trucking costs rise—despite dropping oil prices—shippers and consumers will inevitably pick up the tab.
A new report from Transport Capital Partners (TCP) indicates carriers are unwilling to add capacity because of fewer qualified drivers. Recruitment far outpaces new tractor orders, which translates into higher labor costs.
TCP's latest survey reports that 90 percent of polled carriers expect to pay drivers more. One-third of respondents anticipate pay increases in the range of six to 10 percent—double what was reported six months ago.
"Carriers see potential applicants going to other sectors, such as construction, where there is more predictable home time, and extra pay is not limited by federal Hours-of-Service regulations," says Steven Dutro, TCP partner. "The end result is that revenue from rate increases will go into purchasing new equipment, driver wages, rising maintenance costs, and regulatory costs—and not as much into the carrier's pockets in 2015."
Recruiting truck drivers younger than 21 years of age, with proper training, is one solution that has been pitched to address the current shortage. Eighty-four percent of surveyed carriers are in favor of that option, according to the TCP survey. That said, only 33 percent of trucking companies are actually hiring younger drivers.
"It is likely that the shift to hiring more inexperienced drivers will continue, albeit slowly—64 percent of carriers surveyed indicate they would be interested in hiring less-experienced drivers," explains Richard Mikes, a TCP partner. "Larger companies are twice as likely to hire inexperienced drivers as smaller companies, perhaps because they have the staff and resources to invest in training facilities and co-drivers."
Waiting is the Hardest Part
Warehouse shift changes are a tale of two mindsets—workers excited to get home and those steeling themselves for eight hours of toil. Delaying the inevitable, at the workers' expense, is bound to create problems—especially in DCs that store high-value inventory and require security checks going in and out.
Case in point: Amazon is embroiled in a lawsuit filed on behalf of two former employees who worked for a staffing agency that supplied the e-tailer with temporary warehouse labor. The plaintiffs contend that the time they spend waiting in line for security checks at the Amazon DC is part of the job, therefore they should be compensated for back pay.
The Supreme Court is currently hearing arguments on behalf of both labor and business. At issue is when the working day begins and ends for hourly employees. A lot will depend on how the Court interprets the long-debated Portal-to-Portal Act of 1947, which stipulates that employers are not liable for costs incurred before or after the workday. Employees are only due compensation for time that is deemed an "integral and indispensable part of the principal activities."
Apart from the financial implications of potential class-action suits and settlements, the Supreme Court decision will likely have a reverberating impact on how companies secure facilities and compensate workers in the U.S. supply chain.
PortMiami: No Tradeoffs
Inbound Logistics recently toured PortMiami, then sat down with Port Director Juan Kuryla for an update on port developments and his vision for the future.
IL: There has been a lot of port news in the media lately—some good, and some not so good. How are operations at PortMiami?
KURYLA: Luckily, PortMiami doesn't face the same issues that other ports are dealing with. For example, we don't have a congestion problem, and our relationships with our labor force and the community are solid. Waterside congestion or landside congestion hurts not just the shippers, liners, and ports, it also hurts the economic health of the larger community and region.
I recently attended a meeting with other South Atlantic port directors from Savannah, Charleston, Port Everglades, and Jacksonville. Port congestion and its impact on operations was a crucial topic of discussion. At this meeting, we also had a chance to speak with a Federal Maritime Commission (FMC) commissioner who was on hand to learn how the FMC could assist all ports in furthering their initiatives and infrastructure projects to improve operations.
It's important for ports to build strong partnerships with federal, state, and local governments, and PortMiami has been a huge beneficiary of that kind of cooperation. For example, traffic now comes into our port via the new Miami tunnel, which connects PortMiami directly to the U.S. interstate highway system, without traveling through downtown Miami. This infrastructure investment was made possible by cooperation with government, and it has decreased truck traffic congestion in and around the port, ensuring that shipments flow through the port more quickly, thus cutting costs.
The tunnel has been an incredible success not just for shippers, but also for trucking companies, shipping lines, drivers, and port workers. They all can spend more hours on productive work rather than waiting.
IL: Some ports in other areas are stressed by relations with their local communities. What has been Miami's reaction to the new tunnel?
Kuryla: The cruise lines, ground transportation people, bus operators, drivers in their personal vehicles, and downtown Miami all love the new tunnel. Look out over the port at 2 p.m. any day, and you'll see very few trucks waiting. The ratio of trucks going through the tunnel versus those going over the bridge is currently about 10 to 1. That project has been a success, and it could not have been done without consensus among all involved that cooperation was important. A public-private partnership deal was structured, and the Department of Transportation, the county, the city, the state, and the general community all lived up to their commitments to move the project forward.
To me, every half hour—even every 15 minutes—out of a logistics chain counts. The Miami tunnel has expedited the delivery of an average box from about 50 minutes to 30 minutes. That's worth a lot of money.
Approximately 16,000 vehicles enter and exit the port each weekday; truck traffic makes up 28 percent of this travel. Recognizing that trucking companies and drivers are vital partners in transporting containers to and from PortMiami, the Miami-Dade Expressway Authority (MDX) provides a frequency discount of up to 50 percent for multi-axle vehicles on all five MDX expressways. Now the trucks move faster and drivers are happier.
I always say, if the truckers are happy, the port is happy. I commend MDX for its collaboration in keeping our port and our industry competitive.
IL: So public-private partnerships, and the support of the larger community, can make port operations more efficient and therefore more competitive?
Kuryla: That's exactly what I'm saying. If there had not been great cooperation and communication between the federal government and private entities, this kind of progress would be difficult. Consider the rail expansion in and around the port, which will have a huge impact on throughput. It's a win-win for the port and the greater Miami region.
Not only does it create direct jobs, it also creates indirect jobs. The domino effect is huge. PortMiami's impact on local and regional economies is more than 200,000 direct and indirect jobs, and $27 billion in revenue, between our cruise and cargo industry.
IL: Tell us about the port's rail expansion.
Kuryla: In our efforts to gear up for the Panama Canal expansion, we created the Sunshine Gateway Service together with Florida East Coast Railway (FECR). This expansion provides seamless ship-to-rail transfer, including fast on-dock intermodal rail capabilities. It allows PortMiami to handle additional volume, and move shipments more quickly and efficiently with the potential of reaching 70 percent of the U.S. population in four days or fewer.
The port's infrastructure investment and collaboration with innovative providers such as FECR ensure that we're well-positioned for the Panama Canal expansion.
Another way we're getting ready for the Canal expansion is our 50-foot deep dredge project, enabling the port to handle larger vessels. That was not a public-private partnership effort, but it did require the federal government's cooperation to get the project authorized. It also required funding from the state, which invested $112.3 million. Miami Dade County and the port also invested. These are all different components of our growth strategy, but cooperation is the common thread.
IL: Is proximity to Latin America a factor?
Kuryla: Every port will tell you it is ideally positioned. Every port will tell you it is in the best location, whether it's the east/west or north/south trade. In many cases, it's true for a group of customers.
We also like to say that we're in a good spot geographically for both east/west and north/south trade. Over the years, we have seen impressive growth in some regional economies in our hemisphere. Colombia, Peru, Chile, and up until a few years ago, Brazil, enjoyed flourishing economies. That trade kept volumes at the port steady, even during the recession. When most ports on the West Coast and in the north were down by double-digits, we maintained within two points of where we were in 2007. That is primarily due to our balance of trade, and the fact that our top 10 trading countries are in South America, Central America, the Caribbean, Europe, and Asia.
We're currently at 50 percent trade within the hemisphere. We're looking at growing that, but still mindful of what's going on in China and Southeast Asia. Right now we are in the north/south trade, the trans-Pacific trade, and the northern Europe trade. We're reaching out, beyond Latin America, too. We want to continue to grow, and feel that our location and infrastructure improvements enable us to do so.
IL: Speaking of location, in the United States, the migration from northern states continues. How will these new residents be served by PortMiami?
Kuryla: In the United States, the southern region is growing too, with more population and consumer spending. Florida is currently the third-largest state by population, surpassing New York. The state has 19 million residents, as well as nearly100 million tourists each year. This demographic shift is a huge help. Cargo follows consumers, and this migration will continue.
All these improvements—the 50 feet of water, the on-dock rail, Super Post-Panamax cranes, and direct access from the interstate system—put us in a good position to gain additional business and be able to work the additional business. You can have a great road system, but if you cannot bring the vessel in, you don't need such a great road system. You can have great depth, but if you cannot discharge the vessel, you will have a bottleneck at the port and on the terminal. You can have both, but if you don't have gantry cranes that can go nine containers high above deck, and 22 containers across all the way to the last part of the beam, then you can have great water and great access, but you cannot work the vessel.
Same with the rail. Once we start loading or unloading 2,000 or 3,000 boxes from one ship once the larger vessels start calling Miami, you need on-dock rail to unload the containers quickly, and get the cargo off the port and back inland. All these projects complement one another.
IL: Final thoughts?
Kuryla: PortMiami is not just about providing great infrastructure at competitive rates. Another piece of the puzzle is customer service. I constantly remind our employees that their salary comes from the revenue generated by those ships, from that tenant who's paying open ground rent, from the stevedore who's paying permit fees, and from the shippers who trust us to handle their business to the highest standards. If you want to get me angry, do not give the customer your best service.
Notable Developments at PortMiami
Super Post-Panamax cranes: Six supersized gantry cranes at PortMiami accommodate the newest megaships the expanded Panama Canal can handle.
Direct highway access via new Miami tunnel: A new access tunnel connects PortMiami directly to the U.S. interstate highway system, decreasing vehicle congestion in and around the port, and increasing port throughput.
50-foot-deep channel: PortMiami's newly dredged harbor will be able to berth the massive post-Panamax vessels deepening its harbor from 44 feet to 50-52 feet, and widening part of its shipping channel.
On-dock intermodal rail service: More than $50 million has been invested in the on-port rail connection between PortMiami and the expanded Florida East Coast Railway network, speeding portside operations and slashing hours off shipment times.