VERTICAL FOCUS | Paper
Following the Paper Trail
Whether paper companies are well positioned for further growth or still earning the right to grow, they can expect demand to increase for paper and board products over the next decade, according to McKinsey & Company. The graphic paper market will continue to face declining demand worldwide, and research has yet to find credible arguments for a specific floor for future demand.
But this decline should be balanced by the increase in demand for packaging—industrial as well as consumer—and tissue products. All in all, demand for fiber-based products is set to increase globally, with some segments growing faster than others (see chart above).
The three largest paper-producing countries, accounting for more than half of the world's total paper production:
1. China
2. United States
3. Japan
The leading paper importing and exporting countries:
1. Germany
2. United States
Paper Chase
As a result of recent trends in customer preferences, demand for printing and writing paper continues to drop. Over the past decade, production of printing and writing papers has declined by 6% annually.
Demand for newsprint has also continued to drop since the turn of the millennium—down almost 10% in 2017 from the previous year, and expectations are that this market will continue to evaporate. Most of the newsprint plants in the U.S. South and Pacific Northwest have been closed or converted to manufacture other products.
The news is not all negative, however. Certain products in the pulp and paper segment are growing. Production is not disappearing altogether due to the digital revolution, but demand is indeed shifting from some paper products to other new ones.
Cardboard is one such product. According to the American Forest & Paper Association, more than 95% of all products in the United States are shipped in cardboard boxes. This product is well positioned in the growing e-commerce market, as online orders arrive in high-grade cardboard boxes to prevent damage during shipping. Over the past several years, this segment has increased production by nearly 2% annually.
—John Greene, www.forest2market.com
Get it in Writing
How much paper does the United States use each year?
About 69M tons of paper and paperboard
Each year, more than 2B books, 350M magazines, and 24B newspapers are published
In the United States, papermaking materials come from three primary sources: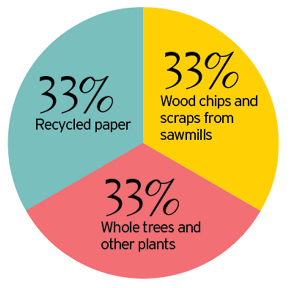 SOURCE: Environmental Protection Agency