Handle with White Gloves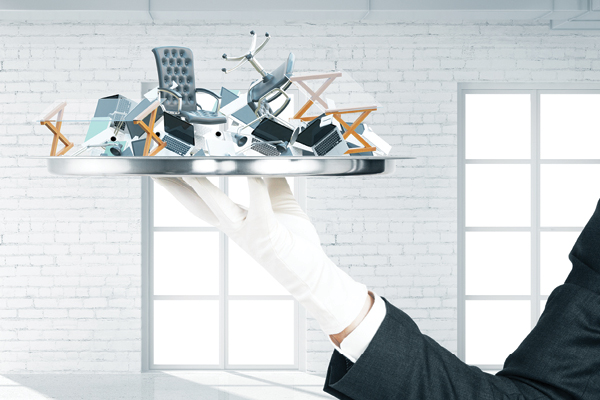 As consumers become increasingly comfortable buying unusual and oversized goods online, manufacturers and retailers partner with white-glove, last-mile delivery services to make in-home set-up and assembly a first-class experience.
More to the Story:
When the order came in to deliver an unusually large, monogrammed purple plush sofa into a celebrity's Southern California home, Adrian Smith knew he had to put his best people on the job. Smith, chief operating officer for Sleek Home Delivery Services, also doubled the team's size from the usual two people to four, who were also foremen.
"We sent foremen specifically because of the sofa's size and cost, and because there wasn't a clear path to the placement area. We wanted our best thinking minds out there," he says.
It was the right decision, Smith adds, because the team had to maneuver carefully and creatively around several architectural features to get the sofa to the designated room without damaging the home or furniture.
While many white-glove, last-mile deliveries aren't as complicated, delivery companies providing this specialized service do make sure that customers are satisfied with the in-home delivery experience. And for good reason.
"If you perform a white-glove service, you represent your company plus the retailer and manufacturer," Smith says. "The label on the treadmill doesn't say Sleek Home Delivery; it carries the product's brand name."
In fact, ensuring a smooth, positive experience that protects the corresponding brand's reputation is a hallmark of white-glove, last-mile delivery. To achieve that, delivery services use a number of strategies that include:
Carefully vetting delivery personnel using processes that include background checks.
Providing customer service, safety, and product assembly training.
Leveraging technology for everything from load matching to scheduling and customer communication.
Preemptively establishing procedures for handling occasional minor home damage or missing product parts.
In addition, because the widely recognized driver shortage impacts this industry segment as well, logistics and delivery companies continually recruit personnel to help keep up with demand.
The demand is there. While much of what was normally in-home delivery shifted to curbside or threshold before COVID-19 vaccines were available, interior placement is rebounding as consumers feel safer. They are also increasingly comfortable buying oversized goods online instead of from showrooms.
"Our business was up more than 50% during the pandemic period," says Richard Dimilta, vice president of operations at Saatva, an online hotel-quality mattress manufacturer and retailer. "COVID-19 has further legitimized buying a mattress online."
Saatva protects its luxury image by working directly with more than 80% of its contract delivery network. Two third-party logistics (3PL) providers manage the remainder.
"Maintaining control through the final mile is what makes our process work," Dimilta says. "If consumers don't have a successful delivery experience, they probably won't find the product as comfortable as they would if everything had gone well."
It's also why the mattress company vets delivery partners carefully with a series of scenario questions that help reveal values and processes. Still, Dimilta says, "The first criterion is that they have to be nice."
Hands on, Hands off
While Saatva is hands on, Yitty Glauber, founder of high-end online furniture retailer Modern Loft, remains hands off by design. She contracted with Ryder Last Mile Delivery because "their system is professional," she says. "They have a process for everything. As long as you follow it, you're good."
The furniture brands offered on the Modern Loft website are custom-made in Europe; most orders travel to the United States by sea. Merchandise is routed at the port to the Ryder warehouse closest to the customer's address.
Because Modern Loft is a young company—Glauber started the business in 2020 in response to the pandemic—volume is low enough that she taps into Ryder's sophisticated technology in a low-tech way, via an email spreadsheet.
Plugging Into Technology
Larger organizations fully leverage powerful technology. For example, Select Express & Logistics, which acts as a middleman between its retailer and manufacturer clients and the organizations that provide delivery services, typically relies on small service providers for white-glove work. Outside of deliveries that aren't part of a dedicated route, the company uses technology that connects loads with drivers.
"We plug into an outside platform that's customized with features we need," explains CEO Jay Waldman. "Contractors look at the work there and accept or decline jobs."
GoShare provides one of those delivery service marketplaces. In addition to connecting drivers with loads, the platform offers tools for booking and scheduling, tracking, customer communication, and payment. Consumers use it too, in stores where GoShare has a referral partnership.
"We post special signs in the store at point of product so while consumers are standing there contemplating buying a product, they can get a quote on delivery cost using a QR code and our mobile app," says Shaun Savage, GoShare's founder and CEO.
Once a shopper makes a purchase and uses the app to schedule delivery, the system asks questions about stairs, elevators, and other specifics that impact delivery ease.
Technology can also facilitate the driver-load matching process automatically as part of the checkout process, notes Nick Schurman, area vice president, retail sales at Bringg, a global delivery and fulfillment cloud platform provider. With Bringg's software, the customer sees available delivery options based on retailer settings. For example, if "next day" isn't possible, it's not among the options.
"Customers only see what's available to them, which is a great way to control the experience and set expectations at checkout," Schurman says.
Putting DATA to Work
3PL GlobalTranz Enterprises leverages technology's ability to make the delivery process as smooth and positive for the consumer as possible. "The way we intake orders and share data with customers lets them give us visibility to some of the known factors that can impact delivery effectiveness," says Karen Tyndall, director of customer solutions.
Still, a positive white-glove, last-mile delivery experience requires more than solid technology. People and processes are just as important, Tyndall says. GlobalTranz works to minimize challenges by contracting with delivery providers that know their region well, especially in urban locations.
"They are there every day and know the space, the city, and even the situation at specific addresses," she says. "The data is only as good as the way we apply it."
Experienced delivery companies also know to have protocols in place in case they discover a flaw once the product is unboxed inside, a part is missing, or the team damages the home.
"If we might have marked up a wall or scratched the floor when moving a treadmill through someone's home, we make sure the end consumer is left with a good taste in their mouth," Waldman says. His company arranges for any necessary repairs.
A sure sign that white-glove service is here to stay is a Bloomberg report that Amazon is testing a premium service that includes in-home assembly with furniture or appliance delivery. Waldman, whose logistics firm recently acquired Go Configure, an outdoor furniture and playset assembly company, isn't surprised.
But he's also quick to point out that companies like his spend years building provider networks with the customer service skills and experience needed to bring expensive, over-sized goods into customers' homes.
"Providing these value-added services is a lot more complicated and requires a lot more moving parts than delivering parcels," he says.
Just ask the four Sleek Home Delivery foremen who delivered the purple plush sofa.