Syfan Transport-Syfan Logistics

Steve Syfan
Executive Vice President
Who We Are
Syfan Transport is a Southeastbased carrier fleet featuring 24-7 dispatch, on-board GPS and ELD-compliant systems on every truck, and transparent reporting on all shipments. Together with its 3PL arm, Syfan Logistics, the company provides a diverse array of shipping needs throughout the continental United States, Mexico and Canada.
Mission Statement:
We will provide our customers a competitive advantage through superior transportation and logistics services. We will consistently strive to meet and exceed our customers' expectations of service through timely communication and quality information.
Vision Statement:
We seek to be a guiding light of ethics, integrity and Christian faith in our service to the transportation industry.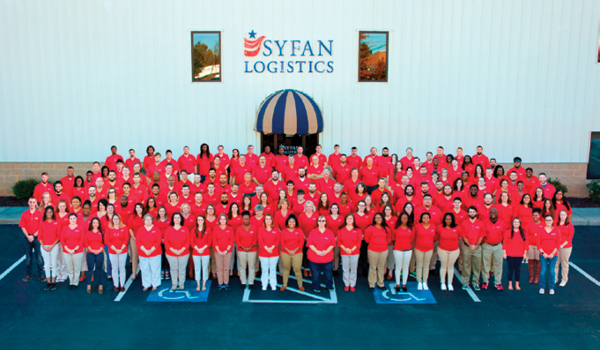 Ready. Willing. Able.
Syfan Transport and its Syfan Logistics division focus on the highest level of transparency and reliability for customer shipments. This year provides the perfect opportunity to deliver on their commitment.
In 2018, changes in federal law will require licensed carriers to comply with new requirements for Electronic Logging Devices (ELD). This comes on the heels of last year's new federal law for safer food transport under the Food Safety Modernization Act (FSMA). For both rule changes, Syfan was ready well ahead of the deadlines. Now, working with an ELD-compliant carrier will be just as important as protecting shipments with cargo insurance.
The bottom line for ELD compliance and FSMA is greater visibility and food safety – which is why Syfan put such a high priority on implementation of the new rules. Historically, the company has always invested heavily in GPS technology, communications, and a 24-7 professional dispatch team. So naturally they would embrace the new rules too.
Expanding equipment
With the ongoing expansion of Syfan Transport and its over-the-road fleet, the company is also responding to customer demands for even greater accessibility to equipment across the country. Based north of Atlanta in Gainesville, Ga., Syfan Transport's truck fleet is supported by several hundred trailers – dry vans, flatbeds and a newly acquired addition of the industry's most advanced temperature-controlled reefers with cold-chain monitoring and solar panels.
On the logistics side, Syfan further draws from an expansive network of carrier partners to bolster its service and fill gaps. Syfan Logistics has grown into one of the leading logistics services in the United States. Inbound Logistics, Transport Topics and Global Trade magazines have all recognized the company in their national rankings of the top logistics providers.
Primary insurance
Syfan Transport and Syfan Logistics serve the most demanding shipping needs with on-time pickup and delivery throughout the continental United States, Mexico and Canada. And Syfan goes the extra mile by backing every load with primary cargo insurance. It's a commitment practiced by only a small percentage of the industry.
Syfan Services
Syfan Transport
Numerous trucks and equipment options are available around the clock and across the country.
Syfan Expedited
Syfan's long history with JIT shipping for automotive manufacturers and small parcel air loads has forged a unique sensitivity to deadline-oriented shipping.
Third-Party Logistics
For shippers faced with a sudden spike in shipping volume or the occasional spot load, Syfan Logistics fills those emergency gaps.
Freight Management Services
Syfan Logistics also can manage a company's entire shipping program, providing significant cost savings.
Syfan Intermodal
Syfan is a UIIA carrier for all modes of transit (single drivers, team and expedited) and provides service recovery, crosstown shipments and poweronly shipments.
Project Management
Whether relocating a frozen food shipment from a damaged warehouse or moving large equipment, no job is too big or too small.
Customer Industries:
Food and Beverage
Parcel
Automotive
Manufacturing
Healthcare
Construction materials
Retail/Consumer products
Electronics
Paper products