Warehouse Fitness Guide: Simple Exercises to Get Your Warehouse in Shape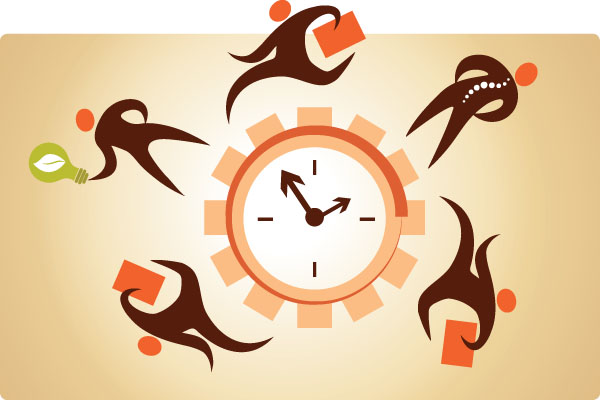 A warehouse is an assemblage of parts that work together to keep the whole body healthy and alive. Companies that operate warehouses use many different strategies to keep those parts running in top form. Among other benefits, the strategies aim to save money, increase productivity, eliminate waste, improve service, gain greater flexibility, and reduce carbon footprints.
Some people argue that in an ideal world, goods would move without pause from manufacturer to ultimate consumer. "The most efficient supply chain wouldn't have any warehouses at all," says Robert Martichenko, chief executive officer at LeanCor, a third-party logistics firm in Florence, Ky.
But nothing is ideal— certainly not the synchronization of product supply and customer demand. That's why businesses need warehouses— nodes where inventory waits while supply and demand catch up with one another.
What does a highly optimized warehouse look like? What makes its heart beat and blood flow? Let's take a look inside.
Personal Trainers
An experienced worker giving one-on-one instruction to a temporary worker is a common sight at Kenco warehouses, especially in September.
Because volume in its distribution centers peaks before the winter holidays, Kenco, a third-party logistics provider based in Chattanooga, Tenn., hires many temps from September through December. In 2009, company engineers started to investigate why so many of those temps in one facility were quitting almost as soon as they started.
It takes new temps about three weeks to become nearly as productive as long-term workers. "If they never get to week three, they never reach that level of performance," says Nathan Been, director of logistics engineering at Kenco Management Services. So high turnover in peak season spurred a serious productivity challenge.
A root cause analysis pinned the problem on the training program for temps. To teach a job, a supervisor would take about a dozen new workers into a room, explain the process step by step, then send them onto the floor to work.
Temps found this method too impersonal and felt that they couldn't get answers when questions arose. "Even though 300 people were working on the floor, temps felt isolated and wouldn't go to anyone for help," Been says. Frustrated, many temps left for other warehouse jobs, which are plentiful in most cities where Kenco operates.
So Kenco implemented a pilot program that paired each new worker with an experienced peer. Mentors were chosen for their enthusiasm and interpersonal skills.
One-on-one training produced much better results than the traditional method. "The decrease in turnover completely minimized the upfront investment," Been says. Turnover improved from 29 percent in 2009, before Kenco implemented the change, to 11 percent in 2010.
At the same facility, Kenco held a series of kaizen events— lean exercises in which workers collaborate to improve certain warehouse processes. It's not possible to separate entirely the effects of the new training regime from the effects of the kaizen events. But peak season productivity improved, and lower turnover was a major contributing factor. In 2009, the warehouse was handling 26 to 27 units of product per man hour in the peak season. In 2010, it handled between 36 and 43, and cut shipping discrepancies in half.
The program proved so successful that Kenco now is implementing the one-on-one training strategy in its other warehouses.
Everything in its Right Place
The layout of an optimized warehouse varies greatly, depending on the business conducted inside. A warehouse takes best advantage of available space when managers truly understand their operation, says Geoff Sisko, senior consultant at Jack Kuchta LLC, a supply chain consultancy in Oakland, N.J.
"Effective managers use key productivity indicators well, and keep accurate data on what they're storing and moving. They pay attention," he says.
To optimize a picking operation, for example, it's important to understand "cubic movement"— not only how fast items move through the warehouse, but in what physical volumes they move.
A shipper that understands cubic movement will store faster-moving items closer to consolidation points, and in the right modules. "A very fast-moving but physically small item might just sit in a drawer or fit in a shelf box," Sisko says. "But a fast mover with a high cubic volume might belong in a flow rack, on shelving, or in a pallet location."
Shippers should know the length, width, and height of the items they store, along with their velocity, Sisko recommends. And they should review that data regularly, so they'll know when products change from fast to slow movers, or vice versa, and need to be reslotted. "Some facilities slot every season; others reslot as market demand for certain products rises and falls," he says.
Understanding cubic movement also helps a warehouse determine which racking solutions to use. Similarly, the right data helps determine where aisles should be narrow or wide, and how to take advantage of conveyors and other automation.
Add Muscle, Stay Lean
Lifetime Brands uses data gained from its RedPrairie warehouse management system (WMS) and its enterprise resource planning system to keep DC operations in tune with evolving business needs. The company markets kitchenware and other home products under names such as Farberware, Mikasa, and Cuisinart.
In 2006, Lifetime Brands added 150,000 square feet to its major East Coast DC in Robbinsville, N.J., bringing total capacity there to 700,000 square feet. The equipment it deployed in the new space included very narrow aisle (VNA) racking, a sortation system, and two miles of conveyors.
"We needed to add this muscle to accommodate business changes, including the addition of direct-to-customer sales," says Craig Phillips, senior vice president of distribution for Lifetime Brands.
Creating storage to support efficient picking was crucial to the design of the new space. "We didn't want workers to travel the length of the building to move product if it wasn't necessary," Phillips says.
One strategy that minimizes labor in the DC is pick-to-belt, in which a worker picks a product— whether in a carton, tote, or full case— and places it immediately onto a conveyor belt. "That conveyor takes the product away and, in conjunction with the software, sorts the product into orders," Phillips says. In other situations, a worker might pick a full pallet from a bulk storage area and take it directly to a loading dock.
"You need to identify the problem, and be able to measure it as you're collecting the data, so you can plan and improve." — Craig Phillips, senior vp of distribution, Lifetime Brands
Storage equipment in the DC includes single-deep pallet racks that measure seven pallets high, as well as push-back racks that store pallets two, three, or four deep. "The racks improve storage capacity substantially," Phillips says.
Wire-guided turret trucks allow workers to negotiate narrow aisles without steering, while moving up and down among the storage levels to pick or put away product. Those workers take their instructions from vehicle-mounted computers connected to the WMS.
Since Lifetime Brands switched from a homegrown WMS to the RedPrairie system, it has gained better visibility into its operations. Data from the system helps the company track business and product flow changes, so it can fine-tune its materials handling strategies. "You need to identify the problem, and be able to measure it as you're collecting the data, so you can plan and improve," Phillips says.
Together, the software, DC design, and materials handling systems have helped the New Jersey facility reduce the cost of distribution as a percentage of net sales of product leaving the building, Phillips says.
Lifetime Brands is looking for similar benefits in its new 750,000-square foot DC in Fontana, Calif. The facility handles a different product mix than the New Jersey DC. But it does use VNA storage, along with standard pallet racks. And, like the Robbinsville DC, it uses wire-guided turret trucks.
There, as in New Jersey, data was crucial to obtaining the right design. "To achieve consistency and accuracy, you need to be able to measure," Phillips says.
Staying Flexible
Picture the inside of a typical warehouse and you'll probably see lots of hard surfaces— metal racking, plastic containers, concrete floors. That picture is a bit different in Aurora, Colo., where a facility operated by Acme Distribution Centers features blue fabric curtains that serve as movable interior walls.
A 3PL that offers a range of logistics, warehousing, transportation, and fulfillment services, Acme serves more than 400 clients in 18 vertical markets. It operates distribution centers in the Denver, Chicago, Dallas, and Harrisburg, Pa., metropolitan areas. The Colorado facility is the largest, with slightly less than one million square feet of space.
Acme faced a challenge there because several of the customers it serves in the facility need to store products that give off odors. "Other customers' products could not be stored in proximity to them because of the possible contamination," says Doug Sampson, Acme's senior vice president. "We couldn't fully utilize the available space in the building without impacting the quality of our service, which we cannot compromise."
Officials at Acme considered erecting permanent walls to segregate the odorous products from the rest. But that left Acme with too little flexibility to reconfigure the warehouse as customers' needs changed over time.
The solution that Acme chose instead was a fabric wall system from Zoneworks, based in Milwaukee. Zoneworks markets these systems for containing temperature, dust, and fumes, as well as odors. They are also used to dampen sound, ensure privacy, and create temporary storage areas. Acme installed its first Zoneworks unit in October 2009 and added a second in fall 2010.
The curtains provide the advantage of mobility. "It takes a bit of work to move them, obviously, but you can manipulate them to expand or contract the space," says Glenn Oleson, Acme's vice president of operations.
Along with the fabric walls, Acme has installed a unit on the roof that pumps fresh air into the areas it wants to protect, pressurizing the room to keep smells from wafting in.
The fabric walls have helped Acme make more efficient use of available space in the warehouse. "We've improved the revenue per square foot by being able to utilize these areas today, where they couldn't be utilized to nearly this capacity previously," Sampson says.
Monitor & Measure
One thing you'll spot in a LeanCor warehouse is an abundance of visual displays. LeanCor, a 3PL based in Florence, Ky., is deeply steeped in lean principles, and visual management is one key to a lean operation.
Visual displays may take several forms: computer monitors, white boards, PowerPoint slide projections. But they're all designed for the same purpose: to keep workers and supervisors informed about how closely they're adhering to the work plan.
"Workers need to know the score of the game," says Robert Martichenko, CEO of LeanCor. And warehouse supervisors must be able to monitor how well their teams perform throughout the day.
Using input from multiple sources, often including a warehouse management system, managers in a lean warehouse track operations throughout the facility. "They ask, 'Are we getting orders out on time? Are we where we expect to be at 10 a.m.?'" Martichenko explains.
The goal is to keep the day's plan in mind, monitor performance against that plan, then close any gaps that emerge. Members of work groups refer to the metrics posted on the visual displays, much as fans check the score at a sporting event. The display gets updated regularly.
Nathan Been, director of logistics engineering at Kenco Management Services, a Chattanooga-based 3PL, agrees that visual management is crucial. "We set up takt boards (a particular kind of visual management display) at every value stream," he says.
The boards help employees keep their work on target. "Rather than waiting until the end of the day to know how they're doing, they keep track every hour," Been notes.
A supervisor visits the location hourly to check the "score" on the board. "Associates get real-time feedback on their performance," Been says.
Power in the Wrist
At Ben E. Keith, a broadline food service distributor based in Fort Worth, Texas, the warehouse anatomy includes a system that's tied to a key piece of human anatomy: the lower arm.
Employees who pick product in the company's seven warehouses take their instructions from Motorola portable computers worn on their wrists. Workers also use an attached bar-code scanner, worn on one finger, to scan product as they pick. The Selector Pro software package, from Systems Applications Engineering Inc., Houston, powers the application.
Ben E. Keith serves customers in Texas, Louisiana, New Mexico, Oklahoma, and parts of Arkansas, Tennessee, Missouri, and Colorado. About five years ago, the company wanted to increase picking accuracy and began looking for a solution to replace its paper-based picking system.
"The objective was to reduce the cost of returns and increase quality for customers," says Michael January, Ben E. Keith's director of process improvement. Any order that is picked incorrectly carries a cost because employees must spend extra time on restocking and repicking.
The paper-based system relied on workers to read every slot and case description to locate items for picking. Although the company coached pickers extensively, "mistakes were inevitable," January says.
Company officials evaluated systems that use bar-code scanners to capture data and systems that rely on voice input. They chose a scan-based system because it will help Ben E. Keith trace its product in the future, positioning the company to comply with new government regulations looming on the horizon.
Ben E. Keith spent about seven months rolling out the new system to all its warehouses. Learning to use the new technology took employees only 10 to 15 minutes, January says. There was a brief drop in productivity as workers got used to the new procedure, but they got up to speed fast, and in some cases productivity improved, he says.
The main difference today is that workers don't need to read case descriptions to find the right cases to pick. "If they scan a case and the computer beeps correctly, the label prints, January says. "Then workers pull the label off, tag it, put it on the pallet, and off they go."
Ben E. Keith expected to see a return on its investment in 12 months by cutting the company's error-to-pick ratio from one in 1,500 to one in 6,000. The solution surpassed those expectations.
"Ultimately, we reached a one in 12,000 ratio, and at times, the ratio has fallen as low as one in 16,000," January says. "Our ROI was cut in half."
Light Exercise
As you hunt for clues that you're walking through an optimized warehouse, don't forget to look up. Installing an energy-efficient lighting system in a warehouse can save a good deal of money and help reduce a company's carbon footprint.
A warehouse that replaces its existing lights with an Intelligent Lighting System from Boston-based Digital Lumens, for example, can reduce energy consumption by as much as 90 percent, according to Mike Feinstein, vice president of sales and marketing for Digital Lumens.
"Two elements of the system drive that energy savings," Feinstein explains. First, Digital Lumens' fixtures use light-emitting diodes (LEDs), which are highly efficient sources of illumination. The high-intensity discharge lamps installed in many warehouses today consume about 460 watts. "The Digital Lumens light fixture uses about 160 watts for the same amount of useful light," he says.
The intelligence that drives the Digital Lumens system produces additional savings. Sensors built into the fixtures track whether people are present in various spaces within the warehouse. As workers come and go, the system turns lights on or off, or makes them brighter or dimmer.
"In general, most lights are off 70 percent of the time," Feinstein says. That reduces energy consumption by another two-thirds, on top of the savings from the LED technology.
The ability to dim and brighten lights is an added plus. "Fork truck operators don't feel comfortable, for example, if they're looking into a pitch-black space," Feinstein says. Instead of programming the system to turn lights off completely when no one is there, a company might choose to dim the lights, then turn them all the way up as soon as someone enters.
Besides putting out economical light, the Intelligent Lighting System generates reports based on data it collects as it operates. "Managers can analyze the occupancy patterns of the warehouse, or of particular rooms or aisles," Feinstein says. The system can also report on energy usage during selected periods and identify peak activity times.
Managers can also use the information to reconfigure the system to produce even greater energy savings. Such data might also help the warehouse qualify for incentives that power utilities offer to customers for reducing energy consumption, Feinstein says.
According to Digital Lumens, companies that have installed the Intelligent Lighting System in warehouses or cold storage facilities include Americold, Quandt's Foodservice, Maines Paper and Food Service, and United States Cold Storage.
Cooling Down
These are only a sampling of the systems and parts you might find in a healthy, optimized warehouse. Like any organism, a warehouse is a complex of mutually dependent parts. It takes the right combination, and the right kind of attention, to keep the entire system fit and alive.