Pork Processor Brings Home the Bacon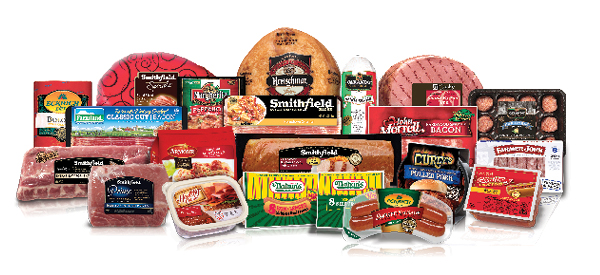 To ensure the path from pigs to people is the shortest possible, Smithfield Foods cooks up a sizzling supply chain.
Like so many other companies its size, Smithfield Foods Inc., the world's largest pork processor and hog producer, grew through acquisitions—more than 40 of them since the first in 1981. Over time, the company consolidated those businesses into three independent operating companies (IOCs), each maintaining its own supply chain.
---
MORE TO THE STORY:
Three-in-One Distribution Center
---
When an on-time delivery problem arose in 2015, the supply chain team investigating its cause experienced something else that's also common in organizations of Smithfield Foods' size and structure: Identifying the cause of one issue leads to another, and another, and yet another.
"Seemingly disconnected transactions will cause more issues if you don't solve the root problem," says Dennis Organ, the company's senior vice president of supply chain.
Smithfield's solution meant combining its three supply chains into one, which dovetailed nicely with its "One Smithfield" initiative to unify the three companies and their brands under one corporate umbrella. The process would not only help get to the root cause of problems, it would also improve operating efficiency and reduce costs while contributing to the organization's aggressive sustainability goals.
"Any time you do something that saves money, there's usually a sustainability benefit as well," Organ notes.
Smithfield Foods, founded in Smithfield, Virginia, in 1936, is a $15-billion global food company with popular packaged meat brands that include Smithfield, Eckrich, Nathan's Famous, Farmland, Armour, and John Morrell. It serves more than 3,800 customers worldwide—with at least 7,000 different "ship tos"—by employing more than 50,000 people across 54 facilities in North America and Europe.
The company's tagline, "Good food. Responsibly", is reflected in a range of socially responsible practices that includes plans to reduce greenhouse gas emissions 25 percent—more than 4 million metric tons—by 2025. The supply chain consolidation is contributing to that goal. For example, optimizing the distribution network saved $29 million in 2017. Over the next three to five years, it will reduce travel by up to 19 million miles and save more than 1.8 million gallons of fuel.
Smithfield's supply chain consolidation builds on four foundational pillars as a framework:
Reducing complexity
Gaining visibility
Assigning accountability
Executing
To help reduce complexity, Smithfield brought in LLamasoft, a supply chain design software company in Ann Arbor, Michigan, to create a digital twin of its supply chain. "We wanted to understand our potential total delivered costs if we operated in the most optimal way possible," says Organ.
Harmonized Software
The software company's Data Guru technology gathered supply chain structure and policy data from the three companies' various systems, then consolidated and "harmonized" it into a uniform format. From that data, LLamasoft's Supply Chain Guru software created the digital model Smithfield can use to manipulate with what-if questions that reveal outcomes when hypothetical changes are introduced.
The optimal path isn't always realistic for a number of reasons, so the software lets users add factors that generate other scenarios.
"You can constrain the model with specifics you will not change and instead focus on changes that are less disruptive but still provide cost savings and greater asset utilization efficiencies," says Toby Brzoznowski, LLamasoft's co-founder and chief strategy officer.
But before Smithfield could act on what it was discovering with digital modeling, the company needed to gain visibility into its processes—the second pillar. It used a time- and labor-intensive value stream mapping approach involving comparatively low-tech Microsoft Visio and write boards.
"We started by focusing on on-time delivery, fill rate, and quality issues," says Organ. "Asking 'What is the root cause for the late truck?' led us to track and manage our carriers and understand why they were late. That then led to understanding what caused distribution center and plant outbounds to be late, which pointed us at production and inbound issues."
To help solve these problems, Smithfield teamed up with FourKites Inc., a software company that provides shippers with real-time visibility into their transportation networks. The software's analytics also help companies determine how those goods can move faster.
Smithfield consolidated the three IOCs' various transportation management systems into one and interfaced it with FourKites.
"At one level, our software integrates with the shipper's transportation management system to get information on a shipment and its transportation," explains Priya Rajagopalan, chief product officer at FourKites. "At another level, it then integrates with thousands of carrier systems to identify which truck is assigned to which load. Then we track the truck in real time, providing full visibility."
By integrating with all major GPS vendors, the software receives real-time location updates. Among other things, this information lets users update customers on shipment arrival times. This, in turn, helps those customers be ready to receive at the designated time or accommodate a delay.
Consolidating all transportation information in the FourKites system allowed Smithfield to boost its on-time delivery rate from 87 to 94 percent. It also helped improve warehouse and dock operations.
Pivot to Direct Shipping
Process mapping and the digital model have led to a number of other significant modifications and cost savings. One of the biggest involves a pivot toward shipping more products to customers directly from plants. Smithfield has reclaimed some of the distribution space in each plant that had been ceded to production, and invested in blast freezing in those locations.
"Blast freezing reduces our costs, complexity, and the number of system transactions to coordinate while our customers receive fresher products," says Organ.
There is a larger opportunity for this with exported fresh pork (see sidebar), he adds, but there's potential with packaged meats, as well. "For example, customers might buy a full truckload of hot dogs during the busy summer grilling months, so we adjust our supply chain to ship directly to those customers during that season," Organ says.
Right-Sized Warehouses
Another significant change involves distribution centers. Before the One Smithfield initiative, each IOC had two facilities serving the entire country for a total of six. After modeling alternatives with LLamasoft technology, Smithfield reduced that number to four, with each center strategically located to serve a specific geographic region instead. The company was also operating as many as 80 cold storage facilities, but by right-sizing its warehousing, it cut that number to 25.
The company is also focused on bringing production closer to customers.
"Bringing production, warehousing, and shipping all within close proximity further achieves our goal of reducing complexity while having a positive impact on food quality, the environment, and our bottom line," says Organ.
Mapping processes and creating a digital version of its supply chain allowed Smithfield not only to assign accountability—the third pillar—but also to provide employees with the resources needed. This contributes to the goal of the fourth pillar, executing: operational excellence.
"We're building the least complex structure possible, assigning accountability, and executing it," Organ says. "We want the path from pigs to people to be the shortest possible."
---
Three-in-One Distribution Center
The "One Smithfield" initiative to combine three independent operating companies under one corporate umbrella includes consolidating, and in some cases relocating, distribution centers.
This process includes building a $100 million, 500,000-square foot distribution center with 47,000 pallet positions at its process facility in Tar Heel, North Carolina. The project includes expanding the plant's blast cell cold storage capabilities by 140 million pounds.
The changes at the facility, the largest pork processing plant in the world, will help improve service to Smithfield's fresh and packaged meats customers in the Southeastern U.S. and other parts of the world, since the facility will be an export center.
"We're consolidating our export operations on the East Coast so our export inventory is in one location that's closer to a port," says Dennis Organ, senior vice president of supply chain at Smithfield Foods, Inc.
The new distribution center is slated to open in September 2018, one year after construction began.