Safe & Sound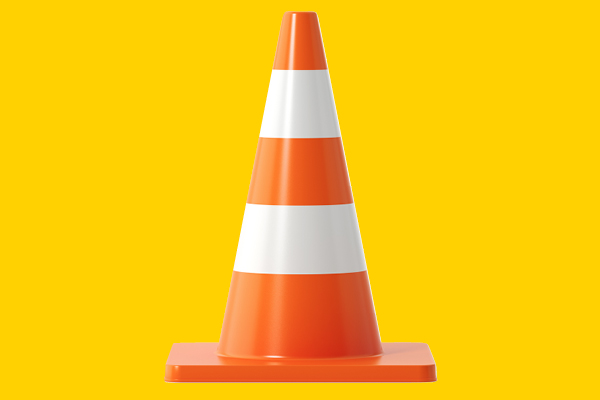 Warehousing best practices to keep your front-line workers injury-free.
More to the Story:
Opportunities abound for accidents in a warehouse. More than 145,000 people work in more than 7,000 warehouses in the United States and the fatal injury rate for those workers is higher than the national average across all other industries, according to the U.S. Occupational Safety and Health Administration (OSHA).
Non-fatal accidents may have serious consequences, too. Broken bones, sprained backs, poisoning, and other injuries can cause pain, put people out of work, and generate hospital bills. Warehouse workers often run risks when they use forklifts unsafely, stack products improperly, fail to use personal protective equipment, ignore correct lockout or tagout procedures, take inadequate fire safety precautions, or do work that involves repetitive motion, notes OSHA.
"Most accidents and injuries in a warehouse are caused by inadequate training processes, haste, and human error," says Kurt Cuncannan, chief operating officer at Bay Logistics, a warehousing, transportation, and logistics services company based in Byron Center, Michigan.
What's tough About Safety
As companies work to maintain safety in the warehouse, one of the biggest issues to solve may be how to get everyone to follow established practices. "In a large and decentralized organization, having the same adoption rate of best practices and safety procedures throughout the company is a challenge," says Zach Pollock, chief operating officer at Pilot Freight Services in Lima, Pennsylvania.
There's a difference between making pronouncements from the corporate office and gaining buy-in from individual workers. For example, workers don't always use equipment such as forklifts or pallet jacks when they should. "Individual operators may decide to pick up an item by hand, which might result in a back strain," Pollock says.
Inexperienced workers tend to be the ones most prone to accidents. But even veterans may let down their guard.
Hal Justice, vice president, sales and operations at Atlanta Bonded Warehouse (ABW) in Kennesaw, Georgia, relates the story of a warehouse associate with more than 20 years of experience who was up on a cherry picker, doing a cycle count, when he leaned too far and fell 20 feet to a concrete floor. "He knew better," says Justice, whose company operates 14 public and dedicated warehouses. "But he didn't fasten his safety harness."
Another challenge is how to keep track of associates' skill sets and certifications. When a warehouse is short-staffed, what if the manager wants to move a packer, for example, to a more physically difficult activity? "How do you know whether you've taken them through the correct way to lift and deal with industrial ergonomics?" asks Matthew Elson, CEO at SHE Software, a health and safety software company based in East Kilbride, U.K., and with U.S. offices in Chicago.
Temporary workers pose special safety challenges. "Contractors face a brand new environment with every new assignment," says Rebecca Williams, lead regional safety manager at staffing agency Aerotek, based in Hanover, Maryland. "They ought to have relevant experience for the position in which they're being placed. But they still must be oriented to those spaces and trained to work there, aligned with the company's policies and procedures, all the while being supervised on the job." Aerotek works closely with clients to make sure each contract worker gets the appropriate safety training.
Warehouse operators must pay special attention to safety during periods of heavy demand. "We have to ensure that during peak season ramp-ups there's a proper amount of supervision, regardless of the pace they're working," Williams says.
If an accident does occur, or someone identifies a hazard that can cause an accident, a company might have trouble capturing the information and using it to take corrective action. That's especially true if the company relies on paper forms for safety reporting, since filling in those forms can be inconvenient. "If the forms do get filled in, do they get to the right place? If so, they have to be transcribed," says Elson.
The best logistics organizations implement extensive policies, procedures, and technologies to ensure that their workers stay safe. Here are some best practices.
Optimize the Environment
A safe warehouse has a good workflow pattern that minimizes the chance of collisions between humans and machines. "The environment needs to be set up with dedicated pedestrian walkways," says Williams.
Bay Logistics has added blue safety lights to its forklifts. "The blue light alerts pedestrians, other employees, and supervisors of oncoming forklifts, especially coming from blind corners or from inside semi-trailers," Cuncannan says.
In one ABW facility, at a narrow doorway where it's hard to see oncoming traffic, the safety committee recommended, and the manager added, a warning system. "We installed motion detectors with alert lights that go off when someone approaches the door," Justice says.
Easy-to-understand signage can also help. "We post signs in multiple languages, says Brendan Heegan, founder and CEO of Boxzooka, which also offers training and certification testing in Spanish as well as English.
Train Early and Often
At Pilot Freight Services, safety starts with appropriate training for new hires. The company also maintains a formal, well-documented training process for people who operate equipment such as forklift trucks. "And we have a standard issue of personal protective equipment such as safety vests, lifting belts, wheel chocks for trucks, gloves, and ear and eye protection when needed," Pollock says.
New hires at Bay Logistics get safety training and then work under guidance. "New employees are assigned a mentor, and they spend one week job shadowing," Cuncannan says. Supervisors also hold monthly meetings to discuss safety. "We rely heavily on recommendations from our team members," he adds.
At ABW, safety is part of the discussion at a daily pre-shift meeting. Associates also get monthly safety training on specific topics, through videos, handouts, or discussions led by the team leader, and then sign a document to attest that they've received the instruction.
Temporary workers play a big role in facilities operated by Boxzooka, a third-party logistics firm in Secaucus, New Jersey, that provides e-commerce fulfillment services. On any given day in Boxzooka's Secaucus warehouse, 15 permanent warehouse associates plus 25 to 45 temps share the work.
At least a few of those temps each day are working for Boxzooka for the first time, says Heegan. Boxzooka holds a meeting every morning to review rules and safety guidelines and explain the day's tasks. Permanent staffers attend those meetings along with temps.
"We constantly train new people, but core staff has to sit through it over and over again," Heegan says. "Constant reinforcement is part of the reason for our great safety record."
Promote a Safety-Minded Culture
Managers and front-line workers alike need to focus on safety throughout the warehouse every day. One key is to create administrative structures devoted to safety, as ABW has done.
"Each building has a safety committee composed of the building manager and director of safety, who is our human resources manager," Justice says. Each site gets an annual walk-through to look for potential problems, as well as a monthly inspection. "If an accident occurs, the company conducts a full investigation to discover the cause and determine how to avoid similar incidents in the future," he adds.
It's also important to make safety part of the corporate culture. In part, that means recognizing that any one individual can affect safety, for better or worse. For example, if two associates are unloading a truck, and one of them seems to be suffering strain, the partner will suggest that they lift items as a team.
A focus on safety culture also influences how companies schedule and supervise warehouse associates. "Understaffing causes several problems in a distribution center," says Cuncannan. "Hurried, frantic employees make more mistakes and cause more damage and injuries."
Supervisors must be especially vigilant at the start of a shift, before any breaks, and 15 minutes before a shift ends. "Statistically, these are the times most frequently plagued by mistakes and injuries," he adds.
Use Technology
Software can go a long way toward improving safety in the warehouse. For example, SHE's software makes it easier to track safety incidents, record hazards when someone spots one, and trigger corrective action. "You can create an alert to the maintenance person or supervisor, and set a due date for the action," Elson says. "If they haven't completed the action by the due date, the system sends reminders and alerts the manager."
When a company implements the software on mobile devices, employees can report on incidents and hazards on the spot. "Even if you don't give people devices, you can set up kiosks around the warehouse floor so employees can quickly get to them and do their reporting," Elson says.
Boxzooka uses video cameras to monitor activity, including safety violations, throughout the warehouse. "The monitors are in multiple offices, and multiple people have visibility to them," Heegan says. When people spot unsafe behavior, they offer the worker correction right away.
Offer Incentives
Although OSHA frowns on safety bonuses (they might discourage employees from reporting accidents), AWB collaborates with its Workman's Compensation insurer to provide incentives in a permissible form. "Every month that a building does not have an accident, every employee—team leads and below—has the ability to participate in a lottery, for a cash drawing," Justice says. The more people who work in the building, the more drawings it holds on lottery day. The more months the building goes without an accident, the bigger the jackpot.
When implementing these and other safety practices in a warehouse, it's important to integrate the strategies and use them consistently.
"If you keep it simple and focus on things like training, having the right equipment, and having the right signage to keep training in people's minds, these things have material impact," Pollock says. But it's also important to listen to employees, he says. "If we're hearing what their challenges are in the warehouse, often we can adapt and make a safer environment as we go."