Tech Support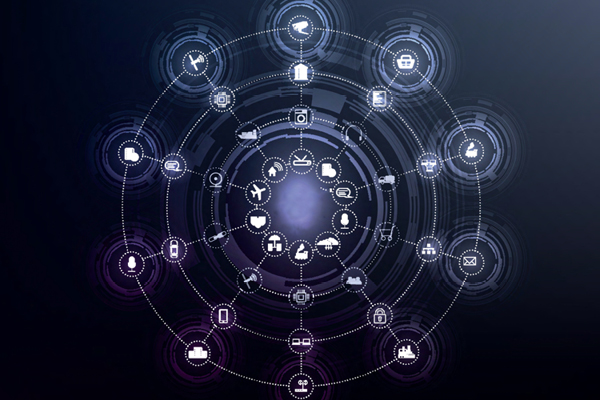 The need for supply chain resilience, visibility, agility, and control drives technology across multiple sectors.
More to the Story:
The combination of technology and supply chain management "is incredibly powerful," says Steven Carnovale, PhD, assistant professor of supply chainmanagement at Rochester Institute of Technology. The reason? Technology can mitigate variability and uncertainty, the twin banes of supply chain management.
There is a "genuine technology arms race in the world of supply chain," notes Suketu Gandhi, partner and global leader for digital supply chain with consulting firm Kearney. The focus is not on transactional technology—say, streamlining purchase order processing, although that remains important—but on solutions that enable what he calls "cognitive intelligence," such as algorithms that can confidently forecast demand for a company's products.
The growing interest in supply chain technology is a shift. Many supply chain executives had long assumed they'd always find a way to access supply. "That myth was shattered in the past 12 months," Gandhi says. Technology helped companies navigate supply shortages.
Along with supply shortages, many supply chain professionals had to manage dramatic swings in order volume in 2020, such as the 45% jump in demand for hand sanitizers. Technology can help there, too.
While technology is impacting supply chains across multiple industries, it has accelerated more quickly in some, such as retail and trucking, says Sean Maharaj, logistics and supply chain expert with consultancy AArete. Investors and technology firms view these sectors as ripe for transformation, often due to chronic issues that hamper profitability and productivity.
Along with these two verticals, here's how technology is being applied across other multiple sectors to gain supply chain control, resilience, visibility, and agility.
Retail
The pandemic-induced boost in e-commerce sales heightened interest in distributed order management (DOM) systems.
DOMs optimize order fulfillment by determining how to most effectively allocate inventory across an enterprise. So if one customer orders an item for store pickup and another customer orders the same item for seven-day delivery, the DOM calculates how to economically fill each order, while meeting delivery requirements. DOMs are particularly useful for retailers with numerous stores and distribution centers, as well as a range of product and delivery options.
Virtual store features that allow consumers to, for instance, try on hair dye before actually buying it, are also capturing attention. Customers can experiment and identify the right product before they spend their money.
Many demand forecasting solutions implemented before the spike in online shopping are unable to optimize the various options available to customers, such as multiple lead times and delivery modes. Newer solutions can leverage machine learning and artificial intelligence and incorporate a broader range of information—including social media reviews, and shipping and returns options—into their forecast models.
Manufacturing
One way senior executives are boosting supply chain and manufacturing resilience is by investing in advanced manufacturing technologies, according to Kearney and the World Economic Forum.
IoT and artificial intelligence can help identify which elements of a supply chain fall within risk areas, their report notes. Once the risk areas are identified, data analytics can help supply chain professionals optimize decision-making. 3D printing solutions can help boost agility.
Predictive analysis tools can monitor machine use so supply chain professionals can schedule preventive maintenance "before disaster starts," says Carnovale of the Rochester Institute of Technology.
The combination of location-based solutions and 5G, or the fifth generation of cellular technology, will help supply chain organizations better track products and will become more prevalent over the next few years.
Blockchain allows manufacturers to show the chain of custody of their products and "ensure the customer holds an authentic product in their hands," says Andre Luecht, global practice leader, transportation and logistics, with Zebra Technologies.
New GS1 standards support item-level visibility. They uniquely identify, accurately capture, and automatically share product and other information, and enable blockchain users to maintain a single, shared version of the truth about supply chain events.
Distribution & Fulfillment
Changing consumer habits impact distribution and fulfillment operations as much as they do retailers.
The decrease in total order size and resulting shift from pallets to "eaches" has "increased complexity and costs for distribution and fulfillment operations," says Cal Petty, vice president, supply chain consulting, with Tompkins Solutions, a division of Tompkins International. Many warehouses also are struggling with a labor shortage.
Automation can help. Picking assist autonomous mobile robots (AMRs) do much of the traveling to picking locations, cutting operators' travel time. Sorting assist AMRs provide a flexible way to move picked product, while also providing unit sortation and order consolidation capabilities. For instance, they could sort cases according to which stores they're replenishing.
Cube automated storage and retrieval systems (cASRS) use robots to store and retrieve products, and then deliver them to processing stations for picking and putaway. Because of their storage area density, a cASRS works particularly well in dark stores and microfulfillment centers.
use your imagination
Advances in technology mean robots today can lift and move pallets "in a way unimaginable a few years ago," says Jason dePreaux, principal analyst at Interact Analysis.
One reason is the real-time connectivity enabled by the Industrial Internet of Things, or IIoT. Many mobile robots know each other's location, as well as the location of their human colleagues, and can navigate around both.
Trucking & Logistics
The trucking industry has been the subject of much technological transformation to address declining profitability and margins due to rising costs, manual processes, and lack of innovation, says Maharaj of AArete.
Add on competition from organizations such as Amazon and rideshare companies, and the result is "a ripe environment for the large-scale introduction of technology and tools," he adds. About $28 billion in funding for trucking and logistics technology startups flowed to the industry between 2015 and 2019, according to McKinsey research.
One focus of investment is telematics to enable communication with drivers and equipment. The telematics firms operating today offer improved visibility, reporting, transparency, and control, Maharaj says.
Workflow solutions allow drivers to leverage electronic documents. This both minimizes person-to-person contact and boosts productivity.
Few conversations about technology's role in transportation can conclude without addressing autonomous driving. These solutions still must prove themselves and face numerous legislative hurdles. Yet if driver shortages persist, technology could prove critical to advancing this component of the supply chain.
Pharmaceuticals
When analyzing technology in the pharmaceutical supply chain, it helps to break the chain into several stages."At each level in the pharma supply chain, we see a different technology focus," says Rachna Shah, PhD, and professor of supply chain and operations at the University of Minnesota.
During research, technologies that streamline the development of different drugs are key. For instance, robotic process automation enables data to be automatically gleaned and coded.
When manufacturing pharmaceutical products, machine learning and artificial intelligence can help optimize capacity. This is becoming key as demand grows more fragmented. While the United States consumes a large proportion of all drugs produced, consumption in other countries is increasing, Shah says. Manufacturers can use these technologies to help optimize their manufacturing and distribution networks.
Visibility tools are also critical. By providing transparency to the supply chain, blockchain can aid in getting ahead of potential disruptions and also ensure product integrity.
Before these technologies can fill their potential, data collection needs to become more robust and streamlined, Shah says. In the United States, drug manufacturers must comply with myriad FDA guidelines. Currently, many manufacturers spend hours observing and documenting compliance, often using largely manual processes that are time-consuming and can boost the risk of errors. Automation would cut time from the processes and allow the information to be used with more confidence.