CPG Brands Find Their Place Online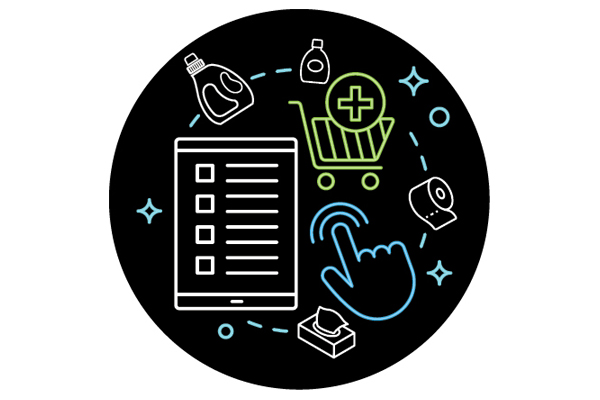 How CPG brands large and small meet the needs of evolving customers who crave product information, access, and near-instant gratification.
More to the Story:
When Jonathan Eaton ordered several garments from a well-known casual men's brand for an upcoming vacation, his delivery didn't arrive in a lone carton left on the doorstep.
Eaton, the national supply chain practice leader for professional services and consulting firm Grant Thornton, received six individual packages—and free shipping.
"Do you think this company made any money on my order?" he asks. "No way. They had to ship six times to fill it."
This isn't unusual with consumer-packaged goods (CPG) brands struggling to adjust to changing customer demands and expectations. Satisfying the shopper's desire for speedy delivery often means a company is forced to fill an online order by pulling from more than one distribution center or store.
We have only ourselves to blame. About 75% of consumers expect same-day delivery from all retail brands in the next 12 months, according to "The SciFi Shopper," a report from enterprise API commerce solutions provider Elastic Path.
TOUGH CLIMB FOR CPG BRANDS
Meeting this "I want it ASAP" expectation is easier for "digitally native vertical brands," the e-commerce start-ups that control their own distribution channels. Unlike their larger, well-established counterparts, these brands, which include Bonobos and Warby Parker, own their customer data and don't have to reorganize their distribution centers to fill direct-to-consumer orders quickly. They're set up for it from day one.
"More startups are taking share from the CPG companies, and that requires a significant shift in thinking about how CPG supply chains are managed," says Ron Volpe, chief supply chain evangelist at Tradeshift, a Danish company that helps companies digitize their supply chains. "They're getting into a space they aren't built for."
The new fulfillment models for CPG companies focus on direct-to-consumer selling. This is typically happening through:
Selling from brand-owned e-commerce sites.
Expanding from retailers' brick-and-mortar stores to their e-commerce platforms.
"Click and collect," particularly with grocery products, where shoppers place orders online and pick up at the store, often by simply driving up and letting an employee load purchases into the vehicle.
Becoming Amazon Prime-certified and selling on that site, but filling orders from their own distribution centers.
Selling merchandise to Amazon through the Fulfilled by Amazon (FBA) program, where Amazon sets the price and fills orders from its own distribution centers.
Subscription boxes.
Pop-up shops (see sidebar below)
"Many CPG companies are trying to understand how to do e-commerce cost-effectively and without losing business they already have by upsetting their traditional retailer relationships," says Alisha Greenwald, senior director of client strategy at BlueGrace Logistics, a Florida-based third-party logistics provider.
Some companies manage the retailer relationship challenge by using the manufacturer's e-commerce site to provide detailed product information and specifications that consumers need before making a purchase. Shoppers can buy there, but won't get their purchase quickly or with free shipping.
"Some brands are treating it as a referral experience," says John Bruno, vice president of product management at Elastic Path. "The brand site has all the technical specs, data, photos, and 3D imagery, but if you want it today, you have to get it at the store down the street."
Global personal care products manufacturer Kimberly-Clark has made a significant investment in its omnichannel business in recent years. During the past 18 to 24 months, the company has been focused on the "click and collect" model.
"Some of our thinking involves whether the packaging for in-store shopping is the same as what's used for click and collect. And, do these products ordered online and picked up at the store have to follow the same path to get to the store as what's displayed inside?" says Scott DeGroot, Kimberly-Clark's senior director of transportation and interim lead of global logistics.
For example, the company is exploring whether it can skip the first consolidation center that's part of the conventional manufacturer-to-individual-store supply chain.
One of the biggest differences CPG brands address when moving into most of the new fulfillment models involves shifting from pallet to piece fulfillment in the distribution center. Facilities designed for moving large, bulk quantities—pallet in and pallet out—can't accommodate the individual unit picking and packing required without significant reengineering.
"The physical warehouse layout has to be evaluated. Brands ask, 'Can I force this channel into this warehouse, or do I need to offload that to a third-party facility that's managed by someone else?'" says Adam Kline, senior director of product management at Manhattan Associates.
That's where Ware2Go steps in. Launched in August 2018 by UPS, the company has assembled a nationwide network of vetted warehouses and third-party logistics providers. This makes it possible for CPG companies of all sizes and types—from digitally native startups to enterprise operations piloting a new approach—to meet a one- to two-day delivery expectation in most of the country.
"For some, this approach can let a brand become a fulfilled-by-merchant Amazon Prime seller instead of using Fulfilled by Amazon," says Patrick Cadic, vice president of sales and marketing at Ware2Go.
It's not just consumers demanding more of CPG brands, though. Retailers that include Walmart are pushing them, too. Stringent "on time in full"—OTIF—requirements for deliveries make it critical to know where goods are in the supply chain at any time.
"Retailers are even adding thresholds so, for example, if you get there too early, you're penalized," says Jim Hayden, chief technology officer of Savi Technology. The Virginia company uses sensors to deliver information about the location, condition, and security of in-transit goods.
There's also the question of where to position product so a company can avoid filling orders from multiple locations, as Eaton saw with his vacation apparel purchase. Because the order came from a distribution center and five stores, he adds, "The retailer guessed wrong."
That's what more and more CPG brands are now trying to get right.