Logistics Disasters: Hang On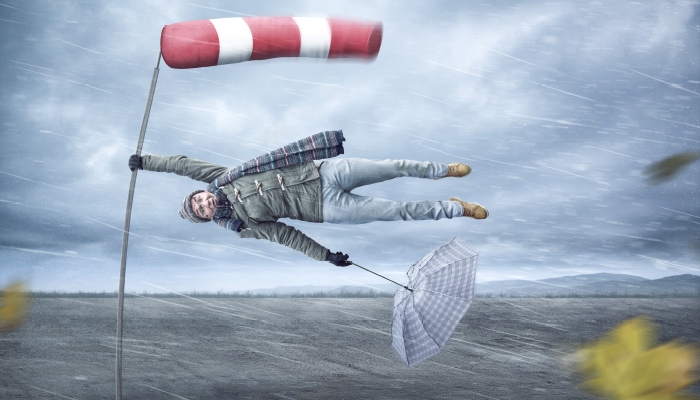 As extreme weather events increase in number and severity, logistics professionals must overcome some wet and wild challenges to deliver much-needed disaster relief supplies as quickly and efficiently as possible.
In early 2021, when Texas and surrounding states endured the Great Texas Freeze, Gary LeBlanc, founder of Mercy Chefs, faced one of his most intense disaster relief logistics situations. The head of the faith-based organization that provides hot, nutritious meals in disaster zones encountered a not-so-uncommon challenge in such weather-related situations: impassable highways.
LeBlanc was following a tractor-trailer full of supplies out of Mercy Chefs' Huntsville, Alabama, warehouse when icy highways eventually made travel impossible. The small caravan spent the night parked in a cornfield before LeBlanc returned to Birmingham so he could fly to Dallas instead. The chef wanted to be on-site quickly to supervise an improvised relief plan that relied on local supplies rather than those temporarily stranded on the Alabama truck and others like it.
"You do whatever you have to do to get the job done," LeBlanc says. "It's not always convenient. It's not always easy. It's not always inexpensive. But you do whatever you have to do."
In addition to impassable highways, common challenges faced by companies transporting equipment and supplies to communities when disaster strikes include unpredictable weather, physical infrastructure damage, and lack of transportation assets. Here's how they overcome them.
1. Plan in Advance.
The U.S. Environmental Protection Agency reports that climate change will likely increase the number and intensity of extreme weather events that include large, dangerous storms. That means it's not if Buffalo will receive massive amounts of lake-effect snow or the Florida coast will be devastated by a powerful hurricane, it's when. Those responsible for delivering aid know that and plan for it.
"The most important thing in disaster preparation is to have a plan in place ahead of time, even if you have to add to it or change it a bit," says Ann Campbell, a professor of business analytics at the University of Iowa Tippie College of Business. "You're setting up a whole supply chain in the blink of an eye and you don't have a lot of time."
One smaller example of why planning ahead is crucial comes out of the American Red Cross's experience with Hurricane Katrina. "The Red Cross distributed debit cards so people could purchase basic needs. But they needed more and the blank cards they used for printing were made in China," Campbell says. "The quantity they needed was way larger than what they could get quickly at the time, so they now store a supply of blank cards."
2. Establish Supplier Relationships Before You Need Them.
Whether it's with carriers that transport relief supplies or manufacturers that provide equipment or merchandise, you want to be in good standing with providers that need to respond quickly.
In fact, Chandler Magann, founder and president of Next Exit Logistics, a third-party logistics provider specializing in disaster relief transportation, requires pre-existing relationships with companies needing to respond to a crisis.
"New clients don't yet know exactly what they want to do," he says. "Trying to figure all of that out in the middle of a storm distracts us from existing clients who have an agenda, are ready to go, and are engaged."
With a business centered around disaster relief, LeBlanc needs well-established relationships with both national and regional food suppliers, among others.
"We just need to notify them ahead of time," he says. "Most of the deliveries come to us through the suppliers' corporate channels with their drivers and trucks. But we often order in such high volume that we have shipments come directly. That's when we use independent trucking companies and drivers whenever possible."
The disaster relief team in the command center at The Home Depot's Atlanta headquarters counts on vendor relationships for pre- and post-strike merchandise, ranging from plywood for boarding up windows to roofing tarp.
"I can't stress enough the impact of partnerships with our vendors and transportation providers," says Paul Larkin, the home improvement retailer's vice president, supply chain. "They jump through hoops for us, and they're right there by our side, doing everything they can to get merchandise into our distribution network in time for it to get to our stores."
3. Use Technology.
The Home Depot relies heavily on technology to monitor weather conditions so it can make decisions about when—and when not—to safely deploy trucks delivering supplies before and after a storm, and to alert stores to delivery timing.
"On the inbound side, we put GPS tracking devices on our pre-strike trailers with generators because customers are lined up waiting for us to deliver them," says Larkin.
The command center team alerts store managers to arrival timing and what's in the load so they can advise waiting customers.
State-of-the-art transportation management systems (TMS) also allow shippers and carriers to monitor road conditions and re-route trucks or identify alternative modes if necessary. During a November 2022 blizzard that brought as much as 6.5 feet of snow to parts of Buffalo, New York, Jeremy Forster, director of logistics at Airlite Plastics Co., relied on supply chain network visibility provided by Shipwell's TMS.
"As we ship these products and move loads around, we can see in real time everything from weather conditions to road conditions, along with the status and location of all of our trailers," Forster says. "We've been able to see road closures in real time and adjust our planning and routing accordingly."
"Any time there's a disaster, being able to act quickly matters," adds Jason Traff, president and co-founder of Shipwell. "A customer might have to add new carriers or think of new ways to ship goods on the fly. Giving them the tools to toggle between modes in real time is important."
Magann cautions that technology can't always keep up with highway conditions that change quickly. When his company was delivering generators to the North Carolina coast after Hurricane Matthew in 2016, drivers relying on GPS routes were frequently halted by flooding, barricades, debris, and law enforcement.
"We ended up driving at least 300 miles out of route on that trip," he recalls. "It was like a giant maze with multiple ways to get there, but you didn't know which ones were open and which ones weren't."
4. Pre-Position Merchandise and Assets.
Pre-positioning during disaster preparation can be tricky—and sometimes near impossible. Place inventory too close and it could get destroyed by the disaster cell.
It's enough of an issue that Campbell and colleague Philip Jones created a cost model that can be used to select the single best supply point location from a set of choices. The model described in their journal article, Prepositioning Supplies in Preparation for Disasters, can also be embedded within existing location algorithms to choose multiple supply points.
But even with the best planning, pre-positioning isn't always possible. "The challenge that we ran into with some recent storms is that they form rapidly. Hurricane Ida that went through Louisiana in 2021 made landfall within 24 hours after intensifying, so it's hard to pre-stage when something pops up that quickly," says Kathy Fulton, executive director of the American Logistics Aid Network (see sidebar).
Mercy Chefs expedites its response by positioning its six mobile kitchens in Virginia, California, Oklahoma, Texas, Alabama, and Tennessee so they're close to predictable disaster zones. The nonprofit also uses a recently acquired 30,000-square-foot warehouse near Huntsville as a deployment base for non-perishable supplies that include to-go containers and plastic utensil packets.
5. Be Flexible.
Relief providers know to expect the unexpected, even in the sky. Drones are a newer resource helping companies deliver much-needed supplies to disaster areas.
In Swoop Aero's home country of Australia, the drone logistics network provider responded to flooding caused by record-setting rainfall amounts by setting up a pharmaceutical delivery network so people cut off by water could still receive critical medications.
"As we continue to experience worsening climate conditions, the need for this type of disaster response will increase," says Eric Peck, CEO of Swoop Aero.
Working with UNICEF, the Bill and Melinda Gates Foundation, and other organizations, the company's drone network also aids in search-and-rescue missions and monitors disaster area transportation route conditions around the world.
"With emergency management specifically, we provide updated data and situational awareness to decision-makers for the disaster scenario," Peck says. "That could be a live video of a flood zone or a high-definition survey of the disaster area to understand what's happening and to help make damage assessments post-disaster."
Sometimes paying attention to what seems like something small can make a big difference, too.
For example, rather than route trucks to shopping centers or other types of parking lots large enough for tractor trailers, Magann looks for city parks. That's because they're more likely to have shade trees that provide drivers and others with relief from the sun and heat.
Most will have picnic tables, too. "A picnic table turns into an office instantly in the field," he says. "You can easily have a conference with six people around them."
6. Put Safety First.
Experts agree that safety is always the first consideration when transporting disaster relief supplies. For The Home Depot, that's especially critical when moving merchandise into a region before a storm strikes.
"The moves are highly orchestrated, and a lot of thought goes into delivering that product in time and safely," says Larkin. "We don't want one of our transportation partners to be unable to return out of a market because the winds suddenly picked up and we didn't plan for that."
The retailer follows the same process when returning to the storm region with post-strike merchandise.
Driver and asset safety is the top priority for Magann's 3PL, too. "We don't want to be a headline ourselves," he says. "We want to protect the driver, the product, and the driver's truck."
7. Collaborate.
One of the worst things well-intended organizations can do is "self-deploy" to a disaster zone. "When a disaster happens, there's a lot of confusion," Fulton says. "When people self-deploy and don't coordinate their activities, there's duplication of effort that can drain resources other groups have counted on."
The best approach is to contact your industry association for information about how to help. "For example, a lot of grocery stores are members of FMI, The Food Industry Association," Fulton says. "FMI does an incredible job of making sure that members are aware of what's happening, communicating what's needed for those who want to help, and getting recovery information to members in the disaster region."
Disaster relief transportation is fraught with challenges, but for many, delivering relief communities need brings intangible rewards. "There is nothing more gratifying for us in the face of those storms and tragedies than to know that we did everything we could do to take care of our customers and communities," says Larkin.
---
Align With ALAN
The American Logistics Aid Network—ALAN—is a collaboration of logistics industry associations formed in 2005 to provide donated supply chain assistance to disaster relief organizations and other nonprofits. It coordinates logistics, provides education, and builds cross-sector relationships before, during, and after disasters in a way that delivers relief as quickly as possible.
From its headquarters in Florida, ALAN works behind the scenes before a storm strikes, communicating with government and industry partners, reviewing the infrastructure and industries that are likely to be affected, and checking with nonprofit networks to determine what logistics resources they expect to need. After disaster strikes, it helps coordinate industry relief efforts, including connecting humanitarian organizations with critical contributions of transportation, material handling equipment, warehousing, or logistics supplies.
"ALAN is about trying to democratize logistics access for nonprofits, regardless of their size," says Kathy Fulton, ALAN's executive director. "They don't have to be a huge machine in order to request support from us. In fact, most of the groups we hear from are small and mid-sized nonprofits that don't have their own logistics staff."
Companies interested in helping deliver relief to disaster areas can work through their trade associations or view the options in the How to Help section of the ALAN website at alanaid.org.
---