Managing Your Automated Warehouse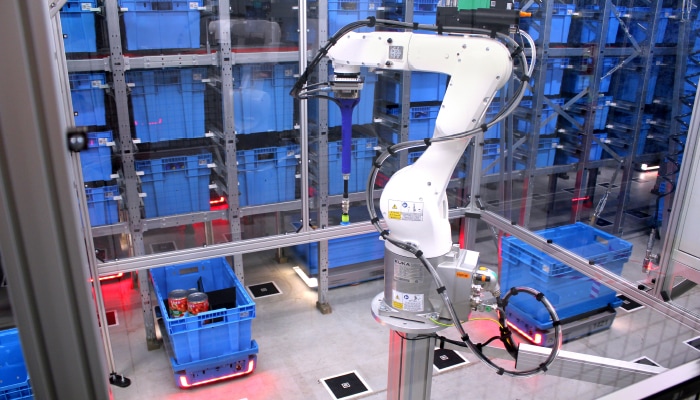 While more than 80% of warehouses are not automated, everyone is thinking about it. As supply chain technology continues to evolve, here's what to consider if it's time for you to implement automation and robotics to improve warehouse operations.
ISN distributes more than 200,000 automotive tools and other products from 500-plus suppliers to wholesalers and distributors across North America and Europe. Transactions occur through its website, phone, and EDI connections, among other methods. "We are definitely omnichannel," says Theron Neese, chief supply chain officer.
As the company grew, Neese looked for a technology solution that would help ISN keep costs in check, while also improving throughput. ISN takes orders until 3:30 every day, and then fills and ships them by 6 p.m. "It's a very tight window," Neese says.
With volume increasing, some of the company's five larger distribution sites were becoming congested.
Ideally, the solution also wouldn't require a large capital investment, nor a lengthy implementation period, and it would help retain employees. Autonomous mobile robots (AMRs) from Locus Robotics met these criteria. ISN worked through Körber Supply Chain and Locus Robotics to implement them.
ISN made the decision to introduce the robots in late 2020, and then went live with its first AMRs in its Buford, Georgia, location in spring 2021. "One reason I selected this solution was the ease of implementation and the light integration," Neese says.
The only real capital investment, which was relatively modest, was installing the AMR networks in each of ISN's five major distribution sites. ISN's warehouse management system does most of the heavy lifting in transmitting information back and forth from the robots.
The benefits have been significant. The robots show pictures of the items to be picked, making it easier for employees to pick the right items. Overtime dropped from double to low single digits.
Through attrition, headcount dropped about 20%, and ISN reinvested a portion of these savings into wages, which helped retain employees. Another benefit has been the reduction in fatigue. "Our workers aren't pulling 100-pound carts through aisles all day long anymore," Neese says.
ISN is currently experimenting with deploying the robots in its putaway function. "This solution is extremely scalable," Neese says. "It has been a game changer for us."
In a typical non-automated warehouse, employees may walk the entire facility several times each shift as they fill orders, says John Santagate, vice president of robotics and voice with Körber. AMRs can bring items to employees, reducing travel time and wasted movements.
Many organizations are turning to technology to transform their supply chain operations. Only 1% of supply chain organizations say they have no plans to invest in emerging technologies over the next five years, finds research from Gartner. What's more, interest spans industries, geographies, and company sizes. "Everyone's looking," notes Dwight Klappich, research vice president and Gartner fellow.
Starting Low
The growth in automation is starting from a low base. More than 80% of warehouses are not automated, Research and Markets reports. Running distribution facilities with paper and pens hampers efficiency and accuracy and obscures visibility, says Rupesh Narkar, director, sales, integrated engineering with Swisslog.
Automation also can alleviate labor challenges. Even as layoffs upend other sectors of the economy, supply chain and logistics organizations have been mostly immune, says Spencer Shute, principal consultant with Proxima. A few large logistics companies have announced layoffs, but many were a result of over-hiring to accommodate surging demand during the pandemic. Demand for labor in warehousing and transportation remains high, partly a result of turnover and the physically demanding nature of many positions.
By handling "the dull, dirty, and/or dangerous jobs," automation lets employees focus on more value-add work, says Kevin Heath, senior manager of robotics with Dematic, a provider of supply chain solutions.
Declining technology costs are also driving automation implementations, says Tyler Higgins, managing director and retail practice lead at AArete, a management and technology consulting firm. Amazon's rapid growth and its positioning of automation as a standard within warehouse operations is also prompting deployments.
To speed delivery times to consumers, more companies are looking at warehouse space near pricier urban areas. Automation and technology can help companies leverage every inch of these facilities, says Alex Stevens, president, warehouse automation, with OPEX Corporation, a provider of automation solutions.
Robotics Catch On
Of the approximately 121,000 professional robots sold in 2021, more than one in three targeted the transportation of goods or cargo, according to the International Federation of Robotics (IFR). While researchers have worked on autonomous robot technology since 1940s, it's only over the past decade that more powerful computing power has prompted developments in sensor, vision, and analytic technology to allow robots to connect in real time to their environment, IFR states.
Among companies that have invested in robotics, most say they are planning to expand their fleet and look for new use cases, Gartner found. Robots often can be implemented quickly and inexpensively, particularly with a robots-as-a-service (RaaS) model. "It opens the market to a lot more companies," says Klappich.
Along with boosting efficiency, robotics can help tackle labor challenges in other ways. The user interface on some has become easy enough that even workers with little experience can quickly be productive, says Kary Zate, spokesperson with Locus Robotics. Organizations can then recruit from a wider range of candidates.
Employees often view their work with robotics as learning experiences, says Jeff Cashman, senior vice president, corporate development, with FORTNA, which offers distribution systems. A warehouse position that incorporates robotics can transform what's sometimes viewed as a dead-end job into a career stepping-stone.
Integrating Systems
Until recently, robots have tended to play specific roles, such as delivering products to employees. Now, some companies are taking a more holistic approach.
For the past several years, the team at GE Appliances has focused on implementing automation to solve various challenges. This includes autonomous robots that perform pick assistance and deliver parts to the line, among other roles.
For example, in its state-of-the-art hot water heater plant in Camden, South Carolina, GE Appliances is using an AMR to take sub-assembly items and other small parts to operators on the assembly line. "It builds consistency and synchronization into our material flow processes," says Harry Chase, senior director, central materials, adding that they're quickly realizing a return on their investment, especially with a three-shift operation.
In 2023, the focus is to integrate different automated functions to create a more holistic approach to automation, Chase says. GE Appliances is conducting several pilots focused on interoperability between fixed-to-mobile and mobile-to-mobile loads. The first fixed-to-mobile application is using an AMR to move racks of balance rings (for washing machines) from a fixed robot load.
The balance rings are made on an automated assembly line and then loaded on a truck and moved to the washer and dryer plant, which is located in the same corporate campus.
Due to the size and weight of the balance rings and ergonomic concerns, GE Appliances can't maximize loading. However, using a robot to load the balance rings to a shipping rack mitigates many challenges.
An AMR then picks up the racks and transports them to the shipping dock for delivery to a sister plant. API calls between the systems carry out the interoperability. Compared to a more manual operation, "the automation enables us to use fewer trucks and cut down on the number of trips," Chase says.
In fact, the robots can load four times more onto the truck when compared to humans, maximizing time and schedule efficiency.
Synchronizing the flow of material provides better inventory control and levels the utilization of equipment. Interoperability also allows separate systems to work together and helps to eliminate dull jobs, Chase adds.
Humans Still Relevant
Looking ahead, augmented reality, computer vision, and/or AI will be used to enhance robots' capabilities. Amazon has pushed this technology forward and its adoption will continue, Higgins says.
Some companies provide unique grippers, like multi-finger grippers, as well as having a robotic arm easily switch between grippers based on the items being picked.
Yet even with advances, humans can out-perform robots in some situations, like handling varied products. Stevens uses the example of a feather, bowling ball, and marble. "Humans can adjust to pick up each, but it's hard to train a robot," he says, although he notes the technology is advancing.
Similarly, it might appear that more traditional automation solutions, like automated storage and retrieval systems (ASRS), are going the way of Betamax recorders, given the generally large investments of time and money they require. That doesn't seem to be occurring, however.
"Large scale automation is not going away," Klappich says. The reason? Once a company has recouped its investment, even if it takes years, the variable cost per unit falls almost to zero.
Like other technologies, the ASRS market continues to evolve. For instance, AMRs might be a component of an ASRS solution. It's also becoming more common to see robots supplementing humans in ASRS applications, aided by the increasing robustness of machine learning and vision software.
Fabric offers a cube-based ASRS solution that allows users to operate in smaller areas. For example, its 7,000-square-foot facility in Brooklyn, New York, can work with 23,000 items per day. The Fabric solution can generate three times the fulfillment capacity with 60% less labor, in the same square footage, when compared to a manual operation, the company says.
To accomplish this, Fabric took the traditional ASRS shuttle-based solution and built a cube-based system that decouples the lift robot and ground robot, eliminating single points of failure and providing flexibility. Stations, or touchpoints where goods-to-person robots bring inventory totes for order pickers to select customer orders, are decoupled from aisles so inventory in any aisle can go to any station.
The shelving unit—or cube—can extend up to 40 feet. This leverages underutilized ceiling height and enables higher storage density relative to manual fulfillment operations.
WES Pulls it Together
Many warehouses operate myriad systems and solutions, like multiple racking and ASRS solutions, and different robotic solutions, among others. Few managers have the time to deal with a separate system for each function.
Warehouse execution systems (WES) can help by orchestrating orders through a distribution center, enabling shippers to meet service level agreements.
The solutions also "allow leaders to plan for the whole warehouse and send execution tasks to each hardware system," says Chuck Christensen, transportation and logistics practice lead with PwC. Removing the need to interact with each system individually saves time and cuts complexity.
A WES can synchronize and sequence, among other systems, the ASRS, goods-to-person stations, unit sorters, carton/tote sorters, and AMRs.
"It's bringing all these technologies together and creating a symbiotic process," says Brian Pulfer, manager of solutions development and data analytics with VARGO, a provider of material handling solutions.
Over the past few years, WES solutions have advanced in many ways. Artificial intelligence and neural logic help some solutions make complex decisions, while integration and implementation time continue to compress.
"The typical integration layer for a deployment is a simple set of messages that allows these projects to get off the ground quickly and also ramp to standard operations in short time frames," Pulfer says.
The Chemours Company, a global chemistry company, is investing heavily in digital and automated tools to optimize order fulfillment, says Christopher Young, supply chain director, titanium technologies. For instance, it's using drones with its warehouse management tools to ensure faster product throughput and detect potential issues before they slow production.
Looking Ahead
Advances in supply chain technology show no signs of slowing. At least a few companies are keeping pace. One example: For the past few years, DHL Express has been on a digitalization journey, says Zenaida Villatoro, senior director, engineering, the Americas. The transportation provider has added to or opened fully automated hubs to process packages, and implemented various solutions, like robotics and robotic arms, that can boost efficiency and add value to employees' work. A sortation arm added to the company's Miami service center can sort 35% more packages per hour.
Automation is now "embedded into facility design," Villatoro says. She and her colleagues are exploring a range of solutions—including AMRs, robotics, and sortation systems—as well as emerging technologies, like autonomous vehicles and software that can better integrate AI into cameras and scanning devices to enhance visibility.
"The beauty of this space is that it continues to evolve," she says.
---
Warehouse Automation: Short-Term Pain, Long-Term Gain
The global warehouse automation market was valued at $36 billion in 2021 and forecast to grow to $77 billion by 2027, according to the fourth edition of Interact Analysis' Warehouse Automation Report.
In 2022, the industry experienced a series of shocks that resulted in a slight decline in orders. However, in the mid- to long-term, Interact Analysis predicts a return to healthy growth between 2021 and 2027.
Four major factors impact the warehouse automation market in the short term: the Ukraine-Russia war, lower investment by Amazon, changes to commodity prices, and rising inflation rates.
The war in Ukraine is having a negative impact on all of Europe, but in particular durable manufacturing in Eastern Europe. Investments in warehouse automation from manufacturing facilities in Eastern Europe have seen an uptick in recent years, especially with the trend toward near-shoring. Many companies, however, have reportedly postponed their investments as a result of the ongoing conflict.
Europe invested heavily in automation in the wake of the pandemic and subsequent labor shortages. But since the war in Ukraine, this trend has started to slow in some parts of the continent. In the long term out to 2027, however, growth is still expected to remain high for the warehouse automation market.
The conflict has also indirectly influenced rising interest rates and inflation. As consumer spending slows, retailers will likely tighten their purse strings and potentially postpone large-scale automation projects until the economy is more stable.
Amazon is also having a negative impact on the market after announcing a slowdown in its fulfillment center expansion, which directly impacts the company's warehouse automation spending activity. Amazon's spending on automation projects dropped by 30% in 2022, and will fall 20% in 2023. Given how much of the market Amazon drives, a slowdown in its investments reduces overall revenue growth.
---