Footwear E-Tailers: Shoe Me The Money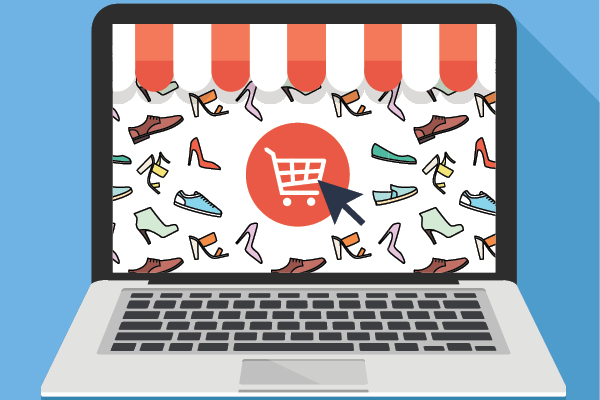 E-commerce footwear sellers woo shoe shoppers with generous shipping and return policies designed to ensure a perfect fit.
Footwear is walking away with consumer dollars online. Revenue from online footwear sales will jump 9.1 percent in 2018, predicts industry researcher IBISWorld. Between now and 2023, it expects to see continued growth, although at a lower annual rate of 6.3 percent.
---
MORE TO THE STORY:
Why Zappos Owns Online Footwear Sales
New Box is a Shoe-in
---
Rising consumer spending in general, improved security and accessibility for online shopping, and traditional brick-and-mortar retailers adding e-commerce to re-capture sales lost to online-only retailers attributes to the growth.
"Like other e-commerce industries, the growth of online shoe sales has been positively influenced by the increasing accessibility of mobile internet connections," says IBISWorld's Online Shoe Sales Report in the U.S., released earlier in 2018. "The easier and more affordable it is to connect to the internet, the more accessible internet retailers are, making consumers more likely to purchase from online stores."
Despite that growth, online footwear retailers still face many challenges. Thanks to the Amazon effect, consumers expect free shipping and returns. And because shoppers often order more than one size because of concerns about fit, the return rate can be as high as 35 percent—three times that of e-commerce in general. That makes shipping a significant expense that eats into profitability.
Other category challenges include fashion's volatility; an unusually high number of SKUs for style, size, and color; and the fact that shoe boxes take up a lot of space in a distribution center.
From Adversity to Opportunity
Industry leader Zappos sees those challenges as opportunities, though. "If customers have to buy two sizes, it means they are not confident in the product," says Justin Brown, director of operations at the online footwear and apparel retailer. "Our opportunity is to determine what we can do to make customers more confident." With parent company Amazon.com, Zappos owns almost one-third of the category's market share, according to IBISWorld.
Finding ways to make customers more confident that footwear will fit has two benefits: It reduces returns and corresponding costs while providing shoppers with "an awesome experience," Brown says, something the innovative retailer is known for (see sidebar).
To help do this, Zappos is experimenting with predictive sizing based on customer reviews and what shoppers have previously purchased on the site. The goal, however, is more about improving the customer experience than it is about reducing returns.
Reverse logistics is just a part of the cost of doing business in the segment at third-party logistics (3PL) provider ODW Logistics in Columbus, Ohio. "Our clients know they'll have a high return rate," says Todd Alloway, vice president of contract logistics. "So the question is, how do they build those returns into their financial model for the year?"
The company fulfilling online orders staffs accordingly for those returns, often with speed in mind for seasonal and fashion styles and brands.
"It's extremely important that we receive product back in a timely manner and return it to stock quickly," says Brian Weinstein, vice president of business development at California-based 3PL Port Logistics Group. "In footwear and apparel, there's a very short window for selling that product."
Unpredictable Consumers
Fashion brands also have to deal with the unpredictability of consumer preferences.
"In addition to the long lead times for manufacturing and shipping from Southeast Asia, you're dealing with the time required for product design and plant selection in a volatile market where consumer patterns shift dramatically," says Kees Ramselaar, customer development manager for Europe, Middle East, and Africa for prescriptive analytics platform provider AIMMS.
"Fashion" extends to personalized performance footwear, as well. For example, Nike iD allows customer product customization on its company-owned e-commerce site.
"Nike is investing in its own e-commerce channel to provide an excellent customer experience," says Eric Lamphier, senior director, product management, at Atlanta-based supply chain software solutions provider Manhattan Associates. "Some of the most unique and creative footwear it sells will only be available via Nike e-commerce or in Nike branded stores. That's a big strategic move because it sees e-commerce as a major revenue driver."
Taking Ownership
Some analysts say that companies that own the entire process—from design and manufacturing to marketing and promotion—are better positioned to profit from footwear e-commerce than multi-brand e-tailers such as DSW, Shoes.com, and Zappos.
"Many companies that are purely e-commerce, and buy shoes from brands instead of producing their own, struggle with how to become profitable in this marketplace," says Jim Barnes, CEO at enVista, a supply chain information technology and software firm.
"Some of our footwear clients that started out with omni-channel distribution are branching out to e-commerce because margins are higher with a direct-to-consumer model," adds Scott Hothem, senior vice president of customer solutions at Barrett Distribution Centers in Massachusetts. "Those that thought they were beholden to large retailers to capture the customer are finding they have more channels.
"A customer who has experience with their product at a department store might go directly to the manufacturer's website for their next purchase now," he adds.
One challenge most footwear e-commerce operations face, regardless of the channel, is the amount of space shoe boxes take up in a warehouse. Box size uniformity helps, but when compared to flat-pack apparel, they're large.
"As companies look to create high-density order pick paths, the combination of dozens of orders and hundreds of pairs of shoes on a conveyor takes up space," says Lamphier.
Bin There, Done That
Zappos addresses some of the efficiency challenges with proprietary bins for different types of footwear.
"We have bin solutions for each type of product, which helps us manage inventory," says Brown. "For example, when we're shipping more boots than shoes, we can be agile enough to swap out bins to meet that demand according to seasonality."
In addition, bigger packages take up more space during shipping, which increases transportation costs that are already high because of the steep return rate and the weight of heavier shoes and boots.
Still, shoe boxes fit nicely into larger shipping boxes and Zappos uses their uniformity to maximize space use in a trailer. "With one product type packaged in uniform blocks, you can fill trailers to the point where there's very little space left," Brown says.
Because of its volume and how it's managed, Zappos ships more full truckloads than not. "If we haven't filled a truck yet, we'll cancel a future one and hold the one we've got back until we fill it," Brown says, adding that sustainable practices factor into that approach.
One of the biggest issues in the segment today is the need for a massive shift in how footwear e-tailers approach their business.
"What's really keeping e-commerce executives up at night is the shift away from full-case packs with a single SKU to loose parts," says Barnes. This shift has implications for space, labor, and process, especially considering the number of SKUs involved.
"Some of our footwear clients have up to 7,000 SKUs, compared to those in other categories with just 50," says Hothem. "This affects what it costs for us to pick and pack an order—it's a different animal."
"E-commerce sellers have to start thinking like retailers, not wholesalers. They now have to create a supply chain in increments of one," Barnes adds. "Wholesale is the new retail."
---
Why Zappos Owns Online Footwear Sales
In 2016, Zappos employee Steven Weinstein famously broke the 2012 internal record for the longest customer service call, clocking in at 10 hours and 43 minutes. He took one bathroom break; colleagues supplied food and water.
It's an extreme, even for a company known for outrageously good customer service. Still, it exemplifies one of Zappos' 10 core values: Deliver WOW Through Service.
"If we can get customers to associate the Zappos brand with the absolute best service, then we can expand into other product categories beyond shoes," says the company's website. "And, we're doing just that."
To that end, the online retailer not only offers free shipping and returns, it accepts those returns for any reason for one full year. "It's the most generous policy in the industry," notes Justin Brown, Zappos director of operations.
It has paid off for the popular e-tailer.
"If you're always thinking about the consumer, the customer experience will show through in your profit-and-loss statement," Brown says.
New Box is a Shoe-in
An award-winning new shoe box designed with sustainability in mind reduces packaging volume while improving retail effectiveness and employee productivity.
Viupax is changing the way shoes are packed, shipped, warehoused, stored, displayed, and sold, according to designer Andreas Kioroglou, founder of Matadog Design in Greece. The innovative packaging costs 20 percent less to produce than traditional shoe boxes because it uses less cardboard and up to 50 percent less space during transportation.
The company bases end-user pricing on a licensing model with two options:
A volume-based fee that can be as low as one penny per box for a multi-million box annual order.
An annual lump sum fee.
Boxes can be produced by Viupax's supplier or the brand's.
Designed to convert into a product display stand, each box has a carrying handle to eliminate further in-store packaging, too.
As if that's not enough, Kioroglou's children's shoe boxes can also be converted into toys. Let's see the sneaker box in your closet do that.