Global Logistics—October 2015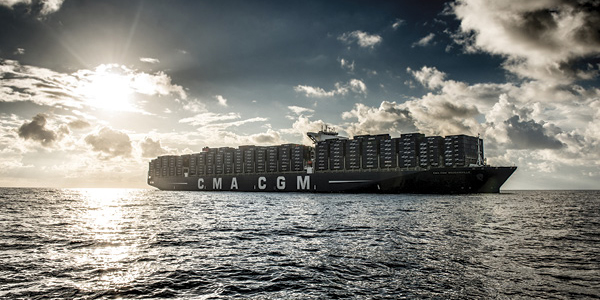 Ocean Containers Talk Back
What would Malcom McLean say if "the box" talked back?
Now it does. CMA CGM recently debuted the Bougainville as the first containership with connected container technology that transforms the box into a smart asset.
The initiative is part of a collaborative project between the French steamship line and Traxens, a Marseille-based start-up that specializes in container communication technology.
The new 18,000-TEU flagship vessel features Traxens-equipped smart containers that use built-in relay antennas to share data with others assets, as well as with the ship's communication infrastructure. Collected data is then sent to CMA CGM headquarters in Marseille via Traxens' data centers.
The Traxens system collects real-time data during the container's transportation on land or at sea, adding considerable value to the shipping line and to its customers, insurers, and customs. This level of visibility eliminates the intermodal black hole.
Moreover, containers can gather and transmit a wide range of data including location, temperature, humidity level, vibrations, impacts, attempted breaches, and customs clearance status.
Remotely controlling and adjusting the temperature of refrigerated containers provides even greater value in the transportation of perishable goods while optimizing routine inspections.
CMA CGM Containers Get Smart
Source: CMA CGM
UAE Embraces Manufacturing Growth, Faces Labor Crunch
The United Arab Emirates (UAE) has made great strides expanding its economy beyond oil-related business, and then rebounding from a global recession that bulldozed construction-heavy development. As an emerging global logistics hub that features a top 10 cargo airport and port, the country has its sights on even further diversification.
The Emirates is steadily making inroads into the manufacturing sector, according to Dubai-based Dulsco HR Solutions, which says almost 33 percent of inquiries it received in September 2015 were for manufacturing projects in the UAE alone.
"We have witnessed a 13-percent increase in job applications in Q2 compared to Q1 that shows a positive outlook from prospective candidates, especially engineering positions," according to the company. "Given the huge potential growth in the manufacturing sector, the manpower requirement in this sector is only going to increase."
Indeed, the Emirates' growing stature as a global transport hub on the periphery of established and emerging markets, such as Europe and Africa, is attracting foreign investment. The Jebel Ali Free Zone is dotted with a who's who of multinational distribution centers. Inevitably, companies will begin expanding to more value-added contract logistics activities.
Still, there's one glaring reality. As the country's manufacturing output grows, so does labor market demand. That's where UAE faces a major challenge. Imported expats comprise upwards of 90 percent of its labor force. Emirati nationals make up a small percentage of the pie—and many of those jobs are in the public sector.
So while there's uncurbed enthusiasm over manufacturing opportunities in UAE, there's equal concern for how that growth might impact current labor market dynamics—especially given the socio-political undercurrent that already exists on the Arabian Peninsula with regards to indentured servitude and Western efforts to stamp out slavery in the supply chain.
Nicaraguan Canal In Doubt?
Wang Jing, the architect of China's ambitious Nicaraguan Canal project, lost 85 percent of his net worth during the country's stock market crash, according to recent reports. The news created speculation over whether his controversial plan for a $50-billion channel linking the Atlantic and Pacific Oceans through Lake Nicaragua will happen.
In the span of a few months, Wang's wealth plummeted from $10 billion to $1 billion, raising new questions about whether his company, HKND, can still finance the 178-mile canal—and whether the project remains viable.
HKND disputes any cause for concern and anticipates work will commence in 2016 after environmental due diligence runs its course. The company plans to complete the canal within five years.
Slovenian Postal Company Puts Stamp on Logistics
Who said print is dead? State-owned Slovenian postal operator Pošta Slovenije recently acquired the logistics arm of Mladinska Knjiga, the country's largest publishing house, for $14.5 million. The move is an important step in the courier's plan to "become one of the major providers of trade logistics and supply chain management in Slovenia and the wider region," according to the company.
Pošta Slovenije is looking to reinforce the back end of the business to offset a decline in traditional postal services—an endemic trend around the world.
PwC, for example, has documented a similar dynamic in the UK postal market where "e-substitution" will continue to erode traditional mail over the next decade. More telling, the New York City-based global consultant indicates that a one-percent increase in postage will lead to a 0.6-percent decline in mail volumes on average, citing a recent study of the United Kingdom, United States, and Switzerland. Cost pressures and price increases will only accelerate this shift.
For Pošta Slovenije, the acquisition provides warehousing and distribution assets that will help it continue to diversify the business. The postal company plans to use this new logistics capacity to build out its parcels business, which it sees as a key growth area.
Daimler Accelerates Autonomous Truck Pilot
Imagine speeding along the Autobahn and passing a train of driverless trucks. That future may soon be reality. German automaker Daimler is getting ready to pilot autonomous trucks in-country before the end of 2015, Reuters reports.
The Ministry of Transport and Infrastructure in Stuttgart, Germany, has given the company permission to bring its autonomous 18-wheelers onto the motorways in the state of Baden-Wüerttemberg. Daimler will conduct initial tests there, while the start of mainstream production is likely two to three years away, according to company sources.
Daimler has also been testing the self-driving trucks in Nevada under a special state-granted license.
The automotive company's "Future Truck" uses a combination of assistance systems to drive itself. Sensors, cameras, and steering intervention automatically keep the truck in the middle of its lane. The system also includes a three-dimensional digital map, so that the truck is aware of the route and topography ahead at all times. It can also communicate with other connected vehicles to exchange information.
U.S. Trade With TPP Nations
Imports and exports with the United States have declined for many Trans-Pacific Partnership nations. Were they waiting for the recent partnership arrangement to go through to avoid duties?
Source: Zepol Corporation | www.zepol.com